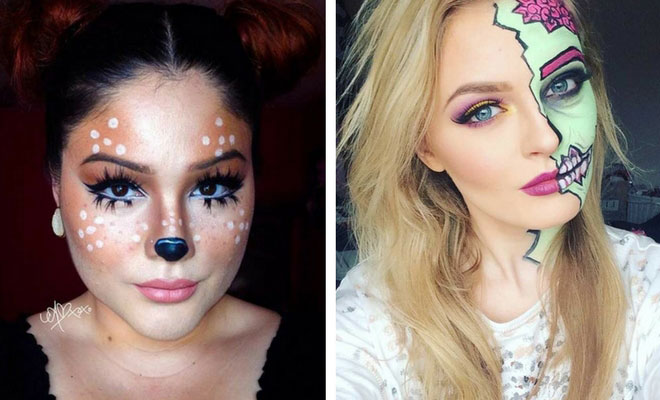 Instagram
Lifestyle
61 Easy DIY Halloween Makeup Looks
By
|
I know it's summer, but some things are worth planning ahead, for instance, Halloween.  This is the time of year when it's great to play around with your makeup.  More people are celebrating Halloween and maybe it's because they get to look great and practice their makeup skills!
We have 61 easy DIY Halloween makeup looks for you to try.  Remember to practice before October!
1. Cute Cat Makeup
If you are wanting a sexier look, rather than a scary look, take a look at this. This is a cute cat look, which is easy to do at home.  Don't be afraid to go a bit wild with your makeup, I know it will seem strange at first, but you will love it.
2. Pretty Skull Makeup Look
This is scary and pretty at the same time. It is unbelievable how makeup can transform your face.  You can look like this on Halloween, and you don't need to buy any fancy dress costumes!  You can achieve this face with your daily makeup bag!  Use eyeliner for your cheeks, eyes and mouth.  The shading on your cheeks, you can use eyeshadow.  To add a little glitter, make a lovely design on your forehead as the photo above and you will be Halloween ready.
3. Masquerade Makeup Mask
Who needs to buy a mask?  Not you when you see this!  You can make your own. This is a gorgeous design made by makeup and rhinestones.  Apply your usual daily makeup but slightly heavier.  Use dark colours for your eyelids and purple for your lips.  Then you can start to design your masquerade mask with eyeliner. Apply rhinestones using a false-lash adhesive.
4. Spider-Man Inspired Makeup Look
Peter Parker aka Spiderman is the inspiration behind this makeup look. It is girly, sexy and simple.  Make sure you have big red luscious lips and glitter in the corners of your eyes.  This will make the spider web softer and sexier.
5. Cute Deer Makeup Look
This may be the most simple, yet cutest Halloween makeup look, we have ever seen. This is cuteness overload.  The best thing about it is that it's quick and easy to do yourself.  Concentrate on drawing attention to your eyes and you can achieve this by using false eyelashes or keep applying the mascara.  Many people tend not to use eyelashes and prefer to let the mascara work their magic.  Make the ears and your cheeks stand out with bronzer and don't be afraid to apply lots!  Remember this isn't your daily look so it needs to look radically different.
6. Half Face Pop Art Zombie
Opting to have a pop art zombie on one side of your face, will look incredible. If ever you have wanted to express your style and experiment with makeup, now is the time to do so.  Besides, who will notice you made a mistake!  It's all about having fun.
7. Mermaid Makeup
This is simply gorgeous. Turn half of your face into a mermaid with some shimmer and glitter.  The more you use the better.  Draw on the mermaid design with either face paint or colourful eyeliner.
8. Gangsta Clown
This looks so good and freaky! It will certainly scare your friends.  If you have a check shirt, this will look amazing with this makeup.  You can either wear a wig or clip in colourful strands to finish the look.
Here is a YouTube tutorial by Chrisspy to help you re-create this look:
9. Skeleton Makeup Look
Skeleton makeup is timeless and simple. You can either use face powder or face paint for this type of Halloween makeup.  The only colour needed is for your eyelids.  The rest of your face will be black and white.
Watch the tutorial for this look by Giulianna Maria down below:
10. Broken Porcelain Doll
The effects of this makeup look awesome. You don't need to be great at art to achieve this!  Don't forget to use subtle makeup colours on your eyes so the attention is on your face.