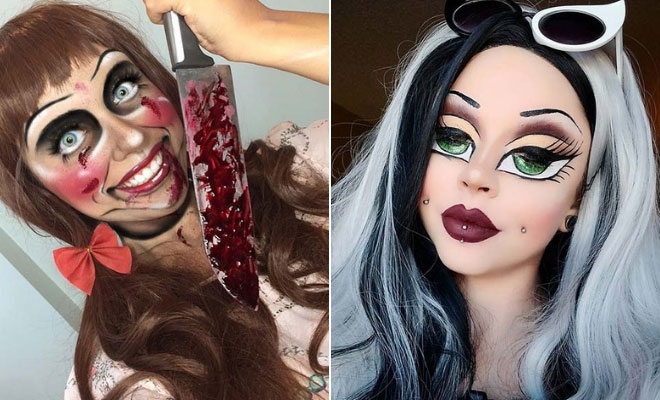 Instagram
Lifestyle
25 Doll Makeup Ideas for Halloween 2019
By
|
Dolls are one of the creepiest toys every created. Many of you may have seen a scary doll as a child or watched killer or haunted dolls in terrifying movies. As dolls can be so frightening it makes them the perfect costume for Halloween. There are so many dolls that you can be inspired by from dolls with cracked faces to ones in movies such as Annabelle. If you want to give everyone a scare as a doll this Halloween, then this is the place to be. We have found 25 cool and creepy doll makeup ideas. But don't worry if you find dolls too horrifying, we have some pretty designs inspired by Bratz and Barbie dolls. So, take a look and decide which doll you want to be!
1. Shattered Doll Makeup
The first makeup idea features a shattered doll design. This makeup artist has created the illusion that her face is broken and cracked. She has kept the rest of the makeup simple and has finished off the look with black contact lenses, pigtails and a pretty top. This is the type of doll that would look creepy if sat on a shelf. It is a cool and scary costume for Halloween. You can find cracked doll face makeup tutorials online.
2. Doll Makeup Inspired By Annabelle
Annabelle is one of the most notorious dolls in history. This next makeup idea has been inspired by the Annabelle doll from the movies. The artist has created a wooden doll look complete with the blue eyes, Annabelle style eyebrows and pigtails. Movie fans will love this makeup so it would be great for a party. A full list of the products used to create the look are on the page below.
3. Beautiful Barbie Doll Makeup
Love Barbie dolls? If so, this next idea is for you. Here we have Barbie style makeup. She has pretty pink eye makeup and lip color. The look is finished off with a pink dress, blonde wig and pink glasses. This is a beautiful version of doll makeup and it is perfect for those who want to look cute instead of creepy. You can check out what products were used to create the makeup on the page below.
4. Bratz Doll Illusion Makeup Idea
Next, we have another makeup idea based on a real doll. In the image below, you can see the actual doll and the makeup inspired by it. The makeup artist looks almost identical to the doll and she even has illusion eyes which look just like doll too. We love this unique idea and you can recreate this or you can choose a different doll, maybe your favorite one from childhood.
5. Scary Doll Makeup for Halloween
The next makeup idea features a scary doll that looks straight out of a horror movie or your nightmares! For this look, her face is very pale like porcelain, she has doll-like eyes with contact lenses and the makeup is finished of with cracks. This is a spooky version of doll makeup and you can find a short tutorial on how to create the look on the page below. If you do recreate this costume don't forget to carry a creepy toy too, just like the bear she is holding in the photo!
6. Bratz Doll Makeup
Another popular fashion doll is the Bratz. There has been a makeup trend on Instagram and lots of makeup artists have been turning themselves into their favorite Bratz doll! This next idea shows a gorgeous example. As you can see, she has created illusion doll eyes and red lips. She has also recreated the costume too. This is such a cool and stylish idea. You can check out Bratz makeup tutorials online and you can choose to create a version of any of the dolls you like. Makeup like this is perfect for those who want to look pretty not scary.
7. Rag Doll with Illusion Eyes
This next doll makeup idea is one of our favorites! Here we have makeup inspired by a rag doll. The makeup artist has created doll eyes, pink cheeks and red lips. This costume is finished off with a yarn wig and a light top or dress. We love this because it looks like those creepy soft dolls and the wig is so creative and was made by the artist. She used a bald cap, yarn and hot glue. You could recreate the wig in any color you like!
8. Glam Doll Makeup Idea
If you want to look glam for Halloween, then this idea is for you! This makeup artist has created a very glitzy version of the Bratz doll. She has illusion eye makeup, bold lip color, a bright pink wig and sparkly accessories. This is a fun and cute look that will make you stand out from all the scary ghosts and ghouls. If you want to recreate the makeup, then you can take a look at the products used on the link below.
9. Broken Doll Face
Next, we have another cracked illusion. This time the makeup artist has created a shattered design on one side of her face. She also has black hair with a red ribbon and blue eye makeup which gives her a Snow White vibe. This is a cool idea and you can recreate this fairy tale look or try the illusion with any makeup. There is a short tutorial on the page below and there is a full list of products used too.
10. Pretty Illusion Makeup with Hearts
Look pretty in pink with this next doll makeup idea. The makeup features illusion eyes with pink makeup, stylish lip color and beautiful small hearts. This look is finished off with light pink hair. Makeup like this is perfect for those who want to look glam and gorgeous. If you don't want to color your hair pink, then you can buy pink wigs online.