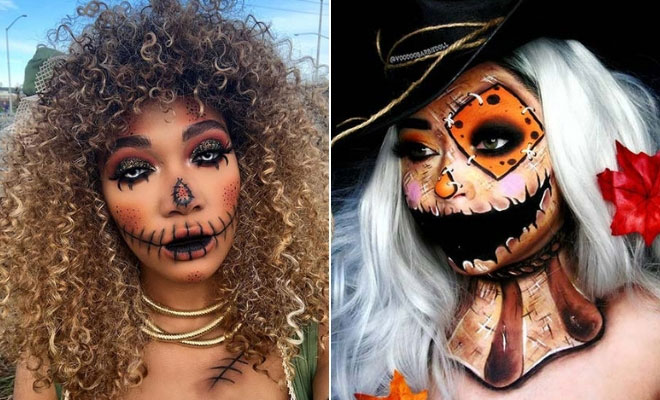 Instagram
Lifestyle
45 Scarecrow Makeup Ideas for Halloween
By
|
When searching for Halloween makeup, you will find so many amazing ideas from vampires to ghosts and scary movie character. This year though, why not consider choosing a Halloween classic and go for scarecrow makeup instead?! Scarecrows can be as terrifying or as cute as you like which means there is something to suit everyone. Whether you are going trick-or-treating with your children or attending the scariest party of the year, there is a scarecrow look to suit the occasion. To show how you awesome the scarecrow is, we have found 45 of the best scarecrow makeup ideas on Instagram. You will find creepy ideas, glam scarecrow looks, gory scarecrows and more!
1. Scarecrow Illusion Makeup + Tutorial
The first makeup idea we have to show you is spooky and it has a cool illusion too. Her face is painted to look like a sack like you would see on a scary scarecrow and the artist has added patches, stitches and more. A section of her mouth is painted black to create the illusion of wide and creepy smile. You can view a tutorial on how this was created down below and there is a list of the products used too.
2. Creepy Makeup and Contact Lenses
Next, we have a cool and creepy scarecrow idea. Here we have smokey eyes with a scarecrow design on the nose and mouth. The makeup artist has finished off the look with scary contact lenses. This is a an easy to wear look and the hat and overalls are a great costume idea too. You can view a tutorial and the products used on the page below.
3. Bright Makeup Idea
You can dress like a scarecrow on Halloween but look pretty too. Here is a perfect example. This amazing scarecrow makeup is complete with a stitched mouth and patches. The artist has also used bright colors such as pink, orange and red. We like this idea because it is different to the classic scarecrow makeup. It gives you the best of both worlds too, as you can celebrate Halloween but also look cute.
4. Sad Scarecrow Makeup Idea
Our next makeup idea features a sad scarecrow. Instead of a wide grin, this scarecrow has a sad face with tears coming from the eyes. A sad scarecrow is quite unique and the frown gives the makeup and extra creepy vibe. Recreate this or try sad scarecrow makeup in a different color. You can view the products used on the Instagram page below.
5. Sunflower Scarecrow Makeup
Next, we have a popular scarecrow makeup look that many choose to wear on Halloween. One eye features very glam makeup while the other has a sunflower design. There is also the classic stitched look on the mouth too. The sunflower is a cool and pretty idea. There are lots of tutorials for similar makeup online.
6. Scarecrow Look with Creepy Contact Lenses
You can really give your makeup a scary look by wearing contact lenses. Don't just take our word for it, check out this next idea. Here we have scarecrow makeup with a stitched mouth and nose. There are also freckles on the face and glam glitter on the eyes too. The look is finished off with creepy contact lenses. Without them, this makeup wouldn't be too scary, so it is a great way to jazz it up. You can buy contact lenses in any color online and view the makeup used to create this look on the page below.
7. Cute Scarecrow Makeup
If you want to celebrate Halloween but still want to look cute and stylish, then this idea could be perfect for you. The eyes are beautiful and smokey like you would wear to any occasion and the lips are a stunning matte color. Stitches have been added to the mouth and there is an orange patch on the nose to give the makeup a scarecrow look. Makeup like this would be perfect for a party. The products used were: Anastasia Beverly Hills 'Subculture' palette, Sephora PRO Editorial Palette, Morphe 35O Palette and ABH 'Ashton' liquid lipstick.
8. Gory Makeup Idea
Prefer more gory makeup? If so, check this out. Here we have makeup that has the classic scarecrow look with the patches, but then the mouth is more scary and bloody. The mouth looks like an open wound with stitches and there is blood dripping too. This would be an awesome idea for a Halloween party as you will give everyone a fright! There is a full list of the products used to create this look on the makeup artist's page.
9. Makeup and Costume Idea
The next makeup idea is unique and more colorful. Her face has the stitches and patches with a sack like design in the background. What makes this one more unusual is the cool blue lip color and the bright pink and blue patches. Makeup like this is perfect for those who want a more fun Halloween look.
10. Pretty Scarecrow Makeup
Next, we have another cute look. For this makeup, the artist has created patches in bright orange, created stitches on the lips and has added freckles too. This is fun and colorful look that will suit everyone. It is another great makeup idea for those who do not want to look too scary.