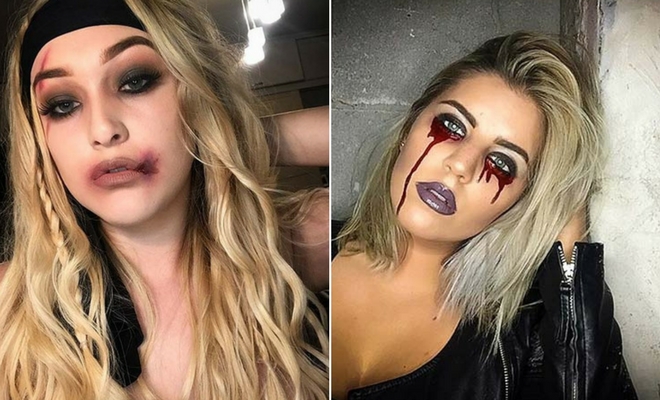 23 Easy, Last-Minute Halloween Makeup Looks
Want to dress up for Halloween but left it too late? Then we are here to help. We have found 23 easy, last-minute Halloween makeup looks. There is a makeup idea for everyone, whether you want something spooky, cute, unique and more. Each look is simple to do and you can even get some costume advice to. It's never too late to dress up for the fun occasion. Check out our list to find your favourite look.
1. Spider Web Makeup
First up we have this orange eye makeup with a spider web design. This is perfect as a very last-minute look. You don't really need anything special just makeup you already have. Orange is a great color choice for Halloween as it is the color of the classic pumpkin however you could recreate this web look in any color palette. The web is easy to do and there are online tutorials to help. We love this Halloween makeup!
2. Gory Scratches
Scratches or claw marks are a great technique to learn as these scratches can be used to make many costumes. The face marks featured could be used for wolf, zombie, red riding costumes and more. There are many ways to make scratches but some face paint and fake blood will give you quick and easy scratches. These items can be found in stores until after the holiday so are easy to get hold of.
3. Spooky Scarecrow
Scarecrows can either be cute or terrifying. The look you get depends on what makeup you use. This easy scarecrow look was created with orange colors and black for the detail. You could recreate this with eye shadows and some face paint. Both are easy to purchase. If you wanted a darker scarecrow just use darker colors. There are tutorials online to help you get the scarecrow look.
4. Halloween Clown
Clowns are very popular Halloween costumes and here is an easy way to create a clown look at the last minute. All you will need is some dark makeup and black face paint. Apply dark makeup as you would normally with the lips and eyes and just add some black detail with the paint. If you don't have dark makeup go for the classic clown red.
5. Wednesday Addams
The Addams family are iconic characters of Halloween. For an easy Halloween costume try to recreate Wednesday Addams's look. All you will need is a black dress and some dark makeup. Apply the dark makeup like the picture featured and braid your hair and you are good to.
6. Orange Halloween Makeup
To get a Halloween look you don't have to be all scary and gory. You could just add some Halloween colors to your makeup. The makeup featured on our next pick uses orange eye shadow with pink lipstick. You could wear makeup like this for an easy Halloween look. To make it suit the occasion even more you could wear a darker lipstick.
7. Creepy Doll Makeup
Next, we have a scary doll makeup idea. To recreate this look all you will need is some dark eye makeup, white makeup and eyelashes. For extras, you could add the pink cheeks and freckles. You could easily create this with makeup you already have. You may just have to get the white makeup and lashes. Wear with a dress for a Halloween party look.
8. Scary Clown Makeup
Here is another simple clown idea. This one looks more difficult to create than it is. All you will need is some dark makeup and face paint. Face paint is easy to buy as it is found in most shops leading up to the occasion. Just use this image as inspiration and copy the shapes you see. You could recreate it in any color palette to.
9. Sugar Skull Makeup
Sugar skulls are popular Halloween costume ideas. Not only do the skulls look super cool for Halloween but the look is also easy to create to. All you will need is a face paint crayon or if you don't have one of those an eyeliner would work. Then create the pattern. There are many tutorials available online to help you with the design. Just choose a color and you are good to go.
10. Halloween Pirate
Ahoy there matey! Our next pick is a Halloween pirate. This pirate look was created with glam eye makeup with added scratches and a wound on the lip. You could recreate this with your normal eye makeup and then add some red face paint or fake blood to make the cuts. Add a headband and the look is complete. You could just wear a little black dress to finish the costume.
11. Simple Spider Web Makeup
If you liked the spider web Halloween makeup from earlier in the post, then you might like this one to. This idea shows how you can create a similar look with darker colors and a bigger web. Just apply your dark makeup and add the web design. You can even add in the little spider to. It is a fun, simple and last-minute makeup idea.
12. Surgery Makeup
Looking for a creative last-minute look, then this next pick could be for you. This simple makeup idea creates a surgery look. You could use this technique to create a plastic surgery costume or even an undead patient. It is quick and easy makeup idea that is perfect for any party.
13. Vampire Halloween Makeup
Vampires are classic Halloween costume ideas. Our next pick shows how you can simply create a vampire look. All you will need is some dark makeup and makeup that is red. Apply dark eye shadow and lipstick and then finish off with some veins around the eyes and a blood drip. You could use a pencil for the red blood or add some fake blood. However, you decided to recreate it, you will have on cool Halloween makeup look.
14. Leopard Print Makeup
We couldn't have a Halloween list without animal inspired makeup. Animals make cool and simple costumes. Our next pick shows how you can create awesome leopard print makeup. Just create a cat eye eyeliner flick with glam eye makeup, add some lip color either like the picture or black and add your pattern. The pattern can be created with liquid liner or face paint. Just create little c shapes and fill in with glitter or a neutral shade. There are tutorials available to help you with this.
15. Old Age Makeup
Our next pick is fun and creative. It is makeup that makes the wearer look older. You could maybe create a costume of your older self or just use the technique to create something else such as a witch. All you will need is neutral makeup and brown makeup to create the wrinkle lines. As an extra you could add some white to your hair and eyebrows. Baby powder will create a grey hair effect.
16. Jessica Rabbit Makeup
Are you a red head? Then this next pick is just for you! A simple Halloween costume idea for red heads is Jessica Rabbit. All you will need is purple eye makeup, red lips and a red dress. It is fun costume and will be a hit at any party. If you have a little more time and you do not have red hair you could always purchase a wig.
17. Deer Makeup
Looking for a cute makeup idea? Then consider creating a deer look. Deer makeup has become very popular for costume parties so would be perfect for Halloween. Just give yourself some glam eyes, add some black makeup to your upper lip and nose and finish off with some white dots. You could add in the shading if you have time.
18. Spooky Skeleton Makeup
Want a spooky look? Then a skeleton is perfect for you! Our next pick shows how to create a simple skeleton look. All you will need to do is create glam eyes with eye shadows and other makeup you already have then add some black makeup to your lips and nose. You can use a liner, face paint or a face paint crayon to create the black detail. If you have time you can add the shading. There are tutorials online to help you with the skeleton shapes.
19. Bloody Tears
Our next pick is scary and simple. This idea just uses a normal everyday makeup style with fake blood added under the eyes. The bloody tears turn your makeup into a creepy Halloween costume. It is really easy to recreate just choose your own makeup style and drip blood under the eyes.
20. Simple Halloween Makeup
Next, we have a dark makeup look that can be created with makeup you may already have. All you will need is eye makeup in black and purple and finish off with red lips. You could change the colors to suit you. This is great for the ladies who want to look spooky but not over the top. It is perfect as a last-minute Halloween look.
21. Mermaid Makeup
Mermaids are very popular Halloween costume ideas. You can create a mermaid look easily this Halloween. Just create glam eyes preferably with green/blue colors and then add some accessories. This mystical mermaid has a starfish in her hair and sequins on her face. The sequins create a shimmering mermaid scale look. You can recreate this look cheaply and simply.
22. Cute Cat Makeup
Our next pick shows how you can be a cute cat this Halloween. All you need is black liner, lipstick and face paint. You could just use face paint if you don't have the other things. Just create the cat eye flick, add some black to your nose and lips and finish off with whiskers. This is a simple and fun look. Wear with a black outfit to complete the costume.
23. Illusion Halloween Makeup
Last on our list is this illusion makeup idea. All you will need for this look is your normal makeup, black eyeliner and some white face paint. Apply your makeup as normal and create the outline with the black liner. Create a similar design to the image and use the white to highlight. If you have time you could also add the shading.
We hope you have been inspired by our easy, last-minute Halloween makeup ideas.