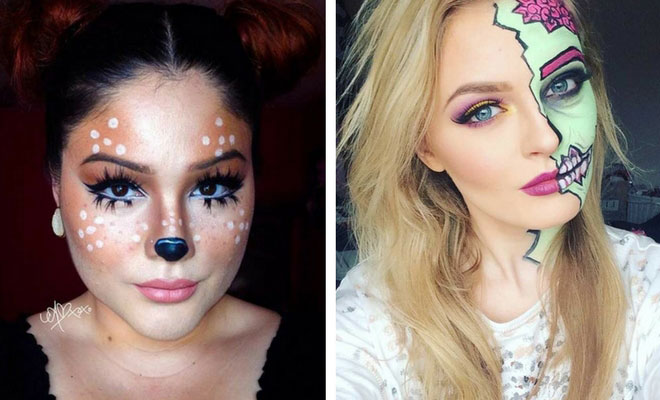 Instagram
Lifestyle
61 Easy DIY Halloween Makeup Looks
By
|
11. Pop Art Makeup Look
Who doesn't love a bit of pop art! Pop art is fun and so is Halloween.  This is a very easy makeup look, that can be done within 5-10 mins.  Don't forget to pop art your fingernails too!
12. Pink Bunny
Do you randomly have a pair of bunny ears and you want to make use of them? This is for you!  Maybe you bought your bunny ears for a fancy dress party but now they are gathering dust.  Bring them out and we can guarantee you'll love this look.
13. Scary Clown
Looking at this face makes me want to try it. Clowns are scary but when they come out on Halloween night, it's even more scary.  Not many people are a fan of a clown so make sure you make a scary impression!
14. Trippy Double Vision Makeup
No, you aren't seeing double or even triple! This is amazing and we love it.  It does mess with your mind so be warned!
Check out the tutorial!
15. Sugar Skull Makeup
Mix the sugar sweet with a scary theme and you will get this! This is truly remarkable.  It's scary and looks like you have put so much effort into Halloween, everyone will be jealous.
16. Ariana Grande (Dangerous Woman) Inspired Look
Are you a fan of Ariana Grande? This is inspired by Ariana Grande Dangerous Woman look.  Again, this is another daily makeup look turned into Halloween style.  Apply your daily makeup as usual, then start to make your eye mask with your eyeliner pen or pencil.
17. Cheshire Cat
Keep smiling like a Cheshire Cat! This will look freaky and you can match it with your hair and outfit!
18. Scary Doll
Don't rule out a scary doll… Especially, with a stitched mouth!  It will go with any dress you decide to wear and it looks so good with a hair bow.
19. All Black Sugar Skull Makeup
This is quite easy and quick to do. All you need is black makeup or face paint.  Sugar skull makeup comes from Dia de los Muertos, which means Day of the Dead.  It's a Mexican holiday that has been celebrated for years.  It is becoming increasing popular across Latin America, United States and Europe.
20. Pixelated Face Makeup Look
This may look strange when applying but don't give up. The outcome looks fab!
Tutorial for the look is here: