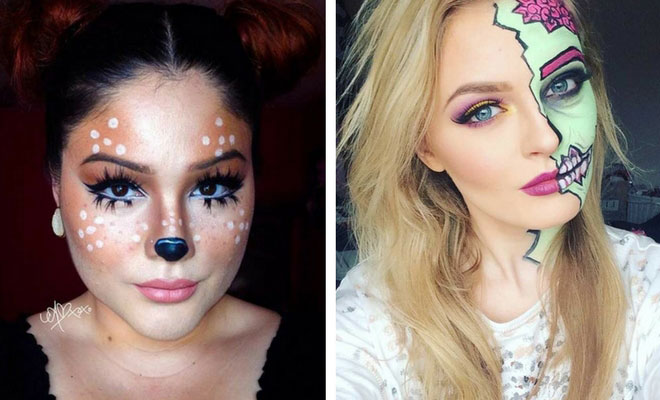 Instagram
Lifestyle
61 Easy DIY Halloween Makeup Looks
By
|
51. Cute Wolf Makeup Look
Love the wolf makeup ideas? If so, you should take a look at this one too. She has a glam eyes with a wolf nose. The artist has also made her skin look furry by using makeup to create texture. This is a cute and classic makeup idea. It is great for last minute events and you can easily recreate this with makeup you may already have.
52. Magical Witch Makeup
Next, we have another magical and mysterious makeup idea. The artist has created dark eyes, a moon on her head and she has symbols on her cheeks. This look is complete with black lips and a black hat. It is perfect for those who want a more unique witch costume. We love this spooky look.
53. Cracked Doll
Cracked dolls have become so popular for Halloween and with makeup like this, we can see why. For this look, she has creepy eye makeup with long lashes. The look is complete with cracks and pink lip color. You can try something like this or add contacts for a scarier look. There are tutorials for cracked makeup online.
54. Beetlejuice Inspired Makeup
Love the movie Beetlejuice? If so, this makeup idea is for you. This makeup was inspired by the main creepy character and features his classic green hair, stripes and dead looking face. This is a more pretty and cute version. It is quite simple to recreate too. You could even use this makeup but buy the black and white striped suit.
55. Glam Clown
The next idea features a glam version of a gangster clown. She has classic clown features with the eyes and red lips. But she has added the black and white patterns which are popular with the other look. This makeup is simple and you can make it even creepier with contacts and a clown costume.
56. Easy Halloween Witch Look
Next, we have another Halloween classic. This time we have a witch. She has orange and sparkly makeup on her eyes with black lip color. The look is complete with a witch hat and spiders. Makeup like this is perfect for any Halloween event. Recreate this or you could try a purple and black version. That would look so magical, just replace the orange makeup with purple.
57. Creepy Lion
Want to look cute but also creepy? If so, this idea is for you. The artist has created pretty lion makeup on one side. While the other is scarier with a cut and different colored contact lens. This is a unique and cool idea. It gives you the best of both worlds. There are tutorials for lion makeup online.
58. Scary Clown
Love the clown costumes? If so, you need to see this. She has a pale face with black clown features and stitches on her lips. This is a unique and spooky version of a clown. The black and white color palette is ghostly too. This is another great last minute look as you don't need that many products.
59. 1920's Costume For Halloween
This next idea is unique and glam. She is dressed as a 1920's flapper with a Halloween twist. The makeup is glam but she has added wounds and contact lenses which create that creepy, ghostly look. We love this idea and it is perfect for Halloween parties. Flapper costumes like this can be bought online.
60. Stitched Doll Makeup
Next, we have another creepy doll. This time she has stitches but the splits in the skin are more gory. She has also back lip color and she has created the illusion that pins are sticking out of her face. This is a scary idea and it has a Voodoo doll vibe. You could use this stitch technique for a scarecrow too.
61. Supernatural Witch
Like the scarier witch makeup and costumes? If so, this is for you. She has dark eye makeup with contact lenses and she has made it look like black drips are coming out of her eyes and mouth. This is a scary idea and it is perfect for parties. You could even add some glitter to make it look even more mystical.