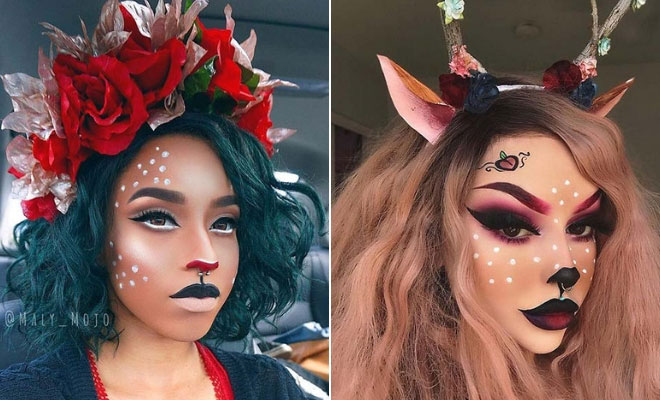 Instagram
Lifestyle
25 Deer Makeup Ideas for Halloween 2019
By
|
Deer makeup is one of the most popular looks for Halloween. This is no surprise because it can be so versatile. Whether you want to look cute and pretty, mystical or a little scary, there is a deer makeup idea for you. To give you some inspiration and to show you how awesome these makeup looks can be, we have found 25 of the best deer makeup ideas for Halloween. You will find simple looks for the ladies who are new at Halloween makeup and more intricate looks for the makeup pros. There is something for everyone and any one of these will help you celebrate Halloween in style!
1. Classic Deer Makeup
First up, we have this classic deer makeup to show you. When you search for deer makeup inspiration, then makeup like this is generally what you will see. It has the cute white dots, black nose and mouth. This is a pretty and easy to wear look that will suit everyone. It will be quite simple to recreate too.
2. Glam Makeup and Antlers Idea
Next, we have a glam makeup idea to show you. The makeup artist has created white dots, a black nose and mouth. She has also painted her neck and shoulders and finished off the look with stunning flowers and antlers. The eye makeup really stands out and looks gorgeous. This is perfect for those who want to look pretty and join in the Halloween fun. You can find a full list of all the products used to create the makeup on the page below.
3. Scary Deer Makeup Look
Want your deer makeup to stand out from the rest? Then consider creating a design like this! For this look, half of her face has deer makeup and the other side has glam makeup. The face has been divided with a gory wound too. With this, you get to try everything. You can look cute with the deer makeup, still look glam and look a little scary for Halloween too!
4. Cute and Easy to Wear Makeup Idea
The next makeup idea that we have show you is easy to wear, simple to create and is super cute! This is a classic deer look but the mouth and nose are even easier to create. As you can see, the winged eyeliner looks amazing with deer makeup. Something like this is great as a last minute makeup idea. We love this deer idea.
5. Spooky Halloween Deer Makeup
Looking a more gory and scary makeup idea? Then take a look at this! Here we have deer makeup that features a bloody wound on the head. This creates a hunted deer look. The makeup artist used red for the nose, but we recommend black as it is Halloween. There are tutorials online that can show you how to recreate a similar look.
6. Beautiful Makeup + Floral Headband
Next we have a beautiful makeup idea. For this look, the makeup artist has kept it simple and has only added a few white spots. She has created stunning eye makeup and created the classic deer nose and mouth. What really makes this stand out is the amazing floral headband. As you can see, it creates a glam statement. You can recreate this or you can try using black for the nose. A black floral headband would also look awesome.
7. Pretty Deer Costume Idea
This next makeup idea is pretty and unique. The makeup artist has painted her face and her shoulders too. She has created white spots, a black nose and amazing eye makeup. We love the bold eyelashes because if you look at real deer's eyelashes, they are quite long! So, the look has taken inspiration from actual deer. You can check out the products used for this deer makeup on the page below.
8. Deer Makeup with a Heart Nose
Want to make your deer makeup look even cuter? Then take a look at this! This deer doesn't have a regular nose, this deer has a super adorable heart nose! Just by changing the shape of the nose you can create a different look. You can keep it red for a love heart or have a black nose in a heart shape. Either one will look cute. A pink nose would be pretty too.
9. Fantasy Deer
Halloween makeup doesn't just have to be cute or scary. You can go for something magical and mystical like this! Here we have deer makeup that has more of a fantasy vibe. The artist has created amazing two tone lips with stunning pink eye makeup. Her eyebrows also look super cool too. The deer look is finished off with elf like ears and decorated antlers. Makeup like this looks straight out of a fantasy novel and we love it!
10. Rudolph Inspired Makeup
Add some glamour to your deer makeup by using pearls for the white dots! Here is a beautiful example. For this look, the makeup artist has created stunning eye makeup, a sparkly nose and glittery black lips. She has finished off the makeup by using pearls instead of white dots. This is such a unique idea and as you can see it looks fabulous. Makeup like this would be perfect for a party. You can find the products used and view a tutorial on the page below.