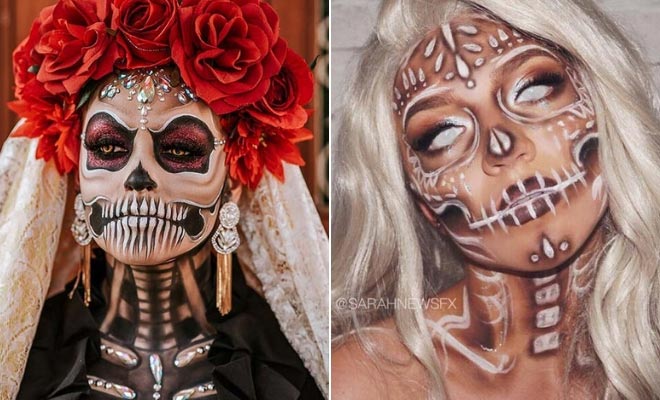 Instagram
Lifestyle
23 Sugar Skull Makeup Ideas for Halloween
By
|
One of the most popular makeup looks for Halloween is the sugar skull. The makeup is inspired by the colorful and ornate sugar skulls used in the Día de los Muertos or Day of the Dead celebrations in Mexico. We know how much you all love sugar skull makeup and have found 23 of the best designs from Instagram to give you some inspiration ready for Halloween. There is a sugar skull idea for everyone and each one will look amazing for any Halloween event. What are you waiting for?! Take a look we have spooky skulls, glitzy makeup and more.
1. Spooky Sugar Skull Makeup
First, up we have this spooky sugar skull makeup. The makeup artist has created black skull makeup with dramatic smokey eyes and she has painted her neck and body to look like a skeleton too. This makeup is finished off with a stunning floral headband and flower earrings. You can recreate this look or just paint your face in a similar way. There is a full list of the makeup used on the page below.
2. Bold and Bright Makeup Idea
Next, we have a bright and bold sugar skull idea. For this look, the makeup artist has used shades such as orange and purple to create a gorgeous sugar skull costume. The makeup is finished off with gems, flowers and a statement making floral headband. A sugar skull design like this will make you stand out and we love the colors because vibrant shades like these are commonly used on traditional sugar skulls. You can check out what products was used on the makeup artist's page.
3. Sunflower Makeup Idea
The next makeup idea is very unique and beautiful. Here we have a sunflower skull. This artist has been inspired by sunflowers and the fall season to create the look. She has a beautiful flower design over her eye complete with green stems to look like bones. The makeup is finished off with flowers in autumnal colors. It is an unusual version of the sugar skull, you can recreate this or use different flowers for you makeup. On the makeup artist's page, you will find all the products used and a YouTube tutorial.
4. Cute Sugar Skull Clown Makeup
Can't decide whether to be a clown or a sugar skull? Well, with makeup like this you don't have to. This makeup artist has created both looks in one. She has created a skull like mouth complete with heart shapes on her eyes, gems, bows in her hair and flowers. It is like a combination of different Halloween looks. Recreate something similar or use this image as inspiration to create your own sugar skull clown.
5. Traditional Sugar Skull Look
This next idea is one of our favorites! Here we have stunning sugar skull design. This one has more of a traditional look because of the floral headband and the veil. The makeup is just amazing and the skeletal teeth look so realistic. A costume and makeup like this will wow at any Halloween celebration. You can check out the full costume on the page below.
6. Unique Sugar Skull Makeup with a Mermaid Theme
Next, we have a very unique idea to show you! This artist has combined sugar skull and mermaid makeup together! As you can see, the result is amazing. She has the more classic skeletal mouth and a patterned nose and mouth. The rest of her makeup looks like a magical mermaid complete with scales. This is a mystical and unusual idea and you can check out what products were used on the page below.
7. Beautiful White Lace Sugar Skull Makeup
A lot of skeleton and sugar skull makeup uses the color black for the lines and patterns. Well, what if you used white? This makeup artist has created stunning white makeup look. She has finished off the makeup with gems. The white makeup and rhinestones give her an elegant, spooky and ghostly look. This is a unique idea and we love it! You can check out a YouTube tutorial down below.
8. Scary and Stunning Makeup Idea
This next makeup idea is one of our favorites! Here we have stunning red sugar skull makeup complete with gems, flowers and gorgeous patterns. She is also wearing a floral headband with a skull that looks amazing with the makeup. This is a scary and fierce sugar skull makeup idea that will be perfect for a party. You can recreate this or you can try creating simpler patterns. Either way, it is a fab look for Halloween.
9. Simple Sugar Skull Makeup
Maybe you are looking for a simpler makeup design? If so, this idea is perfect for you. Here we have sugar skull makeup that is more minimal and it only has a few patterns. The eyes are mostly black with a red pattern, the nose has a heart shape and the lips are red with skeletal lines. All this is quite simple to recreate and can be done with makeup you may already have. This is a great last minute look.
10. Glam Look with Rhinestones
Look glitzy and glamorous this Halloween with sugar skull makeup like this. The makeup artist has created skull like eyes and a skeletal nose and mouth. She has finished off the look with sparkling rhinestones. We love the purple color used and think it looks so gorgeous with the gems. This makeup is a must-have for those attending Halloween parties or for those who are celebrating the occasion with a night on the town. You can check out what products were used to create the makeup on the page below. The gems used are available from Evol cosmetics.