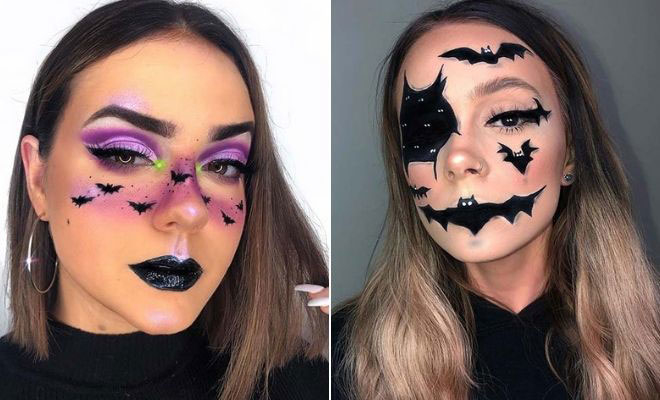 Instagram
Beauty
21 Bat Makeup Ideas for Halloween 2020
By
|
Halloween is not complete without bat decor. But this year why not add the classic and creepy creatures to your Halloween makeup instead?! You can create so many scary or cute looks and there are so many unique makeup designs that can be created. To show you how spooktacular bat makeup can be, we have 23 of the best looks for Halloween. We have illusions, vampire bats, glam makeup ideas and more. So, take a look, there is a Halloween bat for everyone.
1. Spooky Bat Makeup
First up, we have this spooky bat makeup. She has created bat wing eyeliner and she has black lips with small white triangles that look like teeth. This is a fun and cute idea that is perfect for Halloween. There are tutorials online for bat wing eyeliner, so you can try this look yourself.
2. Bat Face Makeup
This next idea is one of our favorites because it has such a cool illusion. She has simple makeup but she has painted bats all over her face. One bat creates an illusion on her mouth but it is the one on her eye we love. When her eye is closed, it looks like a bat cave with small eyes looking at you. This is such a unique and awesome idea.
3. Creepy Makeup on the Lips
Looking for something creepy? Well, then take a look at this. For this look, she has dark smokey eyes and the bat design is on her lips. Her lips are painted black and there are bats surrounding it. So, the bats look like they are flying out of her mouth. This is a simple but spooky idea and it is perfect for those who want to try something different.
4. Bat Face and Body Makeup
If you really want to make a spooky statement this Halloween, then this makeup idea is perfect. The artist has used classic orange and purple Halloween colors. Then she has painted bats on her face and body, but some of the bats are card which gives them a 3D effect. This is such a cool idea and you will definitely stand out!
Products used: Morphe 35O3 Palette, Kat Von D Tropper Liner, Lime Crime Velvetines Lip Liner in Magic & Poison Cherry Wet Cherry Lipsgloss, Jeffree Star You. Better. Work Velour Liquid lipstick, ABH Brow Pomade in Soft Brown & Clear Brow Gel, Peaches Makeup Eyelashes, Milani Cosmetics Conceal and Perfect foundation and Mac Soft and Gentle highlighter.
5. Glam Makeup with Bats
The next makeup idea is perfect for those who want to look glam and spooky all at once. The artist has used rich red lip color and she has paired it with bold black eyeliner. This look is complete with small bats which have been painted on the face. The lip color and eyeliner look pretty and stylish while the bats celebrate Halloween.
6. Unique Bat Makeup Design
Maybe you want to try something more unique? If so, this is perfect for you. For this look, the makeup artist has painted a large bat on her face. The bat surrounds the eyes so it almost looks like a creepy masquerade mask. This is such a cool idea, you could even wear vampire fangs with the makeup. Recreate this or try the classic black bat.
Products used: SUVA Beauty Hydraliner in Scrunchie, Morphe 35b Palette and DiamondFX Black and White Face Paint.
7. Lip Illusion
Next, we have another cool illusion to show you. Here we have the bat wing eyeliner and the illusion is on her lips. Her lips are painted black but there is a nude section in a bat shape. Next to the nude section there are flying bats. So, it looks like the bats were on her lips and now they have awoken and flew away. This is a unique and creepy idea.
8. Bats And The Masquerade
This next idea is unique and it is great if you want to give your bat makeup a vampire twist. For this look, the artist has created an elegant masquerade mask complete with rhinestones. She also has red lips with purple eye makeup. This look is finished off with small bats painted on her body. It is such a cool idea because she looks gorgeous but the bats give her a vampire vibe. You can recreate this or add more bats, maybe on the face. We think fangs would complete this look perfectly!
9. Stylish Eye Makeup with Bats
Love the spooky and stylish makeup ideas? If so, take a look at this. This time we have very dark lip color worn with classic black liner. The area around the eye also features small black bats. This is a subtler and more trendy way to wear bats. It is great for those who want to look glam but also dress up for Halloween.
10. Creepy Halloween Bat Makeup
If you want something more scary, then check this out! The makeup artist has created dark eye makeup with red color that looks like blood on the lower lash line. She has also painted a large and spooky bat on her mouth that looks like a vampire bat. This is such an awesome Halloween makeup idea and we love the vampire element.