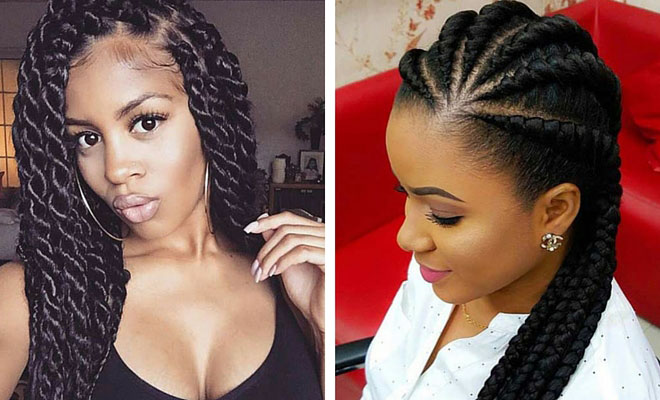 Instagram
Beauty
21 Best Protective Hairstyles for Black Women
By
|
11. Rope Twists
For when you don't know how to braid, the rope twist or Senegalese twist is super simple and easy to do. It's a twist with a twist! Cool right? The rope twist looks like rope, hence the name, and again, you'll need to get the tension right to ensure these twists look the same all over.
12. Bantu Knots
Bantu knots are a super cool look if you can pull them off, very 90's. But you know how fashion comes around – the 90's look is back in again. If you've pulled your old neck choker out the closet, you need to rock the bantu knots too. Hair twisted around until it turns back on itself, you need to remember how uncomfortable this look could be to sleep in if you don't take the appropriate precautions.
13. Big, Side Swept Box Braids
Box braids are super awesome when you're looking for a good protective style and as well as giving you the opportunity to add some impressive length to your own hair, you can create some pretty stunning looks out of them too! Just remember the longer your weave, the heavier it will be and the more stress and tension it will be putting on your scalp. Longer doesn't always mean better. Give your hair a break from time to time.
14. Yarn Faux Locs
There are many benefits to rocking protective styles like these – you'll be protecting your own hair from the elements such as battering wind and rain and the heat of the midday sun. You'll also be able to ensure your hair is well moisturized as long as you keep up with the care regime. You can keep the length you've always wanted while taking care of your own hair at the same time, and you can create beautiful and stunning looks easily. Do we need to carry on?
15. Cornrows Updo
Cornrows are always a classic look when looking at the best protective styles for black women, and one of the best things about them is the fact you can twist and turn them into a range of different looks. There are literally so many ways you can customize this look, you'll never run out of ideas, all while protecting your hair at the same time too. Winner!
16. Elegant, Twist Updo
Wearing your hair up is actually a great way to protect it but this only works when you have the right tension on your scalp. Whether you opt for an updo or loose locks, twists, cornrows, braids or more, make sure you get them done by someone who knows what they're doing. Incorrectly installed weaves will cause follicle damage later on in life and this in turn can lead to baldness.
17. Senegalese Twists
Also known as rope twists, Senegalese twists are an easily worn protective style often using Marley hair, Kanekalon hair, and also Toyokalon hair. Keeping the tension the same across the style is necessary to give this look the uniform twisted look. It'll take some practice but does look simply stunning!
18. Flat Twist Updo
Flat twists are great for those who are new to the world of these protective styles for black women, and they're easier than cornrows and other types of braids because you only work with two strands of hair rather than three. If you can twist two strands together, you can create a flat twist and it can be fun coming up with new and interesting patterns and formations to wear them in.
19. Crochet Twists
There are a few care tips you should know about if you fancy going for something like this beautiful crochet twists look. You should sleep with a silky or satin scarf over your head at night to keep frizziness to a minimum. You should let your hair air-dry over night where possible rather than using heated styling tools. Finally, make sure you apply hydration balms or natural oils to your scalp and natural hair before you start to work your magic and create your look.
20. Big Cornrows into a Ponytail
With the ability to rock a number of complicated and intricate designs and styles, why wouldn't you take full advantage of that? We love these big cornrows pulled back into a simply ponytail – a real no-nonsense look for when you've got a busy day ahead. With everyone rocking thin cornrows, stand out from the crowd and opt for a thicker option every once in a while. Go crazy, why not?
21. Yarn Twists Long Bob
For an easy way to revitalize a look you've worn before, or perhaps you've been rocking for a while, is to add a touch of color when heading to the stylist. A color change can make the world of difference to your protective styles for black women, even if you're rocking the same look you've been wearing for the last year!