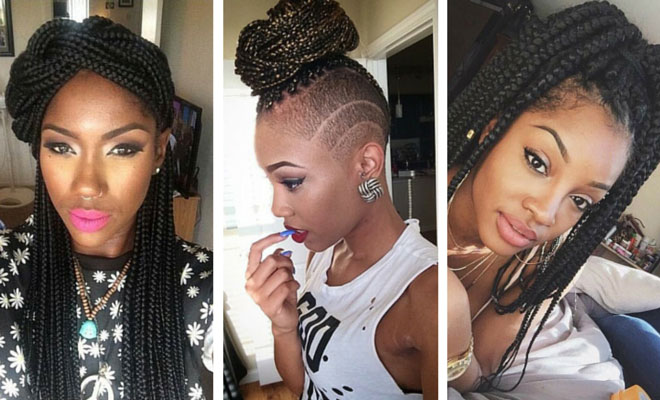 70 Box Braids Hairstyles That Turn Heads
Give your natural hair a month break with box braids. Box braids are the number one protective style that will not only protect your natural hair, but also extend it. After the installation, you'll be able to wear versatile hairstyles. This protective style can last up to 3 months. You can make your braids look trendy, elegant and chic as per the occasion or your mood.
So, how can you style box braids? There are hundreds and hundreds of styles that you can experiment with. We've collected 70+ styles that will definitely turn heads. Make sure you pin the pictures you like so you can easily find them later!
1. 6 Cool Box Braids Styles
Style #1: The first hairstyle features chunky French braid that is wrapped on one side of the forehead. To achieve this look, gather the section of your braids into a half up, half down ponytail and secure it with a hairband. Braid a French or fishtail braid and slightly wrap it on the left or right side of your forehead.
Style #2: Steps as the same as for the previous hairstyle but this time you braid two smaller braids. You can also combine two different styles of braids – one braid can be a French braid and other one a fishtail braid.
Style #3: Start by sectioning your hair into two. Tie the upper section into a half-up ponytail but leave few front strands falling freely. You'll need them for your side bangs. Wrap the ponytail around the base to create a top knot. Secure it with a hairband or bobby pins. Slightly twist the front strands to create a side bangs. You can also braid this section and wrap it around the left side of your forehead.
Style #4: Simple and stylish top bun that's appropriate for any occasion.
Style #5: Romantic half up, half down hairstyle that is created by braiding a section of hair into a dutch braid. Dutch braid is a reverse French braid. The rest of the braids are left freely hanging over the left shoulder. Stunning!
Style #6: Space buns aren't for everyone. They are cute and girly and therefore maybe not your usual style.
2. High Ponytail
Our favorite go-to hairstyle is definitely a high ponytail. When done right, high ponytails look incredibly chic. Anybody can do and rock this hairstyle, whether you have a big or small, short or long braids. For the perfect finishing touch, accessorize your braids with gold hair cuffs.
3. Romantic Half Updo
This cute hairstyle is definitely one to try. Who would knew that such a simple look will be so breath-taking. We love everything about it!
4. Bob Box Braids
Bob is this season's hottest cut. This cute hairstyle is timeless and will truly never go out of style. Short box braids are easier to maintain and install. Also, they are much lighter on the head. If you opt for bob, you'll still be able to style your braids and rock some super chic hairstyles.
5. Light Brown Braids with Shaved Sides
Looking for a sexy and bold hairstyle? Our recommendation are box braids in a light brown color, gathered into a high bun. Oh yes, and shaved sides. Try this hairstyle during the warmer seasons to easily beat the heat but still look incredibly fierce.
6. High Side Ponytail
As you can see, a simple ponytail can also be a lovely hairstyle. This one is pulled high on the right side. The base of the ponytail is covered with a few strands of braids. This little trick will make your ponytail look way more better!
7. Long Red Box Braids
Great hairstyle for days when you don't want hair in your face. Also, this red color will make you stand out from the crowd. Don't be afraid with colors and styles – protective styling should never be boring!
8. 3 Easy and Cute Styles
Slay the box braid trend with these gorgeous 4 hairstyles. Yes, you can even make a bow out of your box braids! All of these styles can be done in under 5 minutes after some practice. The first hairstyle is perfect half-updo for special night outs.
9. Twisted High Bun
Bun is one of the easiest and chicest ways to style your box braids into a stunning updo. Bun hairstyles have endless versatility – they can be tight or loose, high or low, with or without elements of braiding, etc. For high buns we would recommend smaller earrings.
10. High Bun + Shaved Sides
Here's another cool way on how to style your box braids. Shaved sides look so edgy and urban, especially if you rock them with your box braids. We love that section of the hair that is left freely hanging.
11. Braided Half Updo
This hairstyle seems like it takes a lot of work, but actually it doesn't. Easy but stunning hairstyles are our fave. This hairstyle is ideal for summer weddings and other special occasions. We love the entire look, including the pink lip.
12. Formal Updo Tutorial
Who needs a hair stylist when there are so many talented women, willing to share their secrets on how to create some stunning hairstyles, right? If you like this updo, make sure to try it for your next formal event.
13. Pastel Pink Box Braids
If you are getting tired of the same old hair color, we encourage you to try a statement-making hair color, just like this gorgeous pastel pink! Purple, pastel pink, grey and light brown colors will accent your skin tone perfectly.
14. 4 Box Braids Styles for Summer
These looks are easier to achieve than you think! We love the pop of red color, it makes the whole look much much better.
15. Twisted Side Ponytail
Side ponytail is the perfect look for get togethers with your girlfriends. At least one of them will ask you how to achieve this amazing hairstyle, we guarantee it.
16. Big Box Braids
These big and chunky box braids look stunning, even when they are left freely hanging. Who needs a hairstyle when there are hair cuffs, right? They are the easiest way to add a touch of glamour to your look.
17. Box Braids into Two French Braids
Our ladies with smaller box braids will be able to rock French braid pigtails. Apparently, most men think pigtails are super sexy. Match yours with big gold earrings.
18. Green Box Braids + Floral Headband
Green hair? Sure, why not! If you're feeling like your green hair is just missing something, you should add some accessories such as floral headband. Big flowers in hair are a must-have for this spring and summer.
19. Half Updo Tutorial
Braiding the box braids into a big braid, always ends up with a stunning hairstyle. Besides French braid, you can braid a fishtail braid or simply make a two strand twist. We love this tutorial!
20. Box Braids Mohawk
Are you brave enough to shave off the portions of your hair? We don't know about you, but this edgy hairstyle makes us want to shave off our sides right away! Shaved sides look better with longer braids. And don't worry, high bun isn't the only way to style your braids when rocking this type of mohawk.
21. Chunky French Side Braid
We are madly in love with red box braids, especially when they are braided into a big, chunky French braid. You cannot go wrong with braided hairstyles, that's obvious.
22. Purple Box Braids
A great way to make your box braids even more sexy and dope is to add some color. If red isn't your color, then you definitely should try out these purple braids. Life is too short for boring hair, right?
23. 4 Updo Styles for Box Braids
We've told you there are hundreds and hundreds of styles that you can experiment with your box braids. Here are another six ones. Updos and box braids are seriously so hot right now!
24. Twisted Half Updo
For this cute hairstyle, you'll only need to twist your braids for few times. Yes, it's that simple. When you get the look you want, make sure you secure the twist with as many bobby pins as possible. We want everything to stay in the place.
25. Box Braids High Bun with a Scarf
Jazz up your braids with a scarf! Box braids are perfect for scarves, head wraps and statement earrings. Also, scarf is a great hiding tool for days when your braids begin to get messy.
26. Easy Braided Updo Tutorial
Need a quick and easy updo for that formal event? We got your back! Just follow these easy six steps and you'll have your updo in no time.
27. High Ponytail + Shaved Sides
The next time you feel bold and edgy, make sure to show this hairstyle to your hair stylist. Shaved sides and high ponytails make our jaws drop!
28. Super Long Box Braids
Super long box braids are an eye-catcher, especially if you style them into a high ponytail like pictured. The options of styling long box braids are endless. Be creative!
29. Box Braids into a Twist
We love the versatility of box braids. Here we see a cute and simple way to style your box braids. To achieve this look, take two strands of box braids and twisted them around each other. You can twist only few strands at the front or all of them. Lovely!
30. Big Box Braids Bob
Short box braids won't put as much stress on your natural hair, but they will still look exotic and sexy. You can adorn them with gold beaded hair cuffs for some hair bling!
31. Braided Top Knot Half Updo
Wonder how to achieve this look? Here's a quick and easy tutorial. Separate your braids in two sections. From the top section, form a half-up ponytail and secure it with a hairband. Separate the ponytail into three same sections and braid a French braid. Secure it with an elastic hairband. Twist the braid around the ponytail base until you've formed a nice looking bun. Tuck or pin to secure.
32. Small Box Braids Mohawk
This look is hot! Here's the thing we love most about box braids: you can just let them all hang out and look absolutely stunning. Perfect style to beat the summer heat. Agree?
33. Updo + Side Swept Bangs
This updo is simple, cute and classy all at the same time. It will compliment any outfit, casual or formal. To get this look, simply make a high ponytail. Take the ponytail, loosely twist the ends and secure them with bobby pins. The hairstyle will expose your cheekbones and facial outlines.
34. Tutorial for Braided Half Updo
If you know how to french braid, this tutorial will be easy. I have personally rocked this half-updo and loved it! You can swoop the braids in whichever direction you please.
35. Grey Box Braids Half Updo
This season is all about the grey hues. More and more women are starting to rock the grey hair. Does that mean grey is the new black? Either way, we love this edgy hair trend! Would you feel comfortable rocking this "granny" hair?
36. Super Short Bob
Short box braids look very natural and cute. Opt for this style if you don't have time to experiment with different hairstyles.
37. Cute Space Buns
Half updo styles will bring out the beauty of your face. It's important not to pull the buns too tightly because you can end up with hair loss.
38. Blonde Box Braids
Before installing this style, make sure the blonde color goes well with your skin tone. Some blonde and platinum colors can look too harsh, so be careful with your color choice.
39. Black and Blue Box Braids
Another advantage of box braids is that you can rock purple, red, blonde, grey and blue hues without coloring your natural hair. Hair for box braids comes in many different colors so there's no need for dying and damaging your natural hair.
40. Twisted Top Knot Half Updo
We're madly in love with this half-updo. The style is perfect for days when you're in a big hurry and you need a striking hairstyle.
41. Twisted Updo
This gorgeous updo is one to try. We love the hairstyles that are not hard to learn. At first, this hairstyle may seem really complicated and time-consuming, but actually it's not.
42. Big Box Braids Half Up, Half Down Style
Big box braids are a hot style, especially if you pull them in one of our favorite hairstyles – the half updo. Perfect style when you want your braids out of your face.
43. Braided Side Bun Tutorial
Ladies, after this tutorial there's no excuses for poor looks! Next time when you're in a rush, make sure to turn to this hairstyle. The tutorial is easy to follow.
44. Colorful Box Braids
The colors scream summer, but let's face it, very few women are bold enough to sport this colorful style.
45. Box Braids into a Halo Braid
French braid your box braids from ear to ear to create this fabulous halo or goddess braid.
46. Simple Half Up, Half Down Style
We love this hair color! It's perfect for warmer seasons and compliments black skin so beautifully.
47. Small Box Braids Half Updo
You probably think: "Why didn't I think to try this hairstyle sooner?" It's so simple yet so stylish and cute. Gold cuffs add a special glam touch to the whole look.
48. Messy High Bun
This woman is a real beauty, isn't she? Gathering the box braids in a high bun is one of the easiest styles women may opt to. The messier bun, the better.
49. Chunky Side French Braid
Only French braids have ability to transfer an ordinary hairstyle to a whole new level. This side French braid is a super easy way to style your box braids. Once you try it, you'll get addicted! You have been warned.
50. Black and Blonde Braids into a Ponytail
Yes, you can look incredibly stunning by simply tying your box braids up in a high ponytail. We love how the black and gold colors are featured in the braids, as well as in her outfit.
51. Stylish Ombre Box Braid Idea
The next hairstyle we have to show you is so stylish. Here we have long box braids that start black and then change color midway. This ombre look is so trendy. It is a subtler way to try a new color as all the braids will not be in the vibrant shade. Recreate a similar look to this or you can use a different color for the ombre. Hair used: 8 packs of Silike Jumbo Braid Kanekalon Hair 24″ (Black/Dark Green).
52. Half Up Bun
Another beautiful hairstyle that you can try is a half up bun. This next hair idea is a great example. These box braids are chunky and long. Half are loose and half are styled up into the bun. As you can see, the bun looks so cute and stylish. We like the gold hair accessories too. This is a great summer style that will suit everyone.
53. Caramel Blonde Braids
If you want a new hairstyle and a new color, then check out this box braid look. These braids are simple, long and are a stunning caramel blonde shade. The caramel blonde is gorgeous and it really brightens the hair. It is not just us that loves this blonde color, celebrities like Beyoncé love it too. So, give it a try for a fierce and trendy look.
54. Jumbo Box Braid Half Up Hairstyle
Next, we have another half up hair idea. This one features a ponytail instead of a bun. So, half of the braids are loose and half are in a ponytail. As you can see, the ponytail looks cute too and it is another easy to wear style. Recreate this look or you can try a shorter version of the style too. A bob would look nice.
55. Jumbo Braids with Triangle Parts
This next hair idea is stylish and simple. Here we have chunky box braids with triangle parts. Some of the braids are accessorized too. We love the triangle partings because even though they are subtle, they still make a statement. Hair like this will suit everyone and it is easy to wear. This hairstyle can be recreated in any color and with any accessories.
56. Short Box Braids
Shorter styles are very popular especially around the summer season. If you are thinking about trying shorter braids, then take a look at this hairstyle for inspiration. Here we have box braids that are around shoulder length. As you can see, they look so stylish! You can try braids like these or go even shorter. Either way, braids like these are a must-have look for the summer.
57. Knotless Box Braids Ponytail
Ponytails are another easy to wear style that will look chic on everyone and this is a beautiful example. Here we have a high ponytail with sleek and gorgeous box braids. Hair like this will suit any occasion from work to the dance floor, so it is a great look for busy ladies on the go. Keep it simple like this or for bolder hair, try the ponytail with a different hair color. Dark blue would look amazing.
58. Crochet Box Braids with Curly Ends
Next, we hair idea that looks effortlessly beautiful. These box braids are long and sleek with gorgeous curly ends. This is perfect for the ladies that want a more low-key hairstyle that is chic and will suit any occasion. Recreate this style or you can have the braids longer or shorter. Keep the curly ends though because they are stunning and super trendy right now.
59. Vibrant Ombre Green Braids
Love the ombre hairstyles? Then check out this next look. The box braids featured here are very long and are black at the root. About a quarter of the way down, the hair color changes into a vibrant and vivid green shade. We love the color because it is so striking, fun and bold. It would be a great look for the summer. Try a similar style to this or you can try a shorter version.
60. Thin Box Braids Half Up Ponytail
The next hairstyle features another trendy half up hairstyle. These box braids are super long and thin. As you can see, the ponytail looks so cute and stylish. Hair like this is easy to wear and will suit everyone. It would look awesome in a color like bright red or burgundy too.
61. Jumbo Blonde Box Braids
Thinking about going blonde? Then this hair idea shows how to do it in style! Here we have jumbo blonde box braids where half are in a bun and half are left loose. The braids use multiple blonde shades and as you can see, this creates one trendy look. Hair like this will make a statement so it is perfect for the ladies who want to be bold and who want to stand out.
62. Glam High Ponytail
Next, we have another ponytail to show you. This one features sleek box braids that are styled high on the head. Some of the braids wrap around the ponytail which really gives the hair a chic and glam look. Hair like this will look amazing for a special occasion and it will suit everyone. Try to keep the braids long if recreating the style to keep the wow factor.
63. Braided Box Braids
This next hairstyle is so pretty! These box braids are long and are a beautiful brown shade. What we really love is the side braid. A section of braids has been styled into a three strand braid and has been worn on the side. This is a creative and unique hair idea. Hair like this will suit any occasion but you could glam it up with some accessories. Hair accessories would look amazing on the side braid.
64. Stylish Jumbo Braids
Love the half up hairstyles? Then check out this next look. Here we have chunky box braids and half are styled into a high ponytail. This is a cool, casual and easy to wear hairstyle. Recreate this look or you could try thinner braids. A hairstyle like this would also look amazing in a different color.
65. Dark Blue Box Braids
Dark blue is such a trendy color for braided hairstyles. Don't just take our word for it, see for yourself! These box braids are colored in a very dark blue shade. They are styled high with a cute head scarf too. As you can see, it is a bold color but it is not very over the top. This makes it great for the ladies who want to try a new color that is not too vibrant. We love these box braids and think they will look amazing on everyone.
66. Beautiful Braided Ponytail
Earlier in the post we featured box braids that have been styled into a three strand braid. If you loved that idea, then you may like this one too. Here we have a braided ponytail. All of the braids in the ponytail have been put into a loose braid too! As you can see, the multi braids look stunning. This is a beautiful hairstyle and it is one of our favorites.
67. Goddess Box Braids
Next, we have beautiful box braids with loose curls. These braids have triangle parts and some of them are accessorized too. The combination of curls, braids and accessories is so trendy. Hair like this is easy to wear and will suit anyone. You can recreate this look or try the style with shorter braids.
68. Blonde Ombre Hairstyle
The next hair idea features another gorgeous ombre look. For this hairstyle, the box braids are very long and the braids start black. About midway, the hair changes into a light blonde shade. The blonde looks beautiful and it really brightens and lifts the hair. This would be a great look for the summer. Recreate these braids or try a different blonde shade.
69. Unique Braided Ponytails
Looking for a more unique hairstyle? Then you need to see this next hair idea. These box braids have been split and styled into two ponytails. The hair is twisted at the top and some braids are wrapped around each ponytail midway. This is a cute and quirky hairstyle and we love it!
70. Box Braids with a Headwrap
Headwraps will jazz up any style and next we have a beautiful example of how to wear one. Here we have long box braids that are worn with a colorful headwrap. As you can see, the style is simple but the wrap really makes a statement. You can also express your individual style by wearing headwraps in all different colors and styles. There is a tutorial on the page below which shows you how to create this headwrap look and there are many others too.
We hope you've been inspired by these amazing box braids hairstyles!