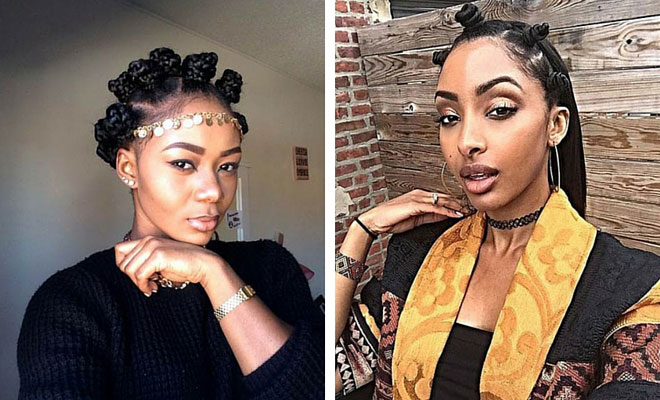 38 Stunning Ways to Wear Bantu Knots
If you follow fashion and beauty news, you know the 1990s are back, and so are the bantu knots. The style was a popular 90s look that can be worn on any hair length and any hair type. Whether your hair is natural or relaxed, you can rock this style in two ways – as is or unraveled into bouncy, full curls (bantu knot out).
25 Bantu Knot Styles
Bantu knots are styled by separating hair into sections, then twisting those individual sections into tiny knots. You can section and twist your hair into small bantu knots for a super curly afro, or opt for the big knots for a huge, fluffy hair.
The best part? Bantu knots are a great protective style since they keep the ends tucked away. In case you need more reasons to try this style – it is super easy to do and costs very little or nothing at all. Here are 25 gorgeous looks that will make you mad for bantu knots. Enjoy!
1. Bantu Knots On Natural Hair
Here is a stunning protective look for all natural-haired ladies. The style will add an instant dose of chic to your everyday look. Make sure to give it a go!
2. Perfect Festival Style
Heading to a music festival? Festivals and concerts are a great time to ditch your go-to looks and experiment with new styles. Bantu knots will make you stand out, especially if you complete the look with a bold and colorful makeup.
3. Braided Bantu Knots
Try something totally new and turn your braids into medium-sized bantu knots! Elevate your look with hair accessories like sparkly gold chains or cute headbands. Life is too short for boring hair, right?
4. Large Bantu Knots Using Marley Hair
To achieve this look, you need to twist the hair loosely. Use pins to secure the knots and keep them lasting longer. Get creative and put your own twist on this style – make the knots bigger or smaller, twist them, braid them, or add a pop of color… possibilities are endless.
5. Half Up, Half Down Style
Not all women love headbands – they can be too big and colorful or they can damage your hair and cause a headache. The next time you're craving a headband style, simply section your hair from ear to ear and create 4-5 bantu knots. The knots will keep your hair out of your face in a stylish way.
6. Sisterlocks into Bantu Knots
Sisterlocks can be super fun to style, too. If you're looking for a cute way to keep your sisterlocks away from your face, or just want to change your look, try bantu knots. They can make you feel like a new woman!
7. Adorned Bantu Knots
Give your bantu knots a glamorous touch with gold hair cuffs – hair jewelry that can completely transform your look. They will give your knots that extra boost they need.
8. Braids + Bantu Knots Style
Why choose just one protective style when you can combine them? Combine your bantu knots with other protective styles like braids and twists for a funky updo.
9. Glam Bantu Knots
If you're heading to a formal event, this is the perfect hairstyle to show everyone that you're bold, different and ready to have some fun. With the right outfit and accessories, bantu knots can be suitable for any special occasion.
10. Micro Bantu Knots
Who said bantu knots are only for long-haired women? Short hair shouldn't be a reason not to style your hair and experiment with knots and braids, even if they are micro size.
11. Bantu Knots + Shaved Sides
This colorful and stylish look will definitely turn heads! Bantu knots are an easy way to update your current mohawk, and make it even more edgy. Don't be afraid of being different!
12. Red Braided Bantu Knots
How amazing is this braided style? Start by parting your hair into sections. Detangle the first section, apply moisture butter and coconut oil, then braid it. Twist the braid into a knot and secure with a hair elastic. Yes, it's that simple!
13. Bantu Knots on Short Hair
Here's another gorgeous lady showing us how amazing bantu knots look on a short hair. The best part about the look? Once you unravel them, you will have a head of beautiful, small curls.
14. Box Braids into Bantu Knots
Box braids can be styled in a number of ways, and bantu knots are one of them. This look s definitely one to try! The downside of big bantu knots: painful and restless sleep.
15. Simple Style
This look will get people talking, that's for sure! Bantu knots are an easy way to style (and protect) your natural hair without using any heat.
16. Cute Braided Style
Bantu knot style is a must-try for all African American women. The look can be worn to work, party, or even out on a date.
17. Perfect Summer Style
Big bantu knots, like these pictured above, become possible with the help of hair extensions. Since face jewelry is now a thing, make sure to finish the look with a septum ring or glue-on decorations. The jewelry goes pretty well with the bantu knots, right?
18. Braids Into Bantu Knots
We're obsessed with this look! To recreate it, separate the braids into smaller sections. Then take the first section, twist the braids together and form a knot. Secure with a hair elastic or bobby pins.
19. Colorful Style
Wild hair colors are having a moment right now, so we had to include this bright look. After a few days, these knots will transform her locks into the most beautiful, bouncy curls.
20. Sisterlocks + Bantu Knots
Style your sisterlocks into a cute updo using the bantu knot method. Perfect look to show off your new earrings.
21. Easy Protective Style
"If you can't handle me at my Bantu knot, then you don't deserve me at my twist out."
22. Twists into Bantu Knots
Step 1: Start by sectioning off your natural hair.
Step 2: Grab one section, detangle and apply a coconut oil to moisture.
Step 3: Divide the section into two and start the two-strand twist. Once you can't go down any further, twist the strand until it forms a mini knot.
Step 4: Repeat the steps on other sections.
23. Braided Style
Step 1: Start by sectioning off your natural hair.
Step 2: Grab one section, detangle and apply a coconut oil to moisture.
Step 3: Divide the section into three and braid a French braid. Once you can't go down any further, twist the braid until it forms a mini knot.
Step 4: Repeat the steps on other sections.
24. Rihanna's Bantu Knots
Rihanna is known for her unique style, so we weren't too surprised when she rocked the bantu knot look at the iHeart Radio Music Awards. The singer paired her cool updo with dark green lipstick and sparkly hoop earrings.
25. Small Purple Bantu Knots
Match your hair with your lipstick to stand out from the crowd.
Bantu Knot Out Styles
Another reason to love the method? Bantu knot out. Your painful and restless sleep will pay off once you unravel your knots into the most gorgeous, bouncy curls. The method lets you achieve the perfect curly look without the use of heat. Plus, the curls will last you a few days. Amazing!
Remember, the ultimate tip for a perfect bantu knot out is to allow your hair to air dry completely.
1. Bantu Knot Out Curls
These stunning curls left us speechless.
2. Tutorial for Natural Hair
Women who share their beauty secrets with other women, are the best!
Step 1: Create the knots on a dry, stretched hair at night before bedtime.
Step 2: Set them with a curl defining jelly and wear them for a whole day.
Step 3: Take them out using a coconut oil.
Step 4: Separate the curls and enjoy your flawless style!
3. Tutorial for Long Natural Hair
Step 1: Apply a coconut water and styling smoother to your hair then blow dry it. Take a small to medium section of your hair and brush it out to get rid of knots. Next, apply a curly butter to set the style and brush it out again.
Step 2: Start the twisting process, leaving a little bit of the space at the top to avoid the pain. Secure the knot with a bobby pin.
Step 3: Take them out the next morning using an avocado oil.
Step 4: Gently separate the twists with your fingers.
Step 5: Separate your hair even more using a pick comb for that extra volume.
4. Flat Twists + Bantu Knots
Flat twists with bantu knots on the ends will transform your locks into amazing, full curls.
5. Bantu Knot Out Tutorial
As you can see, your curls will be popping!
6. Voluminous Curls
Tips for this look:
start off with a clean hair
lightly mist your hair with water and use leave-in conditioner
use pick comb through the curls to achieve the volume
7. Easy Bantu Knot Curls
Do the method on a dry, freshly washed and moisturized hair for the best results.
8. Small Bantu Knots into Curls
Remember, the smaller the knot, the more defined the curl will be.
9. Curls on Medium Length Hair
To recreate this look, do a two-strand twist on a wet hair. Leave the knots in for 3 days or until they dry completely. Products used: Eden's coconut shea + coconut oil.
10. Bantu knot Out on Blow-Dried Hair
For curls like these, just blow-dry your hair before creating the Bantu knots.
11. Bantu Knot Out on a Pixie Cut
Small bantu knots on a pixie cut will give you a super curly afro.
12. Easy Bantu Knot Tutorial
Yes, your bantu knot out CAN turn out this good!
Step 1: Wash and condition your hair, then blow dry it (optional: use a comb attachment). Use the tension method to smooth out the hair.
Step 2: Take a section of hair and do a two-strand twist. Form a knot and secure with a bobby pin. Air dry your hair until it completely dries or sleep in over night.
Step 3: Carefully take down your bantu knots and separate the curls with a pick comb.
13. Perfect Bantu Knot Out
Now that's a perfect bantu knot out! Agree?