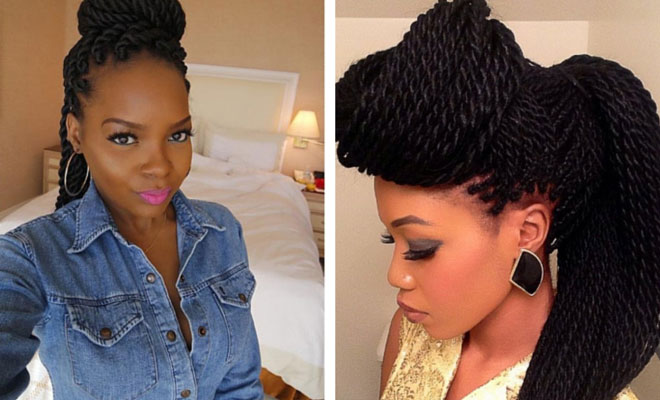 49 Senegalese Twist Hairstyles for Black Women
Senegalese twists are a good protective style option because not only they will protect your natural hair, but also make you look stunning! Also, they are very versatile so you'll be able to experiment with different gorgeous styles on a daily basis. Senegalese twists (or rope twists) will keep your natural hair healthy without sacrificing your style. This protective hairstyle is a good choice for women who want to take a break from styling solutions that include heat and chemical ingredients. Senegalese twists actually originated in Senegal, a country in West Africa. It can take up to 5 hours to do Senegalese twists, but they can last up to one month with good maintenance. You will need 3-5 packs of Kanekalon hair extensions, cut in half and feathered.
Some women often don't know the difference between Marley, Senegalese and Havana twists, so here are some tips on how you can differentiate the styles perfectly. Senegalese twists are created using Kanekalon braiding hair, which is smooth and silky. Kanekalon hair's texture creates tight, shiny and rope-like twists. Marley twists are done using Marley or kinky braiding hair, which has a more natural texture and finish and creates a thick, lock look. Havana twists use the same type of hair as Marley twists, and the only difference is in the size of the twist – Havana twists are much bigger and lighter.
Tips on how to get the perfect Senegalese twists
Start off with freshly washed and detangled hair
Stretch the hair extensions before the braiding process to make sure your finished twists do not come apart and ends can be nicely sealed.
Twist the hair as far as you can go and seal the ends with hot water – this will also keep the twists from unraveling.
Moisturize your natural hair with the mix of argon and coconut oil.
Once you have completed all your twists, go in and clean them up with scissors to cut any fly away hairs.
Smooth down your edges with edge control cream.
Crochet Senegalese twists
Crochet Senegalese twists last about 3 weeks and can take up to 2 hours for jumbo twists, and 4-5 hours for small or micro twists. Watch a YouTube tutorial by ForeverCryssy for an easy braid pattern for crochet twists. Depending on your natural hair length, you will need to braid about ten cornrows at the front, and 'S' braid at the back of your head. Braid small cornrows if you're installing small twists, or bigger ones if you're opting for jumbo twists. You will need around 5-6 packs of hair for jumbo crochet twists (24″), and around 8 packs (40 strands per pack) for the small sized twists.
Thanks to the AseaMae's YouTube video, we were able to find out what are the pros and cons of crochet twists:
Pros: quick installation (around 2 hours), professional looking hair, reusable hair, quick clean up, inexpensive ($30), length retention, versatile options (different colors, lengths and sizes), and multiple styling options.
Cons: ends unravel, ends are extremely blunt, usually there are only 18 twists per package, hair can be very heavy and not feathered (depending on the brand of hair).
We've collected 49 amazing Senegalese twist styles that you'll definitely love! Check them out!
1. Half-Up, Half-Down Senegalese Twists
First on our list of Senegalese twist hairstyles is this awesome but simple half updo. This hairstyle is easy to make and looks super cute! It's perfect for spring and summer everyday wear because the braid will keep your twists out of your face.
2. Senegalese Twist Ponytail
Elegant and classy are two words that completely describe this gorgeous updo. As you can see, you can dress up your twists in a number of ways. This gorgeous woman styled her front section of hair in a fierce top knot while the back is simply collected in a high ponytail. Give it a go!
3. Braided Senegalese Twists
Step 1: Start by separating your hair into two sections. Take the top section and secure it with a hair elastic. In this step, your hairstyle should look like a half-up, half-down ponytail.
Step 2: Separate the ponytail into three sections and start braiding a dutch braid. Wrap the braid around your ponytail base. Secure it with bobby pins. Voila! You're done with the top part!
Step 3: Separate the bottom section of the hair into two same pieces. From each section, braid a French braid.
4. Braided Updo
This is a very nice and elegant look that you can wear on special occasions. The first thing you're going to do is to make a side part of the hair that you want to use as your bangs. After that, make a high ponytail. You can secure it with a rubber band or use a piece of your twist. From the ponytail, bride eight braids and secure the ends.  The next step is to twist each braid in a little bun and secure it with a bobby pin. Make sure everything is smooth and tight. Last step is to braid down a loose braid from your bangs, swirl it and secure with lots of bobby pins!
5. Big Senegalese Twists into a Top Knot
We  know you love this hairstyle as much as we do! It's simple yet awesome. Section the top of your hair and twist it in a bun! Secure it with an elastic hair band or bobby pins.  Sounds easy, right? Don't forget to copy those pink lips, too!
6. Red Twists into a High Bun
What a bold and cool hue! We love it! Experimenting with hair colors is another advantage of Senegalese twists. You can rock bold colors like red, purple, blue, and grey without damaging your hair.
7. Twisted Half-up, Half-Down Twists
Here's another cute and easy half updo! The twists can be expensive and time-consuming to install, but they are definitely worth the price and time. Pair your unique hairstyle with red lips for the extra feminine look. Absolutely stunning!
8. Burgundy Twisted High Bun
Step 1: Make a high ponytail. Since the Senegalese twists are pretty thick and long, it's recommended to use elastic head band.
Step 2: Split the ponytail into two sections, then  twist one section around going back. Tuck it under the elastic head band.
Step 3: Take the other half and split it in two sections. Twist it into a big two strand twist and  wrap it around your hair (start from the front). Secure it with bobby pins or tuck it under the headband.
9. Twists into Two French Braids
Rope twists look fantastic in any style! You can even braid them into two lovely French braids! We think the step-by-step tutorial for this look isn't necessary because braiding isn't hard at all!
10. Grey Twists + High Ponytail
Grey hair is the hottest trend of spring and summer! Are you bold enough to try this hair hue? Grey hair won't make you instantly look middle-aged, we promise! Style your grey twists into a high ponytail. Wrap few twists around the hair elastic to hide it.
11. Half-Up, Half-Down Twisted Ponytail
For this hairstyle you will only need an elastic hair band. Take your hair to the back and section it in half. Make a smooth ponytail from the top section. Section the ponytail in half and twist it all the way down. If you've used a hair band to secure your ponytail, you can hide it with few twists by wrapping them around the ponytail base. If you want a video tutorial on this look, here is a quick one by Tupo1.
12. Red Twists Half Updo
We know this hairstyle looks hard but it's actually easy. Make a regular half updo ponytail.  Pick up the ponytail and loosely and slightly twist it. Tie it up with few loosened twists. Quick, easy and super hot!
13. Twisted Half Updo
Even a newbie could master this chic hairstyle! How to do this half updo?  Grab a section of your front hair and twist it hardly. Repeat the same for the other side. Connect the twists from the both sides and twist them together. The best part of this half updo? It's very quick to make.
14. Red Twists Ponytail + Shaved Bottom
So fierce, right? If you're no stranger to edgy, shaved hairstyles – go for it! When you don't want to rock shaved bottom anymore, you can easily hide it with your long, red twists… no one will ever know!
15. Elegant Senegalese Twists Updo
Yes, you can even rock a braided mohawk with Senegalese twists! The top part of her hair is braided to give the effect of a mohawk. The hairstyle is perfect for women who aren't ready to completely shave their sides.
16. Purple Twists Updo
Step 1: Pull all your hair in a high ponytail.
Step 2: Split the ponytail into two same sections.
Step 3: From every section, create a big and loose two strand twist. Slightly twist those two sections to create an updo. Secure with bobby pins.
Make sure to check out Tupo1's YouTube tutorial for this look and two other updo ideas for your Senegalese twists.
17. Big Top Knot Bun
If you like your top knot big and chunky, we got your covered. Create half-up ponytail and split it in two same sections. Wrap one section around the front and other across the front. Pin in place with bobby pins.
18. Senegalese Twists Updo
Bring all your hair to one side and start braiding it into a two strand twist. Braid it loosely. Now bring the twist up and add as many pins as you need. Easy updo that looks like you spend hours making!
19. Braided Half Updo
If you like this hairstyle, read the step-by-step tutorial on the picture #3. The top knot is the same and only difference is this one has the twists left hanging down.
20. Senegalese Twists with a Pop of  Red Color
If you're not brave enough to rock colorful twists, a pop of red color can do the trick. This style is probably the easiest on our list but we absolutely love it! It's pretty unique.
21. Twists into a French Side Braid
Start by braiding the front section of your hair into a dutch braid and secure it with an elastic hair band. Now you can secure the braid on the back of your head with a bobby pin or you can tuck it in a side swept ponytail. You can also bring the braid more up and braid another dutch braid on the other side. Either way, the look is fierce!
22. High Bun Updo
Step 1: Start by collecting your twists into a high ponytail.
Step 2: Split the ponytail into two sections.
Step 3: Take one section and start twisting it. Wrap it around the base you've created with your ponytail.
Step 4: Secure the section with bobby pins.
Step 5: Take the second section of the hair and wrap it the opposite way. Again, secure it with bobby pins.
23. Senegalese Twists into Space Buns
When you're in a playful, flirty mood, try this cute half updo! The girl on the picture looks super happy with her hairstyle… so why wouldn't you too?
24. Pompadour Twist Updo
Pompadour hairstyles are elegant and classic. The hairstyle above is perfect for special occasions or as a work updo. It will take you everywhere.
25. Twisted Sides Half Updo
Perfect hairstyle for those 'bad' hair days! Try it for your next night out or for an after-work event. This twisted side half updo will take you less than 4 minutes to do.
26. Blue Senegalese Twists
Wow! Would you dare to try this bold blue twist style? The hairstyle will surely get you noticed!
27. Senegalese Twist Headband Updo
This hairstyle requires only an elastic headband and a few minutes of your time. Start by placing your headband over your twists. It should sit low around your head. Now it's time to bring those twists up! Tuck the twists around the headband until they form a roll. Replace the black and gold headband with the flower one and you'll have a perfect go-to hairstyle for spring!
28. Chunky French Braid
Ah, French braid. We don't have anything more to say. The picture and hairstyle says it all, right?
29. Two Twisted Buns Updo
We love how versatile this protective style can be. This look features Senegalese twists in two trendy shades – dark brown and honey blonde. This updo is perfect for special occasions or days when you want your twists off your face.
30. Crochet Senegalese Twist
Brighten up your hair with blonde Senegalese twists like these! Blonde is a great choice for the summer as it will give you a summery, beachy look. You can recreate these twists or try shorter ones. Also, consider different shades of blonde too. You can choose a bolder and lighter blonde for a more statement making hairstyle. These crochet twists are from Dynamite Hair.
31. Accessorized Senegalese Twists
A great way to jazz up your hair is with accessories. Here is a gorgeous example. These long twists have been accessorized with rings, cords and more. As you can see, these small accessories really make the twists stand out and look unique. Try a similar look to this or come up with your own design. To achieve this look, the stylist used Queen B braiding hair (60″, color 1b). You can watch her YouTube tutorial here.
32. Small Senegalese Twist
Next, we have a glam set of twists to show you. These Senegalese twists are in a beautiful warm shade and have a high half-up style. This is an easy to wear hairstyle that will suit everyone. It can also be dressed up or down to suit any occasion. So, with twists like these, you will always look stylish!
33. Super Long Senegalese Twist
Looking for a trendy and easy to wear hairstyle? Then this next idea is for you. Here we have long Senegalese twist style with a side part. These braids look effortlessly stylish and will make you stand out from the crowd. You can recreate this look or choose shorter braids. Either way, twists like these will look gorgeous.
34. Senegalese Twist Bun
Another beautiful way to style your twists is in a bun. Don't just take our word for it, check out this hairstyle. The twists have been styled high on the head to create a chic bun. You can wear a bun like this on relaxed days or for special occasions. It is a versatile look that will suit everyone.
35. Big Senegalese Twist Style with Curly Ends
Transform your hair with a trendy hairstyle like this one. These are long and chunky Senegalese twists which have been styled into a gorgeous updo. A hairstyle like this is for the ladies that want to stand out from the crowd. Recreate twists like these or even try a funky color. Red twists in this style would look amazing.
36. Long, Brown Twists with Cords
The boho trend comes back around in the spring and summer. So, why not try the look yourself. These twists have a boho vibe. The twists have a middle part, are in a stylish brown shade and are accessorized with a cord. These elements create a beachy hairstyle that is perfect for the upcoming warmer seasons.
37. Brown and Blonde Senegalese Twists
Next, we have a cool color idea to show you. These twists feature multiple shades. Some of the twists are a brown shade and the others are a warm blonde tone. This is a stylish color combination and creates a trendy and unique hairstyle. You can recreate this look or try two other different colors.
38. Twisted Updo
Need a glam hairstyle for a special occasion? Then you need to check out our next idea. For this look the twists have been styled into a high updo. We love this beautiful updo and it will look stunning on anyone. With hair like this you will steal the spotlight!
39. Jumbo Senegalese Twist
Our next idea features jumbo Senegalese twists. Chunky twists look amazing because they really show off the actual twist technique. This hairstyle has been finished off with gold cuffs which you can recreate but twists like these will look stylish without accessories too. This style is best suited to ladies who love long and statement-making hairstyles.
40. Triangle Senegalese Twists
Next, we have a trendy twist idea to show you. These twists have been styled with a triangle design. The triangles look so unique and stylish. You can recreate chunky twists like these or go for thinner ones. Triangle twists are a great idea for the trendsetting ladies!
41. Bold Blue Hair Idea
If you are looking for a bold new hairstyle, then check out this idea. These twists are a gorgeous, vibrant blue shade. A blue color like this will make your twists stand out from the crowd. Try and create similar twists like these or go for a blue ombre look. Either way, your hair will look amazing.
42. Chunky Senegalese Twists
Here is another hairstyle that features chunky Senegalese twists. These twists are long and have been accessorized with a cuff and cord. It is an easy wear style that will look chic for any occasion. Twists like these will cool in a different color too.
43. Half-Up Bun
Can't decide whether to wear your twists in a bun or wear them loose? Well, we say that you do not have to. With our next hairstyle you get the best of both. For this look, the twists are split in half. Half are styled into a bun and the other half are left loose. This is a trendy hairstyle that will keep you looking stylish every day.
44. Medium Sized Twists
Next, we have a hairstyle for the glam ladies. The twists are medium sized, long and accessorized, they also have a stylish blue black color to them also. This is a hairstyle that will keep you looking chic for any occasion. You can recreate this look or opt for shorter braids.
45. Micro Senegalese Ponytail
Our next idea is super cool and edgy. For this look the micro twists have been styled into a sky high ponytail. The ponytail features cords and cuffs too. A hairstyle like this is perfect for someone who wants a trendy new look. We love this idea!
46. Blonde Senegalese Twists
Love the blonde hairstyle ideas? Then you need to check out our next look. Here we have warm blonde Senegalese twists. A honey blonde like this is a stylish way to jazz up your hair. Ombre in a blonde shade would look amazing, too. So, try this look or choose beautiful ombre. Either way, your hair will look fabulous.
47. Stylish Twists with a Cord
Looking for chic and easy to wear twists? Then this is the hairstyle for you. The twists are long with a triangle pattern and have been finished off with a stylish cord. A hairstyle like this can be worn for any occasion and will suit everyone. It is just beautiful.
48. Half-Up Bun with Triangle Twists
We have featured half-up bun hairstyles and triangle twists. If you loved those styles then you need to check out our next idea, it is a combination of the two! The chunky, triangle twists are in a half-up bun. It is funky hairstyle that is perfect for the trendsetters. Make sure to check out Merry's YouTube tutorial on how to create triangle Senegalese twists.
49. Red Senegalese Twists
Another cool color you can try is red. These Senegalese twists are in a deep red shade. As you can see, it is a stylish color that brightens and lifts the hair. The twists feature cuffs but you can wear with or without. These twists would look gorgeous shorter, too.
We hope the lack of ideas on how to style Senegalese twists is now off you list of excuses for not having a stunning hairstyle every day! We'll be back soon with more amazing hairstyles. Stay tuned!
Last modified on January 15, 2019