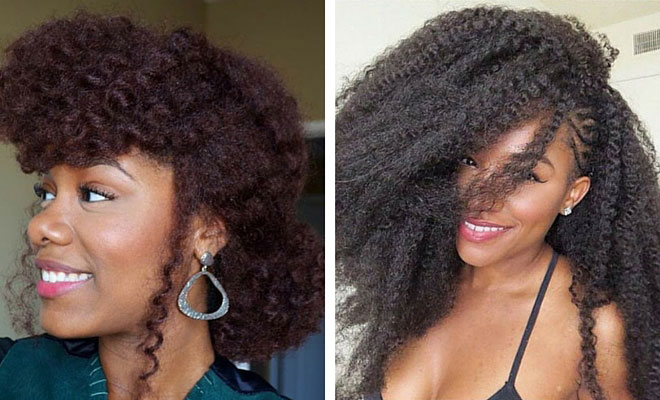 41 Chic Crochet Braid Hairstyles for Black Hair
They were big in the 90's and it seems they're back again – crochet braids are back on the rise and they're bigger and better than ever.
If you've ever wanted to play around with style, texture, length or color, crochet braids give you the perfect opportunity with synthetic and human hair used to create the look.
If you want to rock this classic, versatile design once again, here are :
41 Hot Crochet Braid Styles for Black Hair
1. Big Afro Style
If you have medium to long-length hair, you could totally rock this big afro style, suitable for all face shapes too.
There's an art to getting this – you'll need to braid the hair, starting at the forehead and working back, before sewing the ends of the hair to the head. The curly weave will need to be installed with a crochet needle, and finishing serum provides the perfect finishing touch leaving it soft and smooth.
2. Big Crochet Braid Hair + Peeking Cornrows
You can use peeking cornrows in a bid to create half updo's with your crochet braids, giving you more ways to wear them than you first envisaged.
Leave the cornrows subtle like you can see here, or take them further back to create intricate shapes and designs leading to a classy undo. Remember to take care of your crochet braids to ensure they are left in tip-top condition and you have a hair style you can totally rock for a couple of months before you need to do maintenance work to it.
3. Cute Updo
You can create faux-bangs with your crochet braids if you're clever. All you need to do is separate a section that covers the front section of your hair and wave it over to one side like you can see here.
You could leave the rest of your braids down or tie it back in a low chignon-type bun like you can see here for an office-suitable look that takes just minutes to achieve.
4. Short, Deep Purple Style
Crochet braids give you a great way to play around with a bit of color so why not play around with it?
We love this short, deep purple style and it's definitely on the wish-list for us to recreate. There's no end to the possibilities you could come up with either. Big, colorful hair is most definitely in fashion for right now so get a little creative!
5. Big, Dark Brown Hair
We often forget about the humble center-parting when we have hair we can do anything with but sometimes it works just going back to basics and leaving things simple.
Depending on the intricacy of your style, crochet braids can last for up to eight weeks if you maintain them properly, giving you the perfect opportunity to rock easy and natural styles just like this one. You can have as much or as little volume as you like with this style of braiding so why not go bigger than you usually would?
Make the change!
6. Crochet Twists
Giving your look more structure is also easy as shown by these crochet braid twists.
It's all about the twist and once you're done twisting your braids, twist the top half of them into an easy, clean and simple bun, securing in place with bobby pins.
For a more dressy look, why not consider adding hair cuffs? We think they look simply beautiful with big braids!
7. Purple Crochet Braids
When you go big, you might as well go bold and what better way than with this pretty purple crochet braids?
The easiest way to take care of a style like this is to tie your hair up and cover with a scarf when you go to bed at night. A conditioning spray is also necessary to take out frizziness and increase moisture and hydration. This is a look that will require some maintenance so make sure you have both the time and the tools first.
8. Burgundy Twist Out Hair
We've seen pretty purple's and now it's time for ravishing red!
These crochet braids look stunning in this deep red shade and you'll find it compliments many skin tones perfectly too.
If you're too afraid to go to a deep red color like this one, ask your stylist for a reddy-brown instead? Ease your way there gradually and the transition will be much easier. A great tip if you're not used to playing around with color.
9. Short & Curly Style
Just because you can have long braids doesn't mean you've got to! Why not combine your crochet braids with a shorter look instead? We think this short and curly style is simply adorable.
Having a full head of braids or weave can put pressure on your hair and sometimes, it's wise to take them out and go back to a much shorter length. Every now and again, give your head and your scalp a break. It still looks pretty beautiful, we think.
10. Curly Layered Crochet Braids
To give your hair a bit more volume, ask your stylist for layers in your crochet braids. It helps to give the impression of more hair and is a great tip for long hair and short hair alike.
You can use just about any hair to recreate just about any look with crochet braids, just one of the reasons they are becoming increasingly popular. Why not opt for a style you haven't tried before? What's the point in having all those opportunities if you're not going to take them?