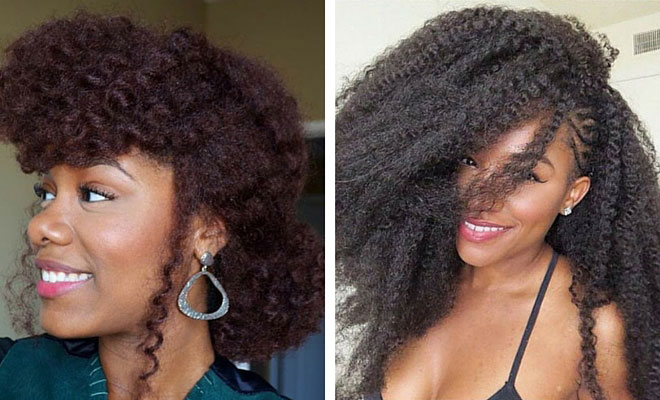 41 Chic Crochet Braid Hairstyles for Black Hair
31. Fluffy, Medium Cut Style
Just because you can go anti-frizz doesn't mean you need to. The fluffy look is back and as you can see from this beauty, there's a good reason for that.
Leave things softer and fluffier around the base for added volume but leave the ends relatively structured to stop the whole looking too messy.
32. Tutorial for Curly Crochet Braids
Want something a little more spirally? Ta-dah! These curly crochet braids are the perfect way to wear them, and trust me, for limp and lifeless haired girls, spiral and corkscrew curls are the must have hair trend for right now.
The 80's perm is said to be making a comeback and we can't help but spot curly-haired beauties all over our Instagram feeds. If you want hair guaranteed to keep it's shape, crochet braids are perfect for it.
33. Long Grey Twist Out Style
Grey hair is such a massive trend right now and sticking with the theme of those corkscrew curls and wavy-waves, we come to this beautiful long grey twist out style.
One of the simplest ways to achieve stunning waves like this is to style the hair while it's damp or wet. You simply put your hair in twists over night and when you awake the next morning, your hair will have held its shape. It's a great, cheating way of getting those cute kinks and waves without needing to use heated styling tools.
34. Cute Black & Dark Red Look
Tight curl styles are said to last longer than the looser styles and many women report they often get more life out of the look too.
If you want something that will last the distance and give you something you won't need to worry about for a few weeks, opt for a tighter style that will eventually loosen out to a soft wave over time.
35. Big, Black Crochet Braids Style
Although tight curls are better for maximum life span, they are also more likely to frizz so make sure you use a decent conditioning and smoothing serum and treatment to stop this from happening.
There are a lot of different products on the market but it is well worth asking your stylist as they will know what customers have reported good results with the hair she has installed.
36. Medium Cut Style
Apple cider vinegar can be used on crochet braids to clean the scalp but you are going to want to dilute this a lot to avoid any irritation to skin or hair follicles.
Mixing warm water, apple cider vinegar and conditioner together in a 'wash' to use every two to three weeks will deep clean everything properly, giving you more life out of your look.
37. Honey Blonde Highlights
Before you have your crochet braids installed, you should prep your hair for the best results.
You will need to do a protein treatment on your hair to ensure it is strong and healthy to withstand the tight corn rows and the heavy lengths or hair being attached to it. Protein helps to boost nutrients to the hair and will plump it also, giving you more strength and better quality hair growth.
You will also need to perform a deep moisturizing treatment to ensure that it is well hydrated.
38. Twist Out Crochet Braids Lob
A great way to ensure the hair stays looking it best, and that your hair is not damaged in the process, is to braid your hair with synthetic hair to give it an added level of protection during the cornrow process.
Think of it like adding another man to your army – you have another load of strength to keep the look in check.
39. Crochet Braids Using Marley Hair
According to experts, there's a trick to making installation of the crochet braids easier and that's blow-drying freshly-washed / wet hair before the cornrows are started.
Each stylist will have their own tricks and tips on how to make installation, maintenance, and removal of the crochet braids easier so make sure you have a good chat with them while you're sat there to try and pick up handy hints.
40. Colorful Look
One color? Two colors? Three colors? However many colors you like really. Because you can choose synthetic hair or real human hair, you have the option of brighter colors and also more natural colors – the crochet braids can be dyed.
We love this almost-natural red, blonde and brunette look and we think you should definitely give it a shot!
41. These look so natural, right?
Who cares if they look natural? Who cares at all? That's the thing about crochet braids – they're back and people are coming up with new and improved ways to wear them this time around.
You have many more tools at your disposal these days so why not make the most of the opportunity? Play around and be natural, or be not-so-natural. Be what you want to be – look how you want to look. Make something new and be creative.
***
Crochet braids might be a nineties thing but they are definitely coming back around like many other fashion trends before it. One thing is for sure, our makeup and style is definitely better than it was back then, but girl-power… That definitely stuck around!