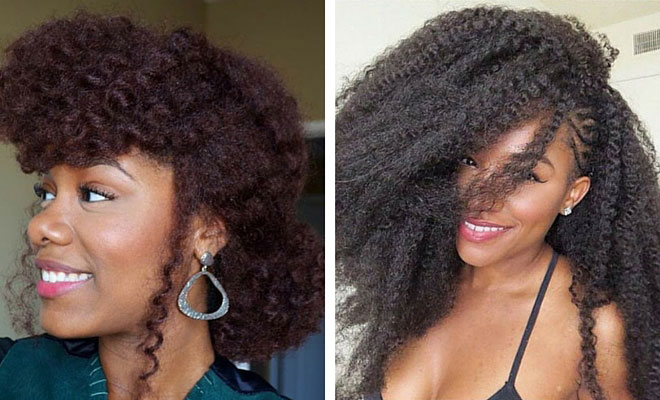 41 Chic Crochet Braid Hairstyles for Black Hair
11. Black and Burgundy Crochet Braids
If you're not sure what color you want to go, or just don't want to change your entire head of hair a completely different shade, add a few coloured crochet braids instead!
Adding a few stripes of color is always an easier choice than changing your look completely, and if you add the color to the front sections that will frame your face, you'll get a good idea of what you'll look like if you do finally decide to take the plunge and go all-in. It's a great way to ease yourself in gradually.
12. Dark Brown and Honey Blonde Style
We've looked at red and now it's time to look at blonde. We instantly fell in love with this dark brown and honey blonde style of crochet braids and we think you're going to love it too.
A look that Queen Bee herself, Beyonce, would rock with ease, blondes and browns go great together and can be multi-toned to make it more natural… Or less if you're bold enough.
13. Cute Half Updo
For the days you're not sure what kind of mood you're in, a half updo style is just perfect.
It's easy to do and gives you a great way to get a few more days worth of use out of your hair before a trip to the salon is required. You can hide a multitude of sins with this clever look and it takes just a few minutes to complete once you've gotten the hang of it.
14. Crochet Braids Pictorial
If you've ever wondered how they achieve the cute crochet braids look, here's a sneaky peek:
As you can see, there's no limit to the kind of look you can achieve with this style. Length, colour, texture, finished result – it all depends on you and your choices.
15. Elegant Updo
Sometimes the occasion just calls for a little bit of elegance and we think this elegant updo is perfect.
Don't be afraid to follow YouTube tutorials on how to do your hair but at the same time, don't be afraid to make up your own unique styles too. There are so many things you can do with hair like yours so why aren't you making the most of it? Be unique – put your own stamp on things.
16. Blonde Style
If you've always wanted to go blonde, why not go blonde? It's all about finding the right shade, something a stylist can help you do if you find one you trust implicitly.
Having a good relationship with your stylist makes you braver to try looks you wouldn't otherwise have tried. You want to use someone who isn't afraid to turn around and tell you they don't think your latest style-thoughts will suit you. You need to trust that this person will do a good job. If you're not comfortable sat in that chair, you're not going to want to think outside the box and you'll always have the same style over and over again.
Where's the fun in that?
17. Crochet Twists Bob
You don't want long hair but you don't want short hair either? What about a bob or lob? The long-bob, as shown here, brings with it many benefits…
If you want to put your hair up, you still have enough length to do just that. If you want to wear your hair down, it's still long enough to be flattering and frame your face rather than making it appear rounder. It's okay to just sit in that mid-way part for a while, and it'll give your scalp a break from the heavy braids for a while too.
18. Big Hair, Don't Care!
We ALL want big hair right now and look at this fabulous beauty… This is an example of really big hair done really, really right.
One of the best things about crochet braids is that there is no ingredient present you could suffer with an allergic reaction to, or that could do damage to your hair or scalp. There's no glue, no bonding material, no adhesives. The new hair, whatever material you choose, can be sewn into your own corn-rowed hair, giving you the opportunity to add more and more hair if you wanted to. If you ever wanted to go big, now's the time, and this is definitely how you do it.
19. Grey Crochet Box Braids
Remember when we said you should play around with color. Well, this is a classic example of why.
If you thought you couldn't follow the latest hair-trends such as silver hair, mermaid hair, sunset hair, etc… You were wrong. Crochet braids give you the perfect way to play with different shades and we couldn't help but fall a little bit in love with these grey beauties.
20. Yes, these are Crochet Braids.
They don't look like crochet braids but they are just that.
This gives you a classic example of how versatile this hair is. You can use any material and achieve any look you want. Show your stylist this look and wow your friends and family alike with this stunning design.
Last modified on October 9, 2018