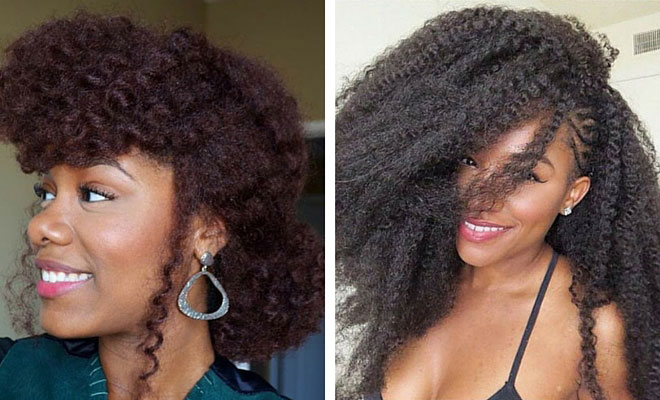 41 Chic Crochet Braid Hairstyles for Black Hair
21. Two Toned Crochet Braids
Crochet braids are definitely not boring and when you learn about this two toned crochet braids look, you can see why.
Two-toning your locks is a great way to play around with new shades and tones, and you can achieve a multitude of looks too. This is a great way to start playing around with the realms of sunset and mermaid hair. Start with a few purple or pink strands and add more and more colors – blues, silvers, whites, whatever you like.
22. Chocolate Crochet Braids
Or you could go back to basics with a beautiful chocolate brown shade. It really is down to you.
While everyone else is rocking all the colors under the sun, why don't you take things back to basics with this simple, fresh look perfect for winter.
23. Crochet Braids in 3 Easy Steps!
There is much less stress put on your scalp when you look at crochet braids over other types of corn rows or braids.
You're not gluing anything to the hair or scalp and because of this, your scalp can still breathe naturally. This means that the hair growing beneath will be healthier and happier.
Because you can reach more of the scalp, crochet braids also make cleaning easier, allowing you to reach parts of the scalp you wouldn't have been able to get to with other types and styles.
24. Pop of Honey Blonde
You will need to make sure you know how to moisturise your hair properly when you have crochet braids.
If you want hair that looks good, you need to learn how to take care of it and thorough moisturizing is vitally important. You will need to use your conditioning spray every night to keep them looking smooth and manageable. Coconut oil is also good for protecting the seals at the ends.
25. Mambo Crochet Twists
A simple look but one that is both elegant and effective, using the front portion of your hair, simply twist it back and secure into place either with pins or a band.
When your eyebrows are 'on fleek' and your makeup is 'on point', it makes sense to want to show it off a little. What a perfect way!
26. Big, Curly and Layered
If you want to avoid frizziness, buy yourself some silk pillow cases and also some silk scarves too.
When you're tossing and turning in bed, cotton pillowcases will rub against your smooth beautiful hair and causing frizziness and breaking. This will make your look decrease in quality.
The smooth fabric of silk will help to protect the hair, allowing it to slide over it rather than be rubbed.
27. Short Twist Out Style
A low-manipulation look, crochet braids are perfect for those transition stages – growing out hair, or starting again, giving your own hair a chance to become healthy again before you go for heavier and more high-maintenance weaves.
Your hair won't grow any faster but because it can breathe and be washed easier, it will be in a much better condition than before. It's also a great style for when you're not sure what kind of look you want. Think of it like a perfect in-between look.
28. Crochet Braids + Side Cornrows
If you want to stand out from the crowd, you're going to need to switch things up a bit.
The side-shave was everywhere this year but if you're not brave enough to actually go under the razor, braid it. Or as we like to say, don't shave it, brave it!
It's a great way to cheat the latest style and you can opt for a number of different designs in your braids too. Why not think outside the box and opt for something a little different?
29. Bold, Purple Style
A great way to really stand out is to combine those fake-shaved braids with a solid pop of color!
Purple, pink, red, blue, green… You decide!
30. Sexy, Big Hair
You can use dry shampoo to extend the time between stylist-visits with crochet braids, just another reason why they've become such a firm favorite.
Separate the hair into sections, use dry shampoo and a dry cloth and rub the area gently to remove dirt and grime build up. Just remember to have your conditioning treatment handy for when you're finished, and use the softest cloth you can find to minimise breakage.
A quick once-over will give your crochet braids a new lease of life to last you a few more days.