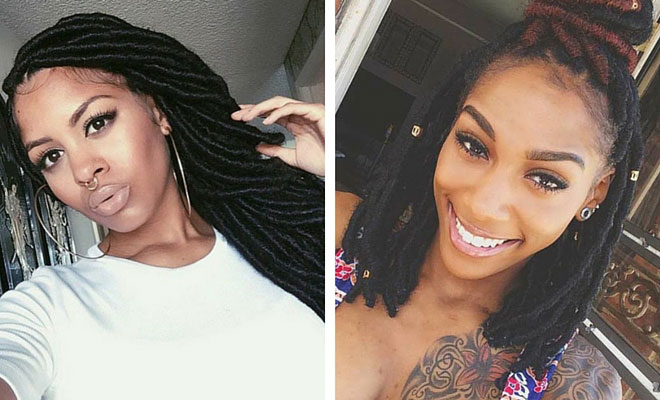 31 Faux Loc Styles for African-American Women
There's a lot to be said for faux locs – they give you the opportunity to play around with so many more styles without needing to put in all that time and effort of actually growing them.
If you've been toying with the idea of faux locs for a while, or are just looking for a brand new style to rock, you need to check out these 31 faux loc styles for African-American women!
1. Long Locs + Shaved Side
This has been a trend for a while and shaving the side of your head adds a real edgy look to long locs that would otherwise have seemed just a little lacklustre. Be bold, be daring – shave!
2. Faux Locs Bob
If you want something a little subtler, you can't do wrong with faux loc bobs! A collarbone skimming length will really flatter the face, especially if you have a rounder face, and the added top knot is optional! Add some hair jewellery for a bit of bling and you have a versatile look that can be dressed up or down for any occasion.
3. Side Swept Locs
If you want to inject a bit of glamor into your faux lots, why not try the side-swept look? It combines that Hollywood sweep-over with a real edgy loc-look, and also gives you one of the simplest ways you can wear your hair every day.
4. Light Brown Locs into Bun
If you're heading to the gym or are running around doing errands, sometimes you just need to throw that hair up and what better way than with this glamorous-looking (but very quick to do) bun. Simply wind your locs around and secure with pins or hairbands and you have something that takes seconds to complete and goes with any outfit. As you can see here, with the right outfit this is a look that can be dressed up or down.
5. Lilac Faux Locs
Colored, mermaid hair is most definitely bang on trend for right now and what better way to wear your luscious locs than with a real pop of color! You can play around with color a lot more with faux locs and there are so many colors to choose from too. Why not start with lilac, one of the most versatile shades you could opt for, and see where your imagination takes you?
6. Half-Up Bun
This look is one that just screams 'Fierce' don't you think? You get the benefit of being able to show off the length of your beautiful locs while making it practical and piling it up on your head too. A casual look that can also be dressed up, all you need is a few grips or bands and a relatively scruffy top-knot and away you go.
7. Navy Blue Locs
What a stunning color! This blue is simply beautiful to look at and as we've mentioned before, having faux locs gives you a way to experiment with color a lot more. Why not go all-out with a bold and daring shade just like this one?
8. Faux Locs Mohawk
Sometimes you don't want to keep it simple and when you have the length of faux locs, you have plenty of hair to play around with. Why not look at something that stands out a little more? Such as this great mohawk? There are plenty of designs you could spin your locs into, and you could also play around with that shaved idea again….
9. 6 Ways to Style Your Locs
This really goes to show how versatile your hair really is! Faux locs can be twisted, pinned, spun, tied, you name it, into so many different styles! You can bun-it, give yourself faux bangs, tie half of it back into a really demure, everyday style, opt for something a little more out there with the half-hair up but to the side look, the twisted halo, or simple side parted and pulled back. There are so many to choose from. Why aren't you getting a little more imaginative?
10. Mid Length Style with a Pop of Burgundy
If you aren't really brave enough to experiment with a full head of color with your faux locs, you could always just add a hint of color like this beautiful burgundy which you can just see peeking through at the bottom and underneath. When you pile your hair up, you'll see more of the shade but when you wear it down, it's barely-there and more discreet.
11. Blonde Faux Locs
If you've always wanted those beautiful blonde locs that Beyonce keeps sporting, go do it! When you find the right shade of blonde for you, and it will change from skin shade to skin shade, you'll find that the look is easier to pull off when you first may have thought. Just look at this beautiful blonde!
12. Yarn Locs + Side Shave Design
There are a few benefits to be had from choosing yard locs and as well as being cheaper, you'll also find that you can play around with a lot more colors a lot easier! When done properly, you won't even be able to know you are rocking yard braids in most instances, and as always, the shaved sides are optional! It depends how brave you're feeling!
13. Two Toned Locs
Two-toned locs are a great way to show off the two sides of your personality so why not? You could go for more neutral, rustic tones like this dark reddy-brown and gold combination, or you could go a little bolder. It's a great way to reinvent your current style.
14. Curly Faux Locs
You can't talk about faux locs without having a mention for these beautiful, bouncing curls. A great way to glam things up and easy to wear, you could even leave your locs to curl overnight giving you more ways than ever to wear your new hair.
15. Pop of Green
Green isn't a color that many would have chosen when picking faux locs but just look at how beautifully this chick rocks it! You will need to find the right shade of green for you, and we'd always recommend going for a darker green rather than a brighter, toxic green, but it certainly brings a little something different to the table.
16. Braided Half Updo
For those lazy days where you need to do something very simple with your locs, this braided, half updo looks great and takes just moments to do. It's basically a french braid but with more strands of your locs. It looks great!
17. Side Braid
Another simple, great and easy to achieve look, this side-braid is so mermaid-looking, you'd be forgiven for automatically wanting to dye it pastel shades! The side-braid is casually cute and gives you the perfect opportunity to show off the different shades you're rocking.
18. High Bun
It's a very Queen Bee look and there's a reason for that… It looks amazing! For those days you just want to show off your makeup or those beautiful new earrings, the high-bun is perfect.
19. Two Toned Updo
The higher, the better with this two toned updo giving you another great way to show off the various shades or hues you're rocking in your locs. Pile it up as high as you dare but just make sure you have the attitude to match!
20. Purple & Yellow Style
How bold and daring are you feeling today? Bold and daring enough to try this vibrant, purple and yellow style? These are two of the richest colors and definitely have an air of class and sophistication about them, irrespective of how daring they first appear.
21. Simple Side Swept Style
Sweep it, twist it, set it – that's all you need to do for this incredibly beautiful simple side-swept style. If you love your cheekbones or fancy showing off your 'on-point' brows, this look is effortlessly simple and does the job fantastically.
22. Elegant Updo
This elegant undo is so simple yet so beautiful at the same time and it just goes to show that sometimes, you're natural hair color is just fine. Although locs gives you the opportunity to play around with color, it can be a little intimidating going for something bright and bold for the very first time. Having a darker shade will make the lox-transition a lot discreeter and easier, and there's nothing to stop you going bolder later on!
23. Burgundy Style + Loc Cuffs
You may have noticed that hair jewellery seems to be in many of the pictures you're seeing here and there's a reason for that – it's jewellery for your hair! Loc cuffs are a great way to liven up your style instantly! A few of these scattered around and cleverly placed and you won't even need to do anything else to your hair. It's like adding a pair of earrings – it just perfects the look.
24. Half Up, Half Down Style
This half-up, half-down style really gives you chance to see how good-conditioned your hair is and if you're looking after it properly, it will be in good condition too. Make sure you sleep with a bonnet to prevent excessive frizziness, and moisturise well to prevent them becoming too stressed. Play your cards right and look after your locs well and you may just find you have the perfect answer for your hair problems.
25. Black & Burgundy Style
Another great look to try is one fabulously styled here – when you play around with color, only play around with the underneath of your hair! You can cover the color when you wear your hair down, or in a low pony, but when you want to show it off, you can wrap it all up high and be proud to rock what you've got!
26. Cute Style
If you're wearing your hair down, don't be afraid to play with hair bands and other accessories to help liven things up a little. Just by adding a simple band around the forehead makes this look completely different, and the twisted strands at the front just adds to the cute appeal. It might be time for you to go shopping for new hair accessories!
27. Voluminous Bun
If you're struggling to create a really big top-know when you pile your locs high, here's a little tip for you. Start by separating the centre-back part of your hair and create a pony tail. Wrap those locs around. When you're done, take the remainder of the hair and do the same. The double-bun / pony combo will help you to give you more oomph!
28. Cute Half Updo
This cute half undo is another super-simple one to do and with styles just like this, the quicker and mussier the finished look, the better. Even when you're out and about without grips or bands, you can use your own locs to tie around and get the hair out of your face when you need it.
29. Light Brown + Blonde Style
There's nothing wrong with having dark roots with your blonde locs so don't be afraid to let things go a little darker than you would. If you're going for the loc-look, it pays to be a little edgier and combining light and dark is a great way to make yourself stand out.
30. No Styling Needed
There are so many benefits to have faux locs that you really don't need to be a stylist to achieve the most beautiful of hair styles. Throw it back, twist it round, do whatever feels natural.. Or not! Aim for a look you haven't seen before.
31. Faux Locs Bob
Just because you want locs doesn't mean you need to go for long locs and this bob shows you a great way to rock the look even as a short style. This look is even more manageable than the styles we previously showed you so if you're looking for a way to rock these locs for the first time, why not start short and work your way down the lengths? You'll soon find one that works for you, and if you're not really desiring the length but rather the practicality, short is the smarter way to go.
Faux locs are fast becoming very popular and with a number of different materials and colors to pick from, the possibilities are endless. You can do practically anything you want with your hair, edgy, cute, soft romantic or otherwise, and with the option of changing your entire look just by twisting it a slightly different way or adding a slightly different shade, faux locs could be the perfect solution for your African-American hair!