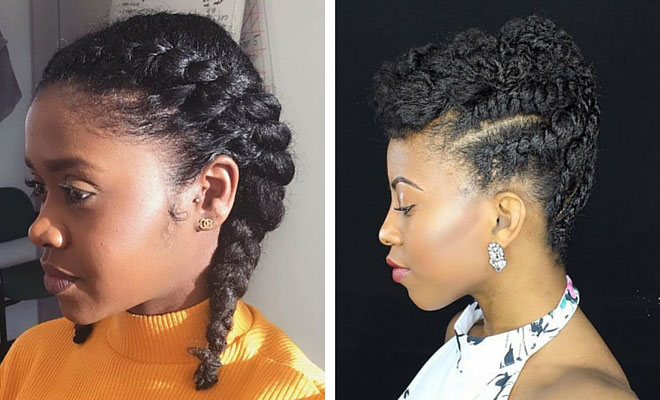 21 Gorgeous Flat Twist Hairstyles
If you're bored of wearing your hair with loose braids or in curly or wavy styles and are looking for a little something new, why not consider a flat twist? Literally…
A slightly different way of up-do'ing your 'do, they're easier than braids, faster to do, and much less hassle than other ways of wearing your hair up, great for beginners or those without a lot of time on their hands.
You should check out these 21 gorgeous flat twist hairstyles:
1. Cute Flat Twists Updo
Are you looking for a way to keep your length without having all the hassle of long hair all the time? Flat twist hairstyles are the answer once again, just like this one – a cute flat twists updo that is designed to go diagonally across the head with the ends secured in place with bobby pins. If you want to wear your hair out of your face but still keeping it looking good, this is a great one to go for.
Flat twist hairstyles have a huge benefit over other ways of wearing your weave – it offers natural protection for your own hair. Going without the bulk, length and heaviness for a few weeks will do wonders for your scalp.
2. Flat Twists with a Zig Zag Parting
To get the super-straight and sleek edges associated with these flat twist hairstyles, use the pointed tip of a rat-tail comb. Once the parting has been made, you take small section towards the hairline and then split them into two equal sections, as you would if you were adding many cornrows, but just with two strands.
Although these flat twists look a little like cornrows, they only work with two strands of hair whereas the cornrows work with three. This makes them much easier for beginners to get the hang of, and also provide a quicker way of doing your hair.
3. Flat Twists at the Back, Twist Out at the Front
Making sure you have the right amount of tension so you don't stress your hair, twist the sections around. If you use too much tension, the hair will be put under too much stress and will easily snap or break and if you repeatedly add too much tension to your 'do, you will damage your hair follicles which can even lead to bald patches.
As you move further down your hairline, add sections of hair to the twists (almost as if you would when French-braiding your hair), and eventually (if you have long enough hair), you'll get to a point where you are no longer adding hair and also are no longer working along the scalp.
You can use clips or grips to hold the twist in place or continue to twist until you get to the ends and this is when you can use natural colored hair elastics to keep the twist secure. You will need to continue doing this over the entirety of your scalp, dependent on the kind of style and design you're going with.
4. Stunning Updo
You have the option of taking care of your own hair as well as protecting your braids, eliminating the need for over-styling with heated tools, and damage from those and the powerful rays of the sun.
There's also a few different styles and types on offer – two strand twists are classed as 'regular' twists and these can be worn loosely and long, and also flat twists which are considered better for those with un-natural hair.
5. Easy Updo Tutorial
If you want a super-simple look once you've completed the flat twists all over your head is to pull them back into a ponytail and secure in place. You could add them to pigtails (ponytails on either side of the head), often better for children rather than older women, or leave the flat twists hanging loose.
You could even add accessories such as hair cuffs – these look great in twisted and corn-rowed hair.
6. Big Flat Twists Updo
Before trying your flat twists, make sure you have done your prep work and this will involve washing the hair, adding a good protection layer of a hair oil treatment, and then allowing to dry to about 80 to 90 percent.
Some women find that their twists work better on dry hair, some find wet hair better. If this is your first time, don't be afraid to play around and experiment to see which works better for you. Remember to play around with thicknesses too – these flat twists are pretty chunky ones but still look fabulous!
7. Two Flat Twists into a Bun
It's simple, clean and elegant and more than all of those things, it takes just a couple of minutes once you've practiced two or three times.
Two flat twists on either side of the head, with the rest of the hair tightly pulled back into a neat ballerina ban, quite low to the nape of the neck, and you have a great daytime look that is easily jazzed up with some awesome earrings just like you can see here.
8. Side Swept Style
If you want an easy and simple hairstyle to provide a brilliant base for more versatile designs, once again, these flat twist styles are a marvelous idea.
If you can put a parting there plus grab enough hair to get a twist started, you can flat twist it, and this opens up a mass of opportunities when it comes to hair styles and designs. Side-swept, centre partings, zig-zagged all around the back… You name it, you can probably achieve it. That's what makes this hairstyle such a good one.
9. Flat Twists + Pompadour
We love it when two classic looks come together and this flat twists and pompadour combo is – modern, fabulous and sassy. Three things you definitely want your hair to be.
In order to get the best-looking flat twist hairstyles, make sure your hair sections are of equal size. If you thicker bits and thinner bits, the twists won't look uniform across your head and this can ruin the entire look if a more sculpted and perfected look was the one you were going for.
10. Flat Twist Crown Updo
The way you twist your flat twist hairstyles will affect the way it falls around your face. If you want the twists to fall backwards, away from your face, you should twist them backwards away from your face.
If you want them to fall towards your face, twist them the other way – in the forwards direction of your face.
11. Elegant Updo
As well as making sure you have the right sized sections of hair for your flat twists, you'll need to make sure you're using the right kind of tension all the way down. This elegant updo uses different thicknesses and styles of braids in one but if this is not the look you're going for, different chunks of hair won't be good for you.
If you change the tension as well as the hair-chunk sizes, the twists will change in appearance and size at various points throughout the design and once again, this will change the outcome of your hairstyle.
12. Flat Twists Pulled Back Style
Your flat twist hairstyles will last from between one to four/six weeks, and you can shampoo and wash them without the need to un-twist them and re-twist them again afterwards.
If you leave the twists themselves alone and concentrate on cleaning the scalp rather than the length of the hair, your style will last longer.
13. Flat Twist Pigtails
Pigtails are a great way of wearing your flat twists, bringing a much more youthful look to the design. Two flat twists are a lot quicker and easier to achieve than rows of them all the way over your head, and will be much easier to maintain.
You can sleep with your flat twists in, just remember to use a silky-smooth scarf over your 'do before you climb in between the sheets. This will help keep frizziness to a minimum.
14. Stunning Protective Style
For those days when you have some time on your hands, think outside the box and opt for flat twist hairstyles that are a little unlike something you've seen before. Twist them around, weave them into intricate styles, do whatever you want to do.
Come up with the latest, hottest new way to wear them. Sometimes it makes sense to stand out and this stunning protective style is super awesome for that.
15. Gorgeous Curls + Flat Twists
When you're starting to notice fraying or un-doing of the flat twists, a few weeks after your look was first achieved, rock it. Un-twist the ends a little day by day, and embrace those gorgeous curls, keeping the flat twists close to the scalp for as long as possible.
Just remember to use a good oil treatment on the lengths of loose curls as the twists are released. You might as well make the best of the situation, giving your natural hair (or weave) a good conditioning treatment as you go.
16. Flat Twists Updo with a Pop of Color
For women who like to stand out from the crowd, why not add some coloured weaves to your 'do, a very simple and super-quick way of livening up an otherwise out-lived style, perfect for when you don't have time to get a brand new look.
All it takes is a few strands of a lighter, brighter color, just like the bold blonde you can see here, and the entire look is changed completely, without the need for amending the design of the flat twists too much.
17. Cute and Easy Look
Alternatively, just use one flat twist braid to border your hairline for an easy way to keep it away from your face in the hot summer months. Just make sure your eyebrows are on point and if that fails, a bright pop of color lipstick is always a fabulous idea.
Luckily, this beautiful with her cute and easy look has both.
18. Flat Twist Updo for Shorter Hair
Just because you don't have length to your hair doesn't mean you can't rock the flat twist updo. This one for shorter hair is a perfect example of how to mix a combination of thicknesses to your flat twists to achieve a rocking updo without the heavy length attached.
If you're having flat twist hairstyles as a form of protection for your hair, losing that length for a while is a necessity.
19. Creative Flat Twist Updo
And if you have the length and thickness to achieve a creative flat twist updo like this one, why wouldn't you? It's modern, fresh and those partings are so sharp, we can't help but want them for ourselves.
If you have length but don't want to wear it loose for a while, this is definitely the way to rock it.
20. Natural Hair Flat Twist Updo
Your flat twists don't need to all follow a uniform pattern either – this natural hair flat twist updo combines a mixture of designs, thicknesses and styles for this look – the swirl on top with something a little longer at the bottom.
Having sections like this look makes it easier to change small parts of it up from time to time. You could easily release the forward and top section of this look to create that pompadour-quiff we showed you earlier. You see – these flat twists are incredibly versatile.
21. The Jumbo Flat Twist Look
And for those days when you just want something simple, easy and to the point, one jumbo flat twist is a perfect idea, using the concept of a sideways-swept braid but with your larger flat twist instead.
A look that is both simple yet fierce, those killer earrings help to brighten things up, something we've decided is a definite must-have for an elegant or fresh flat twist updo. Sometimes it's all about the accessories.
So there you have them – 21 of the hottest and most gorgeous flat twist hairstyles we think you should be rocking this summer! Which one's your favorite? Let us know your views.
Last modified on November 14, 2022