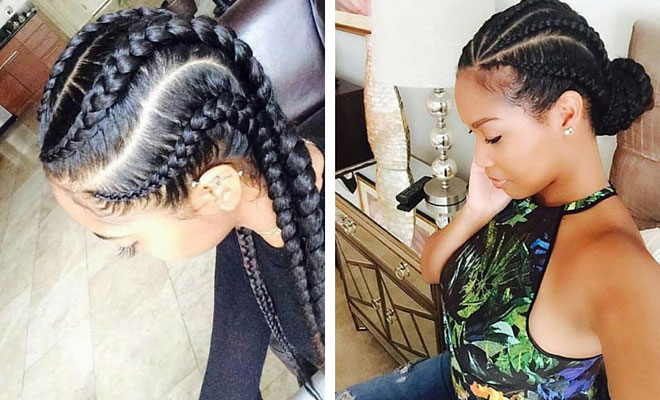 31 Stylish Ways to Rock Cornrows
Let's be honest about this, there are new and improved ways to wear cornrows and braids hitting the hair style scene all the time and just when we think we're all caught up with the latest styles, there's a new and better looking one to check out, try and learn.
If you're looking for some brand new ways to rock cornrows that stand out from the crowd for this year, you've definitely come to the right place.
Cornrows are well known for not only their detail but their complexity too, giving you the ability to come up with some pretty neat and fascinating styles. It's very funny how just a few braids could completely transform the shape and look of your face. Here are some of the best ways to wear cornrows:
1. Big & Small Cornrow Hairstyle
You can make your braids match your style with just one sweep, twist or grip. Whether you want an avante garde look, a fashionable look, an easy way to wear your hair that's considered low-maintenance, or just something simple to help you get ready quicker in the mornings.
This look cleverly mixes up big and small cornrows, bringing them together in long, free-flowing braids that you could pin up if you don't want them around your face.
2. Burgundy Side Swept Style
If you're looking for an upbeat and 'spunky' hairstyle that's fresh and cool for all the right reasons, this is definitely one to watch out for. Who said your cornrows had to go from front to back? Sometimes it's all about that side-swept look.
Hair cuffs are another big trend for spring and summer 2016 and are so simple and quick to add in. They can change your look from being something simple and pinned back to something fabulously stylish in no time at all. Just remember to match the color of your hair cuffs to the color/tone of your earrings!
3. Big Kriss-Kross Cornrow Braids
Long hair is such a pain in the backside during the warmer, summer months when it irritates the back of your neck and gets super knotty and matted. This is why you should check out this look – another of the stylish ways to rock cornrows.
You don't need to worry about any of that with these big kriss-kross cornrow braids and the even better news is that you can make up whatever design, shaping or braids you want!
4. Red Cornrows + Zig Zag Parting
If you're playing around with brand new cornrows, why not play around with color too? There's something so fresh and funky about this zig zag parting and bright color and we've already established that red is a hot hair trend for the coming year.
If you've never experimented with color in your braids before, now's the time to try! If this look is a little too much for you, you could always just consider a red balayage or highlighted look, showing hints of the bright flash of color rather than a whole head of color.
5. Elegant Cornrow Updo
We couln't help but fall in love with this elegant cornrow updo, one of the stylish ways to rock cornrows for a nice evening occasion.
These cornrows have been pulled back into a low, loose and messy bun at the nape of the neck and secured into place with pins. You could even consider adding hair accessories if you wanted to jazz this look up even further, such as grips, fascinators and maybe even pretty flowers in your hair to match that floral dress you've got to wear your new hair with.
6. Jumbo Cornrow Style
This looks screams no muss, no fuss and when you look at how simple it is, you can understand why. Cornrow your hair up with this jumbo style and forget about it for a few days – the perfect hairstyle for when you're going away on your holidays and really can't be bothered with all the upkeep of your curly or frizzy hair.
This jumbo cornrow style isn't for everyone but if you're young and looking for something to rock poolside, this is most definitely the right look for you.
7. Honey Blonde Style
And while we're on the subject, let's inject your jumbo cornrows with some color and why not start with this beautiful honey blonde style?
If you're getting your weave thrown in and want something a little different, opt for a different color. You don't need to choose blonde and in fact could go for any shade you like but we reckon this is a great place to start for a beginner.
8. Red Cornrows + Stars
This look is amazing and definitely not one for the light hearted! It's also not one that's easily recreated and if you've ever tried to achieve this look yourself at home, or on anyone else for that matter, you'll get an idea for how difficult styling a look like this can be.
Stars and stripes indeed, you could inject a few more colors into this look if you wanted a really patriotic feel for your hair!
9. Cornrows + Platinum Blonde Crochet Hair
Once upon a time, cornrows were used as a way just to get the hair away from the face but these days, and with more and more stylish ways to rock cornrows coming about, there is so much more to these humble braids than just pinning them back.
A very bright and daring look, we love the contrast of light and dark with this mohawk-style look. Definitely a Friday night winner for us! What do you think?
10. Braids on Fleek!
Classic front-back cornrows are one of the easiest and simplest ways to wear them, getting the hair away from your face in a style that is cool and fresh.
In order to stop things looking overly structured, try rocking different sizes of braids just like you can see here. Who wants uniformity anyway?
11. Another Cute Way to Rock Big Cornrows
Why not make a feature of those in-between sections by adding some smaller, thinner featured braids to help bring the entire look together?
It seems like that uniformity is definitely on the way out and when you look at stylish ways to wear cornrows such as these, you can understand why. It adds a new layer of depth to the look, don't you think?
12. Ghana Braids
Ghana braids, just as the name would suggest, originated in Ghana, Africa, and is a firm favourite of many afro-haired women for it's ease of wear, versatility, and beautiful nature. It's a striking look that's for sure and when you see it, you can understand why it's so popular.
The idea is simple and much like a French braid – you continue to add hair to the braid until you get to the end and then you continue to braid before tying up. You could leave the braiding work at the base of the neck of course, and leave the remaining hair free. It's up to you but we like this neat hair design, getting all the hair back and cornrowed up.
13. Braided Mohawk (Cornrows + Crochet Hair)
We don't always want to wear our beautiful long hair down and that's where looks like this braided mohawk comes into play.
The crochet hair makes it easier to achieve that sculpted, almost-fluffy style while the cornrow braids help to give it a structured look, almost looking a little like an undercut which we also love by the way!
14. Elegant Cornrow Bun
Tying the hair back in a simple bun is a look that we all fall back on each and every day but when you have your cornrows leading into it, just like you can see here, there's a brand new level added to the look.
A five minute look easily jazzed up or down, it should be your go-to look for when you don't have time to mess around in the morning. Get ready and go, or just give yourself more time to get your brows on fleek!
15. Updo with Cornrows and Rope Twists
Who wouldn't love these stylish ways to wear cornrows especially when you get the option to play with fascinating looks such as this updo with cornrows and rope twists.
Bringing a little something different to the look, it's a way to wear the longer lengths of braided hair without them being an actual braid. You see – we told you there were so many ways you could wear them!
16. Unique Cornrow Design
For when you want pigtails but you want pigtails with a difference, why not look at this unique cornrow design?
Easy enough to do with a pair of helping hands, once this look is finished, you're good to go for a couple days, especially with the extra braided detailing. Who said just because you don't look at the back of your head, you didn't need to make a feature out of it?
17. Long and Big Cornrow Style
You'll need a few tools before you get started with your cornrows designs, especially if you're going for something intricate and somewhat complicated.
Make sure you have everything to hand before you get started otherwise you'll have a very frustrating time of things if you don't. You'll need a couple of combs, wide-tooth and fine-tooth as well as a bottle of good leave-in conditioner, kirby grips, hairbands and anything else you need to finish the look.
18. Big and Thin Cornrow Combination
Larger and smaller braids are the hardest to finish and design so remember that if you are a beginner looking for new and stylish ways to wear cornrows.
Start off with a medium-sized design like this one before moving on to more complicated and intricate ones. Learn as you go and you'll find things are a lot easier. Of course you do need to remember that larger braids will show up more sloppily if they're not done right than their smaller counterparts.
19. Cornrow Style for Natural Hair
You should never pull cornrows too tight because this can damage both the hair follicle and the scalp and over time and repeated tightening and pulling, can result in baldness with a condition called traction alopecia.
The more gentle you are with your cornrows, the longer they will last and the better condition your hair will stay in too. A great hairstyle is not worth damaging your hairline over. Not too much anyway…
20. Big and Chunky Look
Before you get started with beautiful and stylish ways to wear cornrows, make sure you have detangled your hair first to make the process much easier.
As much as this is a long and troublesome process for many, a good conditioning treatment will help things move along nicely, and it will also give you great conditioned hair to start with, forming the perfect base for your new cornrow styles.
21. Big Cornrow Bun Updo
Why not finish things off by twisting your hair around into this beautiful big cornrow bun updo?
Once it's been secured with a few grips and bands, this look will stay exactly where it is, giving you the perfect way to wear your hair for a busy day ahead.
22. Cornrows + Big Braids = Perfection
If a simple bun isn't quite your style, why not spin your braids around into a more intricate design? Again, secured in place with a few pins will be enough to keep this look in check and it adds something more than just a plain and simple bun.
We love this look, swept over to the side, and it's one we'd love to see recreated too! Give it a go and show us your best!
23. Simple Burgundy Cornrow Style
When styling your hair, you'll probably find it a lot easier to do so dry rather than wet. When the hair is wet, styled and then dried, you may find that the shrinking and expanding can not only do damage but also start to hurt your scalp.
We cannot stress the importance of high care enough with high tension looks just like this one. Make sure you use plenty of conditioner and always make sure you take care of your cornrows before, during and after your 'do.
24. Micro Cornrow Braids
Who said bigger was better? We love these micro cornrow braids, great for those times when you don't want a big and bold look.
If everyone else is wearing big braids, make yours smaller. The aim of the game is to have a look that is unique to you and your hairstylist will be able to help to create that.
25. Sleek Blonde Cornrow Style
After care is important if you want to keep your look looking as fresh as this. For the first week or so after having your look put in, make sure you keep the tightly-pulled sections as moisturised as possible.
Try to oil the hair once or twice per day to start with to ensure you are giving the stressed hair as much TLC as possible.
26. Burgundy Cornrow Braided Bun
Whether you're using natural hair in your braids, or your weave is made from synthetic hair, your scalp needs to be taken care of.
These braids and extensions can be heavy, therefore putting tension on your scalp, and to ensure no damage happens you should ensure that your scalp is never, ever left to get dry. Always make sure you are using plenty of moisturiser and leave-in conditioner.
If you choose not to wash your braids while they're in, you're going to have a hard time when you take them out because your own hair will be left damaged, as will your scalp.
27. Blonde Ghana Braids
You should regularly spritz your hair with water, and you could also rub some shea butter into your braids and your scalp every few days to keep these stylish ways to wear cornrows in check.
This timeless style will stay looking its best for longer if you invest in a good quality satin pillowcase to sleep on, or at the very least a silk scarf to cover the hair over with while you sleep.
Cotton and other materials will pull and snag on the hair as you sleep, and when you toss and turn you just make things worse. The smooth satin material will prevent damage and frizziness too. You'll thank yourself for it.
28. Big and Small Cornrow Combo
Not just protecting your new stylish ways to wear cornrows when you're sleeping, if you're in extreme weather situations such as hot, cold, rain, wind, snow, etc. you should also make sure you are protecting your hair.
A scarf (silky) or hat will help a lot and as will also provide a cute little accessory for when you need it the most. Never underestimate the importance of a silk scarf!
29. Honey Blonde Cornrows + Zig Zag Parting
There are so many styles in one here – there's that zig-zag parting, the honey blonde hues, and the big and small braids. It's not a look for the lighthearted but if you want to go all-out, this is definitely the way to do it.
If you're thinking about a bold and brave look like this, have a chat with your hairstylist first and try to get as many photos of your desired look together as possible. Showing your stylist what you want rather than describing it is always going to prevent a language barrier. If your simple is different from your hairstylist's simple, you're going to have a big problem on your hands.
30. Cool Ghana Braid Design
For those days when your makeup is just on point, show it off with a look like this cool Ghana braid design, just another of the stylish ways to wear cornrows everyone is lusting after right now.
With eyebrows that great, why wouldn't you want to show them off? A cornrow style like this lets you do just that.
31. Creative Honey Blonde Style
With everyone looking the same, it pays to think outside the box! This creative honey blonde style will make you stand out from the crowd.
Sometimes you just need to let your fingers (or hands) do the talking so get braiding and see what happens. You won't know what it looks like until you give it a go, right?
So what do you think? Have you been provided with some #hairinspiration? Have you fallen in love with any of these stylish ways to wear cornrows? We hope so! If you've decided to try them for yourself, make sure you come back and let us know! Show us what you came up with!