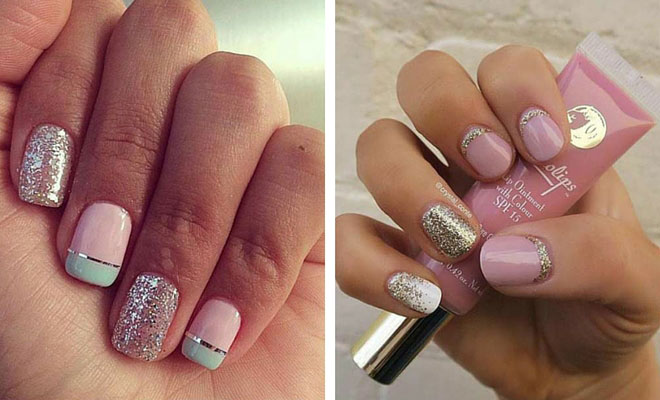 Instagram
Beauty
69 Super Easy Nail Designs
By
|
51. Easy, Simple and Beautiful
Do you need a simple yet beautiful and spring design? Maybe you're all out of ideas and need some advice on jazzing up your nails. Look no further, we are here to help! Check this simple and bold design. Don't be afraid to decorate your accent nail with half glitter. You don't have to be a nail beautician to do this. If you need a guide for the straight line, use nail tape and you'll have a finished nail like above. As you can see from the photo, it's not even half, it's under half. There are no rules! Do what makes you feel confident and fab. It's your nails and you're your own designer! Think of it like that and the results will impress you.
Products used: Essie 'Jiggle Hi, Jiggle Low' and 'Stones N' Roses'.
52. Black, Pink and Silver Design
The issues we have when we have a colourful nail collection, is that you don't know what colour to use. There are so many lovely colours to choose from, this can be a dilemma. But we have the solution! Use a mixture of colours to display your stunning collection. Use black, pink and silver colours like the photo above. This design will go with any outfit and we are sure, complements will be flying your way.
Products used: Julie G 'Rio de Janeiro', Essie 'Licorice', OPI 'My Boyfriend Scales Walls', and Different Dimension 'Kiss Me at Midnight'.
53. Striped Accent Nail
Grab you pink, white and glitter nail polishes from your nail collection, I can guarantee you will want to try this. The trends that are around nowadays are forever evolving and changing. First, we had the accent nail, now it's a striped accent nail with nail design added onto of that! These colours look absolutely fabulous together.
54. Polka Dots + Glitter Design
Show off your nail designs by mixing glitter and polka dots. You have recently discovered that you are a master at polka dots and are so happy with the outcome; you are dying to show your friends. We all know that having glitter nails is bold but having a gorgeous polka dot design next to it, is startling. If you're not so good with the polka dots, practice makes perfect!
55. Golden Polka Dots
Gold works so well with darker shades. This design is easy on the eyes but at the same time, grabs your attention in a warm way. Polka dots can be small or as big as you wish. We think these slightly bigger polka dots are great.
Products used: Essie 'Good as Gold' and 'Angora Cardi'.
56. Nude Nails with Pearls
Our next easy nail design idea is an elegant and chic look. The nails are a light shade with one accent nail. On the accent nail there are chic pearls all along the cuticle. You can apply pearls to your nails just like you do with the gems. There are flat back pearls available online so they are easy to apply. A design like this would be perfect for a glam occasion or for a wedding.
57. Short Neon Nails
An easy way to brighten up your look is with your nails. You can wear the seasons hottest shade or just choose a vibrant color that you love. Here is a stunning example. The nails are a beautiful neon color with crystal accent nails. This is a gorgeous nail idea and it would look fabulous for the spring and summer seasons.
58. Pink and Peachy Nail Design
The next easy nail design idea we have to show you is a pretty pink look. One of the nails is dark pink, two are a peachy tone and the other nail is silver glitter. This is a gorgeous pink nail idea that will brighten up your look. Try this design or use different pink shades.
59. Neon Yellow Chevron Nail Design
Chevron nail art is stylish and quite simple to create. Here is a gorgeous chevron idea. The nails are a light glitter shade with neon yellow chevrons. A pattern like this can be created with nail tape. You start off with the base color, paint your nails and let them dry. Then apply tape in the pattern of your choice and paint the bright color over the top. Once dry, remove the tape and you will have a cool design like this one. Recreate this look or use colors of your choice.
60. Matte Nude Nails
The nails are all a matte nude shade with gold and green rhinestones. This is such an easy and chic design. To recreate nails like these you can simply paint your nails in nude, then when dry, apply a matte top coat. When the top coat is wet but not too wet, place on the gems. A design like this will suit all nail lengths and shapes.