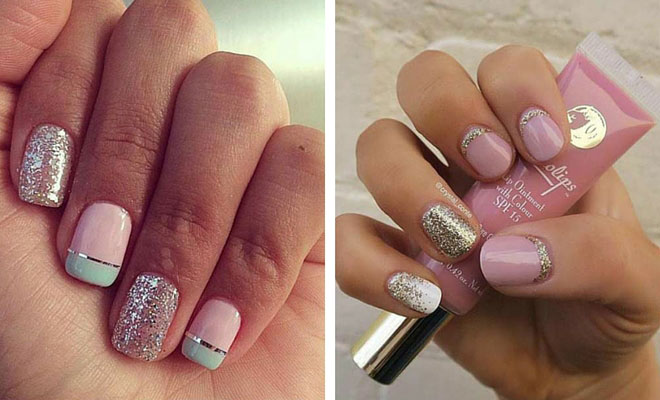 69 Super Easy Nail Designs
41. Unique Coral & Silver Design
Make your nails as wacky as you want. Get your creative thoughts flowing with a combination of colours like this coral and silver design. It makes your nails interesting, exciting and original.
Products used: Zoya 'Purity', Julep 'Alaina', China Glaze 'Glistening Snow' and Color Club 'East Austin'.
42. Gold Glitter Accent Nail
This style is super fresh and ready to go. Accent nails are simple and easy to create. They add the extra style and feel with just one nail so you don't have to do very much work! Go for gold glitter for that shine you are longing for.
Products used: Essie 'Romper Room', 'Summit of Style', 'Rock at the Top', and 'Good to Go' top coat.
43. Pink and Black Design
You may say that this is not pink. Honey, pink comes in so many shades… there is a pink for everyone! Bright, candy, pastel, baby, shocking, neon, and the list is endless. Pink doesn't have to be bright. This sweet, natural looking pink is incredible. The light, fluffy sense you get from the pink is super girly and the black adds a touch of retro and vintage vibe.
44. Cute Flower Design for Spring
This is cuteness overload! The natural based colour with the pretty flower designs is so sweet and dainty. Wedding season is approaching and these will be flawless with your dress. We really hope you like this design; we can't take our eyes off the photo!
Products used: OPI 'Honey Ryder' and Essie 'Perennial Chic'. 
45. Silver & Neon Pink Design
Neon colours have been at their most popular since around 2011, so a few years now. Summer is the time when bright colours are bursting out. All of us girls at Stay Glam are guilty of having a few of these summer colours in our nail box. They are flashy, loud and uber cool. Increase your shine in the sun with glitter designs and an accent nail.
Products used: Essie 'Beyond Cozy' and China Glaze 'Neon & On & On'.
46. Green and Gold Design
Popular green nail polishes often come in very dark or light shades. Emerald green is a rare colour to find and if you do find a gorgeous shade, get it and team it with gold. You can see how good it looks on the photo.
Products used: Duh Nail Polish 'Help Me, I'm Poor' & Polish 'M 'Gold Digger'.
47. French Tip with a Twist
As the weather is changing, we like to change our wardrobe and our nail colour. It's the season for music gigs and festivals and with this French tip with a twist, I'm sure it will get you in the mood. Neon colours are seamless for your nail tips.
48. Dark Matte Nails with a Pop of Gold
Matte nails are super sexy, especially the darker shades. They ooze style and sophistication. Enhance your matte vibe with a pop of gold. You will have the glamourous side with the glitter accent nail and the simplicity of the matte effect. This is perfect for any occasion.
49. Bubble Pink Design
Bubble pink is a sexy, lively and bright colour. Sandwich your two middle fingers with this pink tone to enhance the colour. This is a perfect holiday season colour and looks amazing with tanned skin.
Products used: Essie 'Hors D'Oeuvres'.
50. Classy Dark Red and Gold Design
Who's to say your nails need to consistent with the design? The dark red and gold design just shows you how classy and gorgeous your nails can look with random designs mixed with solid colours. Often, we need to jazz up our nails but in a subtle way. Ornament your accent nail and your pinky nail for a chic finish.
Products used: Essie 'Good as Gold', China Glaze 'De-Light' and 'Wine Down For What'.