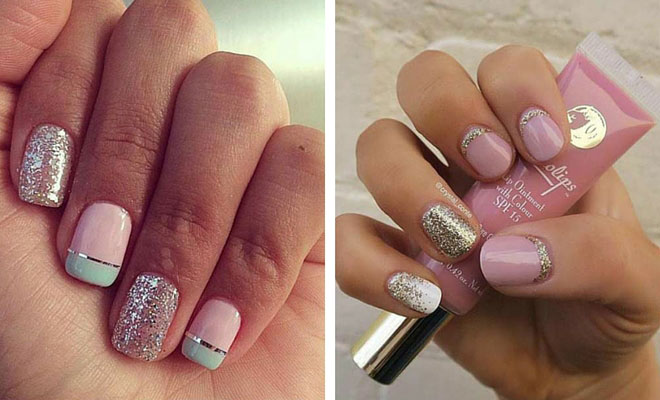 69 Super Easy Nail Designs
It's time to come out of hibernation girls and make sure your nails are looking gorgeous, it's nearly summer! Brush the dust off your nail box and unleash the bright colours. Everyone wants to look fabulous this summer, so be the first in line to kick off the summer vibe. If you don't have the money to make an appointment at the beauty salon, do not worry. We have come up with 69 super easy nail designs for you to do yourself. It doesn't take a rocket scientist to paint your own nails. Yes, it is difficult to paint either your left or right hand, depending which hand you write with, but you can always ask a friend to help or practice yourself and you'll be able to do it yourself.
We have a selection of designs to look through. From accent nails, bright colours, to glitter heaven, there's a design for everyone. These designs look amazing and are simple and easy to do. It's always good to look and feel amazing so get your nail polish box out and start today. We are here with a fabulous collection of 69 uber easy nail designs. The best thing about painting your own nails at home, is that you can have the freedom to change your nail colour and design on a daily basis if you wish. Have fun looking.
1. Sparkly Silver Design
You can't beat sparkly silver on your nails. This design is simple and easy to do. There are so many glitter nail polishes on the market but you need to ensure that the one you choose isn't too thin. Many glitter nail polishes are too thin to have one or two coats and you're done. Do you research online, read reviews or try the tester in the store before you buy.
Products used: Kicks 'Crystal Glass', Essie 'Fiji', OPI 'Alpine Snow'.
2. Mint & Polka Dot Nails
Mint and polka dot nails work so well together. Because mint is a pastel colour, the white base for the polka dot nails complements the natural green shade. By having the outer two fingernails in a polka dot design, the mint adds a lift of colour.
Products used: OPI 'That's Hula-rious!' & China Glaze 'Glistening Snow'.
3. Blue Glitter Gradient Design
Are you feeling the blues? You won't be blue or down when you check these nails out. This is ideal for someone who is about to go on a sun, sea and sand holiday. When the sunny sky catches the tips of your nails, they will come alive and shine so bright. Apply a baby blue pastel base and add a blue sparkly glitter to your nail tips only.
Products used: ncLA 'Let's Stay Forever' + loose glitter in 'Icing' from Eye Kandy Cosmetics.
4. White & Gold Striped Design
Are you a gold colour fan? You aren't the only one. Gold has become increasing popular over the past few years so join the fashionistas and see how beautiful your nails can look. White and gold look great together so try this striped style to stand out. Gold is a versatile colour that can be transformed into a sexy look for a party, a wedding or even to the shops and back.
Products used: OPI 'Love.Angel.Music.Baby' + matte top coat.
5. Pastels & Silver Glitter Nails
Pastel colours are feminine and girly. They create a delicate and gentle look. Take this pastel and silver glitter nails. You have the subtle side from the pastel pink and mint colours, whilst adding the sparkle with the two accent nails. Silver and pastel colours go hand in hand together. If you want to incorporate the silver colour with the pastel nails, add a silver decorative line just underneath your nail tip like the photo above.
6. Light Pink and Silver Design
If you were to have a light pink base with a silver accent nail, you are onto a winner. This looks stunning and elegant. You can always continue with the silver style by adding it to the other light pink nails like the photo. Silver polka dots are delightful and fun.
Products used: Sinful Colors 'Easy Going' and 'Heavy Metal'.
7. Simple but Cute Nail Design
Mixing different colours and patterns is not a new trend. People have been doing this for years but for the past few years, everyone seems to do the same. It shows off your character and style rather than just having one solid colour. This simple but cute design is so easy to do. All you have to do is pick three colours, decide which will be your main colour and go from there. To add your unique style, you can apply a touch of nail art.
8. Simple Peach and Gold Design
This is just peachy! Peach and gold are wonderful together. Peach is a pastel colour, which sets off the feminine vibe, whilst the gold brings everything alive. This is ideal for parties and weddings. If you know you are going to wear a peach coloured dress, you could colour co-ordinate and paint your nails like this.
Products used: China Glaze 'I'm not Lion' and OPI 'Samoan Sand'.
9. Colorful Polka Dot Nails
Having fun and colourful nails is sometimes a must! It's coming up to summer and summer is all about having fun in the sun. Lying on the beach with your friends and having a good time whilst having gorgeous nails. We all know people that match their bikini with their nails, right? Why don't you do the same? Begin with a neutral base and use as many bright colours as you wish. Start to add the polka dots and you will see the transformation commence! They almost look like sweets!
Products used: China Glaze 'Plur-ple', 'Too Yacht to Handle', 'Highlight of my Summer', 'Daisy Know my Name?', 'Home Sweet House Music' and 'Rose Among Thorns'. 
10. Cute Nail Design for Short Nails
Majority of people prefer shorter nails. This is due to many reasons including the lifestyle they live. For instance, if you are a Blogger or a Writer, typing on a keyboard daily, isn't ideal for your nails and therefore, shorter nails are more practical. Also, if you have brittle nails that break easier, best to stick with strong, shorter nails. Therefore, for all the girls that have short nails, this one's for you. Try this cute nail design, which will lengthen your claws. Add a gold glitter colour to the cuticle area of your nails and use a pastel shade for the base colour.