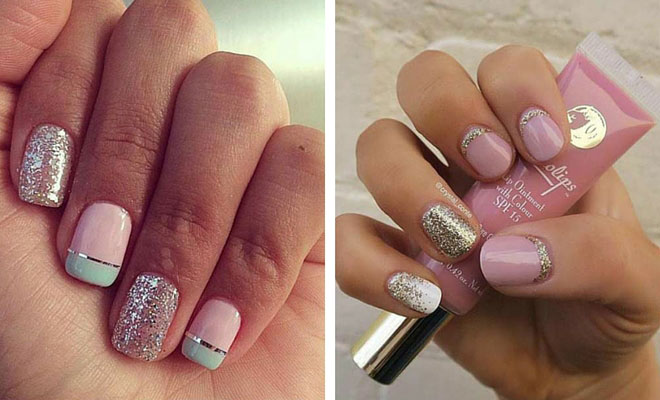 Instagram
Beauty
69 Super Easy Nail Designs
By
|
31. Easy Pink Matte Nail Design
As mentioned, matte nail polish is huge right now. Having to think about getting a new nail polish collection due to a different type of finish is so fun and exciting. You need to think about having the extra storage for the new matte polishes before your friend beats you to it. Show off your sexy easy pink matte nails and see who is jealous!
Products used: Polish 'M 'Gold Digger', Salon Perfect 'Tickled Pink', and matte top coat.
32. Elegant Red Nails + Rhinestone Accent Nail
Are you feeling this burning desire to have elegant red nails with rhinestones? We feel it every time we look at this photo. This, not so bright, red tone makes all the difference to your look and your mood. Play around with your rhinestones and you'll see what we mean. Accent nails are supposed to stand out and show your creative side, so go on and add a few rhinestones to yours.
33. Purple & Gold Polka Dots Design
Show the world how much you love polka dots with this funky design. This lilac purple and gold combo is perfect. A tip for when you have an accent nail, try blending the accent nail colour to another nail too so the theme flows. Adding polka dots in the same gold as your accent nail, looks glamorous.
Products used: Color Club 'Gingerbread Man' + acrylic paint.
34. Pretty Pink and Gray Design
This photo looks so amazing, we are all jealous. Pastel pink and greys look heavenly. As the two colours are subtle, you can add a nail design and it still won't take the spotlight off the solid colours. This is truly stunning and girly.
35. Gold Polka Dot Nails
Adding sparkle to your nails is always fun. Never mind thinking about painting your nails in a solid glitter colour, go for the exclusive look and add a bit of oomph with the polka dots alone. You can have a multi-coloured manicure, which is like the photo. Choose 5 separate colours that are in the same colour group. For instance, pastel colours or blue and green then go for a bold, shocking colour that will stand out. Add that shimmer by applying polka dots to all nails in gold.
Products used: Essie 'Penny Talk', 'Van D'Go', 'Maximillian Strasse Her', 'Merino Cool', and 'Warm & Toasty Turtleneck'.
36. Rose Gold Glitter Design
You have to keep up with the nail fashion and this means having a rose gold glitter included in your nail collection. Rose gold colour is taking over the globe and is internationally trending. Dress to impress with this idyllic design. Team your rose gold glitter with a solid natural pink base and add the glitter to the ends of your nails only.
Products used: L.A. Girl Cosmetics 'Inspire' & Sally Hansen's nude nail polish.
37. Elegant Peach & Gold Design
You will look as good as gold with peach and gold nails. If you're not a fan of the colour pink, peach is another option you could think about. It's verging on the natural nude side rather than the pink side and it's classy and elegant.
Products used: Essie 'Spin the Bottle' and OPI 'All Sparkly and Gold'.
38. Cute Striped Nail Design
Find your stripes with this cool design. Start with a cream or a white base and let them dry. Do not try to add the stripes while you base is still drying else you won't get the finish you desire. If you have nail tape, this will help you with your stripe lines. If you haven't got nail tape, we would suggest that you invest and buy a packet. There are so many different designs you can do by using this and your lines will be straight. Check out your local beauty store or online, they are cheap and easy to use.
Products used: OPI 'My Vampire is Buff' and Ciaté 'Pepperminty'.
39. Mint and Gold Polka Dot Nails
As mint is a bright colour, this is associated more with spring and summer. Gold is a darker colour that is used all year-round. Add them together and they create a vibrant, sparkle for you to parade.
Products used: Orly 'Luxe' and Urban Outfitters 'Flip Flop'.
40. Girly Pink Nail Design
We all like to dress up and the same applies to our nails. We like to show off with unique and different designs. Whether you are a girly girl or a tomboy, your nails show off your style and character. This design screams girly.