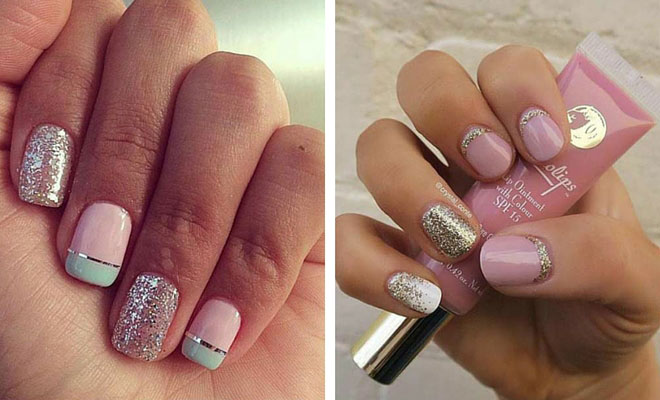 Instagram
Beauty
69 Super Easy Nail Designs
By
|
21. Rhinestone Accent Nail
Rhinestones are a flamboyant way of making your accent nails stand out! Check out this bling fingernail. This is another way to release your inner Goddess. Go on, you know you want to.
22. Navy Blue & Silver Nail Design
Be a mysterious girl.. With it comes to navy blue nail polish, it sets a mystery vibe. Having dark nails for many people often makes them feel polished and grown up. It can show off your vamp side. Dark colours do not have to be fall or winter colours only, rock and incorporate the deeper shades with lighter shades to lighten the design. Mix navy blue with silver and it becomes magical.
Products used: Essie 'Style Cartel' + Swarovski rhinestones. 
23. Dark Nude & Glitter Design
Nude colours often seem dull and boring but nowadays they are all the rage. Adding glitter to dark nude nails can make the nude look so different and stylish. Nude nails have been trending for a while and when teamed with this glitter cuticle design, they look amazing.
Products used: Zoya 'Rue' and Painted Polish by Lexi 'Plastered in Pink'.
24. Cool Matte Nail Design
Are you bored with the standard nail polish look? Do you want to discover another level of nail polish? If so, check the matte effect. It will open up a completely new level of chicness! Who needs shiny, glossy nail polish… that is so last season honey! Make people stare at your sexy matte nails in envy with this cool design. Many nail polish brands are introducing more matte effect colours so you will have more of a selection to choose. Go for two colours but make sure one is a bright colour like the photo, to catch people's eye!
25.  Burgundy & Gold Design
By using two colours, you make the most of your amazing nail collection. Burgundy alone sometimes needs that extra boost to liven it up a little. Add a gold colour and make some arty nail designs on your nails.
Products used: L'Oreal 'The Statement Piece' and Sally Hansen 'Rhododendron'.
26. Simple Neon Design
Neon shades can be sometimes daunting. Don't be afraid to try this neon peach tone to add that stunning girly design to your nails.
Products used: China Glaze 'Spring In my Step' and Julie G 'Blueberry Fizz'.
27. Simple Pink and Silver Design
Of course, you want your nails to look amazing and to stand out, who doesn't? With this simple pink and silver design, you'll stand out as well as setting the trend!
28. Black & Gold Polka Dots
Remember the song, black and gold? The striking combination looks perfect! Based on a turquoise shade, add your sparkle with the gold and add polka dots with a black to add the raw edgy vibe.
Products used: Pure Ice 'Home Run', acrylic paint, and China Glaze 'Blonde Bombshell'.
29. Cute Flower Design
Flowers are fun, stylish and always make people happy. Check this delicate flower design and add it to your accent finger.
Products used: Essie 'Beyond Cozy' and Julep 'Vicki'.
30. Black & White Heart Nail Design
White based nails always look so fresh and powerful. Add black hearts to your white based nail for a cute nail design. No need to be an expert in drawing hearts, you can always use a stencil, just allow your base to dry fully before you sketch your hearts.