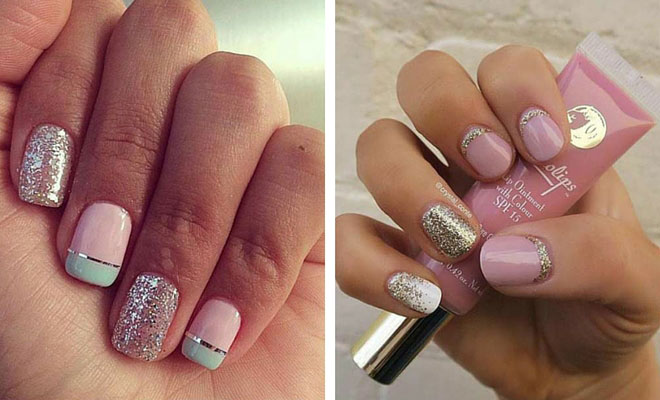 Instagram
Beauty
69 Super Easy Nail Designs
By
|
11. Easy Neon Nail Design for Summer
Neon nails are necessary for the summer season. Bright colours look amazing with your summer outfits. Every time we see neon nails, they look so vibrant and fresh. Mixing nail art with lively colours is a way to stand out from the crowd. Looking at this photo, makes us want to party on the beach!
Products used: China Glaze 'Flip Flop Fantasy'+ silver striping tape.
12. Polka Dots Accent Nail
Accent nails are everywhere you look. For all of you that don't know, accent nails are either one or two nails that are painted differently to the other finger and thumbnails. This style has been around for many years in beauty salons but over the past few years, it has become increasing popular. The accent nail does not have to be your ring finger but majority of people choose this finger, but it is entirely up to you. This is one example of accent nails – having a polka dot nail art while the others are a solid colour.
Products used: Sinful Colors 'Energetic Red' and OPI 'It's Frosty Outside'.
13. Heart Nail Design
Are you in the mood for love? This style is perfect for a wedding. You only need two colours, one for a base and one for your heart shapes. Maybe you're in love or are just in love with this style, whatever the reason, be sure to rock your hearts on your nails. Your nails will send a message without saying a word.
Products used: Finger Paints 'Gilded Chrome', Ruby Wing 'After Sunset' and 'Summer Gardenia'.
14. Simple but Eye-catching Design
These nails are classy, elegant and simple. There's no need for words to turn heads with these nails. Quick and easy to do and you will be the talk of the town. Once the sun catches your jewels, they will look amazing. Create your design by using rhinestones for the base of your nail.
Products used: OPI 'It's Frosty Outside' and 'Don't Bossa Nova me Around'.
15. Gold Gradient & Matte Design
We absolutely adore baby pink with gold. This matte pink nail polish looks stunning. Who needs both shiny colours when the gold dust and shapes sets off the matte to perfection?
Products used: Glitter Lambs 'Million Dollar Gradient', Essie 'Romper Room', and matte top coat.
16. Silver French Tip
Add shine to your French manicure by having silver French tips. If you're used to having a classic French manicure, spice it up a little by switching your usual white tips for the shiny silver. It looks great with either a natural white base or a baby pink base.
Products used: Essie 'Tuck it in My Tux', 'Jiggle Hi, Jiggle Low' and 'Good to go'.
17. Classy Red & Gold Design
Show your sassy and classy side with these red and gold shades. Have the nails to match your sexy attitude and rock your claws!
Products used: Cult Cosmetics 'Mulholland', 'Sunset Blvd', and 'Laguna'.
18. Perfect Design for Spring
Before we think about rocking the neon summer colours, show off your spring colours before it's too late. We're currently in spring so don't be too quick with the bright colours just yet. Go for a subtle spring look with these gorgeous peach and white shades.
Products used: Essie 'Van d'Go', 'Blanc' and IsaDora 'Diamond Crush'.
19. Mint & Gold Glitter Nail Design
We all love having glitter nails but some people do not like to have glitter on its own. It is down to personal taste. With this style, it makes everyone happy. You have the pastel mint colour for a base and a central stripe of gold glitter to add that extra edge.
Products used: Deco Miami 'Petite Palm', OPI 'My Favorite Ornament' and Sally Hansen 'Golden -i'.
20. Elegant Pink Nails
Spring and summer seasons are full of parties and weddings. Show off your elegant side with these pink design nails. Try to keep the pink base a subtle, natural pink and add the pink sparkles to the tips and middle section of your nails.
Products used: H&M nail polishes.