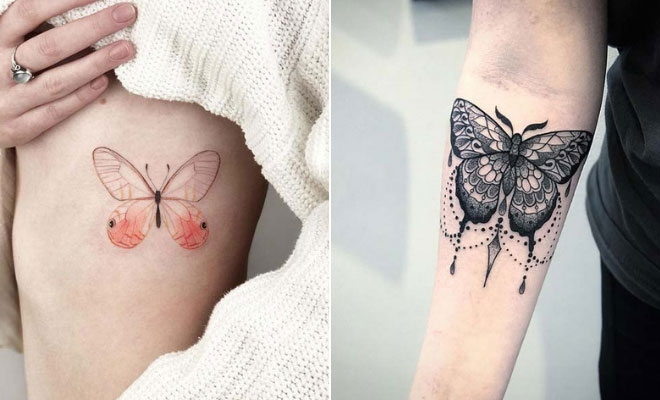 Instagram
Lifestyle
61 Pretty Butterfly Tattoo Designs and Placement Ideas
By
|
Butterflies are very popular tattoo designs for women. This is for many reasons including their beauty and that they are symbols of transformation, love and femininity. If that wasn't enough, butterfly tattoos look stunning on anyone and there are so many different colors and patterns that you can try. So, there is a butterfly tattoo to suit everyone. To give you some inspiration for your next tattoo, we have found 61 butterfly designs for women. Take a look! You will find butterfly tattoos with bright colors, floral patterns and more.
1. Delicate and Colorful Butterfly Tattoo
We would like to begin with this beautiful butterfly. The butterfly is tattooed on the ribs and features light and delicate lines with stunning pink shading. It is an amazing piece of body art and something like this will suit everyone. You can recreate with any color palette, but try to keep a similar design for an elegant and graceful butterfly.
2. Butterfly with Rose Wings
When choosing a butterfly tattoo, you can go for something realistic or you can try something more unique. Here is a great example of a butterfly that uses a creative design. This one features a body and wings like a real butterfly but it has a floral pattern on the wings. There are roses, leaves and more. Try a stylish butterfly like this or create your own one of a kind design.
3. Edgy Hand Tattoo Idea
Hand tattoos are edgy and trendy and we have an awesome butterfly design to show you. This butterfly has been tattooed on the back of the hand and features a gorgeous pattern on the wings. It looks likes a Swallowtail butterfly but you can choose any species. This is a bold design that is perfect for anyone who wants a statement making tattoo.
4. Two Butterflies
Instead of one butterfly why not try two?! Here is a pretty tattoo that features two butterflies. Both have the same purple wings and one looks a little smaller than the other. A tattoo like this is great for someone who loves butterflies. Multiple butterflies can also represent other things like family members. Maybe have a butterfly for each member of your family or something meaningful like that.
5. Beautiful Butterfly Arm Tattoo
Next, we have another butterfly with patterned wings. This one features large and elegant wings that are decorated with flowers and other botanical designs. It is a pretty tattoo that can be recreated or you can choose your own unique wings. A butterfly like this will suit everyone and can be tattooed on the arm like the image or you can try other places. A smaller version on the ankle or wrist would look amazing.
6. Floral Butterfly
Flowers and butterflies are both very popular tattoo designs. The next tattoo we have to show you combines the two! Here we have a butterfly where one wing is realistic and the other has a gorgeous floral design. We love this tattoo because the floral wing is unique and beautiful. You can use any flowers for the wing and you can even add some color too.
7. Butterfly and Moon
Our next tattoo idea features a butterfly and a moon. A butterfly can symbolize transformation and a moon can represent creativity and growth. So, not only do the two designs look amazing together, but they also have an empowering meaning too. A tattoo like this is perfect for someone who loves nature or wants a pretty piece of body art with a positive message.
8. Cute Ankle Tattoo
Looking for a cute tattoo? Then this is for you! Here we have a butterfly ankle tattoo. It has a classic butterfly design and has been tattooed in black ink. As the butterfly is on the ankle, it can be covered up or shown off which makes it great for someone who wants a subtle tattoo. Try a tattoo like this or choose a butterfly with some bright color.
9. Artistic Watercolor Butterfly
If you are looking for a colorful butterfly tattoo, then you need to check out our next idea. Here we have a watercolor butterfly tattoo. It is half a butterfly like it is flying and features beautiful bright colors including red. The watercolor technique compliments this design perfectly and makes it look like an artist's illustration. You can recreate a similar butterfly with any colors and you can choose a full butterfly design too.
10. Butterfly Sternum Tattoo
Sternum tattoos have become so popular and we can see why, these tattoos look super stylish! The next design features a beautiful butterfly that has been tattooed on the sternum. It features a large butterfly, moon and flowers. This is a unique and trendy piece of body art that will look gorgeous on anyone. Try a similar design or choose a different butterfly design, any butterfly will be amazing.