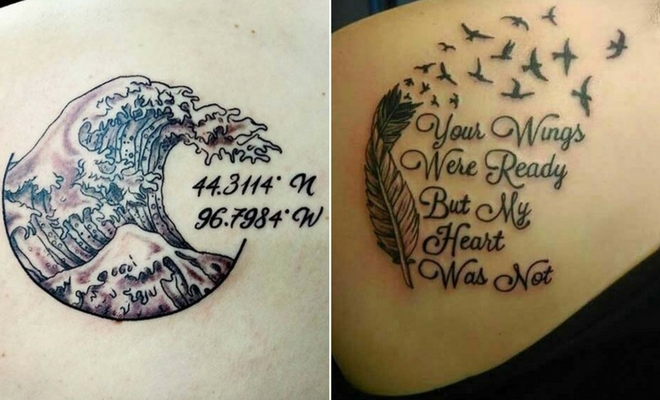 Instagram
Lifestyle
43 Emotional Memorial Tattoos to Honor Loved Ones
By
|
Memorial tattoos are a unique and personal way to pay tribute to someone special who is no longer here. For many, tattoos are way to show off their style, but tattoos can also express feelings. A tattoo can help keep memories alive long after someone has gone. Tattoos can honor the person and help you remember the good times. We have found 43 emotional memorial tattoos that will be a beautiful tribute to any loved one.
1. Memorial Tattoo Idea
Our first tattoo is a beautiful piece that features a bird and a quote. The quote reads "She lived and laughed and loved and left". This is a tribute that says their loved one had a zest for life. It is a design that remembers the good times but also acknowledges the loss.
2. Handwriting Tattoo
When we lose someone, we try to hold on to them and remember them. A handwriting tattoo can be a lovely way to do this. It allows you to have a piece of your loved one with you forever. This tattoo design features a word out of a hand-written letter. It is a beautiful memorial tattoo design.
3.  Coordinates Tattoo
The next tattoo on the list features coordinates of a father and daughter's favourite place. A design like this is a beautiful way to remember someone special. If you were thinking about a tattoo like this, you could get the coordinates placed anywhere on your body with any picture.
4. Always in My Mind
A quote is a lovely memorial idea. This tattoo features "Always in my mind, forever in my heart". The quote is a way to express that you will always remember the joy and love that someone brought to your life. It is a stunning tribute. The birds are a beautiful touch.
5. Memorial Tattoo for Dad
When choosing a design, consider creating something that is personal to your loved one. This tattoo has a fishing theme to remember their dad. Ink like this will evoke memories of the times you had together. The quote is both emotional and beautiful.
6. Memorial Tattoo for a Child
There are no words powerful enough for the loss of a child. If you have lost a child and you want to remember them and mark their passing, consider a tattoo like this. It is a stunning design that shows the love between the parent and child.
7. We Only Part to Meet Again
The idea of meeting loved ones again provides great comfort in times of loss and grief. That is why a tattoo like this is a perfect choice for a memorial tattoo. It is a comforting phrase that will help you through a hard time.  You could have a design like this placed anywhere on the body.
8. Memorial Tattoo for Grandpa
Here is a stunning memorial tattoo for someone's grandpa. The design features a grandpa and granddaughter in the sunset. This tattoo is heart-warming and emotional, it shows the love between the two. Something like is a unique design that will keep a loved one's memory alive.
9. I'll Be Missing You
Next, we have a beautiful arm tattoo with roses and a phrase. The phrase reads "I'll be missing you, until the day we meet again." This is another design that will provide comfort during the hard days of grief. You could have a design like this on other places on the body too. Make it personal by having your own fonts and roses.
10. Memorial Book Tattoo Idea
Here is a tattoo that features a beautiful phrase. It reads "The chapters may have ended, but the pages still remain." Something like this makes a great memory tattoo. It would also be good if you or your loved one enjoyed books. You could even just have the quote.