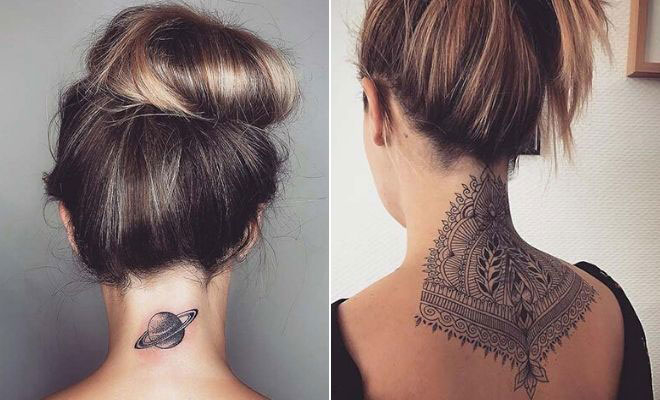 Instagram
Lifestyle
23 Edgy Back of Neck Tattoos for Women
By
|
Longing for a new tattoo but can't think of what design to have or which part of the body to have tattooed? If so, you are in the right place. Today we have 23 edgy back of neck tattoos for women. The back of the neck is quite an unusual place and it looks so stylish. Not only that, but you can be as bold or as subtle as you like because the smaller designs can be covered by your hair. Any design can be placed on this part of the body, from flowers to mandalas and even quotes. So, take a look and see these amazing tattoos. By the end you will have found your next new tattoo.
1. Mandala Back of Neck Tattoo
The first tattoo is stunning and it covers the back of the neck and a small area on the back. This tattoo features intricate black ink patterns and it is such a beautiful and statement making piece. You can recreate this if you are looking for a larger tattoo or you can opt for a smaller version. Different patterns can also be used as this will make the tattoo unique to you.
2. Beautiful Butterfly Design
Butterflies are one of the most popular tattoos for women and this is a beautiful version. Here we have a large butterfly that is tattooed on the back of the neck. One side of the wings is made of flowers. We love this unique floral butterfly and it will look amazing on anyone. Try a similar tattoo or you can add some color.
3. Cute Flower Tattoo
Next, we have another cute and pretty tattoo to show you. For this design, lots of small flowers have been tattooed in a horseshoe shape. It is a gorgeous tattoo and it is very feminine too. You can create a similar tattoo or try the design with flowers of your choice. Try to choose flowers that mean something special to you or that you like the best.
4. Pretty Arrow
The next tattoo is pretty and unique. Here we have an arrow that is tattooed on the back of the neck. This one was inspired by the Aquarius star sign. So, you can create an arrow based around your star sign or you can just have a stylish arrow created. This is a small and easy to wear tattoo that will suit everyone.
5. Patterned Lotus Tattoo Idea
If you like the larger tattoos that cover the neck and a little of the back, then this is for you. This piece of body art features a large, patterned mandala lotus. There is lotus imagery and the patterns are just stunning. This is a bold and beautiful tattoo that makes a statement in style. Keep it black ink or you can try adding a splash of color, watercolor will look stunning.
6. Floral Back of the Neck Tattoo
This next tattoo is small, subtle and elegant. Here we have two small flowers on the back of the neck. The flowers are delicate and pretty which creates a stunning tattoo. Something like this is great at as a first tattoo because it will never go out of style and it is so easy to wear. Recreate this or you can add color to the small petals.
7. Quote on the Back of the Neck
Quotes are another popular tattoo idea and this next version is just gorgeous. This tattoo features a quote in an elegant font on the back of the neck. You can have any meaningful quote on the back of your neck. But you can also have other important words such as names. Any font can be used.
8. Stunning Ornamental Tattoo
Next, we have a stunning ornamental tattoo to show you. The tattoo is placed on the back of the neck and it covers a small area of the back too. We love the shape because it almost looks like a fan. The actual design features lots of beautiful patterns. It is a gorgeous tattoo and you can recreate this or try a smaller one. You can also use different patterns and even add a pop of color.
9. Sun and Moon Design
This next design is one of our favorites. Here we have a sun and moon design. The tattoo features a half moon with a large sun. We love the sun because it has petals like a flower. It is a unique, magical and beautiful design that will wow. Try something similar or you can add some color to the flower.
10. Neck and Back Tattoo Idea
Love the neck and back tattoos? If so, check this out. The tattoo features gorgeous patterns that are all on the back of the neck and on a section of the back too. This design is finished off with delicate charms. It is a great balance of edgy and pretty and something like this will suit everyone. A large tattoo like this is a big commitment though, so make sure you are sure about the design.