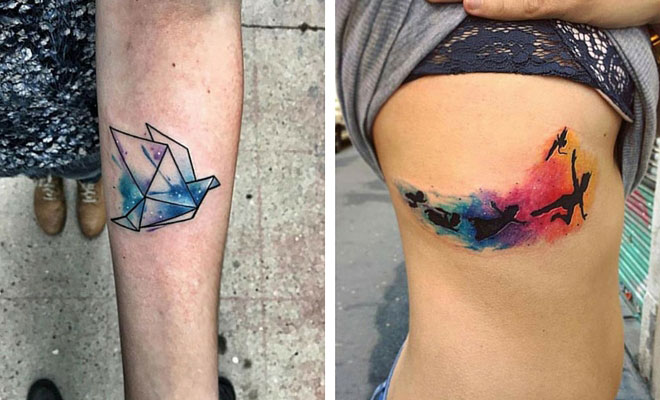 51 Watercolor Tattoo Ideas for Women
Watercolor tattoos are a relatively new concept and in theory, they've only actually been popular for the last five years or so. Despite their relatively new design, they are certainly a versatile tattoo design and as you can see from what we are about to show you, there's more than a few ways that you can customise existing tattoo ideas to come up with a beautiful blended paint-work design.
Check out the 51 watercolor tattoo ideas for women:
1. Peter Pan Rib Tattoo
Bring out your inner child with this beautiful Peter Pan rib tattoo. This is quite a painful area to have tattooed according to those who have sat these ink sessions. The final result though? Simple beautiful! Definitely on the watercolor tattoo ideas lust-list.
2. World Map Back Tattoo
If you're a keen traveller, what better way to show off your passion than with this world map watercolor tattoo?
3. Origami Tattoo
Flying bird tattoos are said to mean the lust for exploring new things, new places, new adventures. A sense of freedom and flying shows a need for constant change, someone who can't be rooted to just one spot.
4. Moon Thigh Tattoo
The stages of the moon seem to show the different stages of life. It's always beautiful but always different, changing every day based on whatever happens around it. Life is inconsistent. This moon thigh watercolor tattoo is beautiful.
5. Pink Flowers
For something subtle and feminine, these pink flowers are beautiful ink-addition. You could add to these over the years, creating a beautiful bouquet of flowers.
6. Watercolor Feather Tattoo
The concept of freedom is most association with feather tattoos, much like the flying and freedom with birds. Feather tattoos can also represent one of the elements – air. Air is full of open space and birds are free to move about pretty much as they like.
7. Life of a Tree Tattoo
A tree changes throughout its life, much like people do. This ever-changing tree is a beautiful representation of that.
8. Watercolor Nebula Tattoo
Anyone who loves their space-stuff will love this beautiful nebula tattoo. If deep, dark and bold colors are your thing, this is a sure fire winner.
9. Blue Cherry Blossom
That national flower of Japan, the cherry blossom, is given a bit of a makeover here, blue rather than the traditional pink.
10. Believe in Love Tattoo
Do you believe in love? We do with this beautiful watercolor tattoo. Perhaps a great one for couple's to have? Do we sense a matching tattoo?
11. Disney Wrist Tattoo
Any Disney lover will love this Disney themed Mickey and Minnie mouse watercolor tattoo. Stunningly simple – all the best things.
12. Abstract Watercolor Tattoo
Abstract tattoos give you the freedom to go a little crazier with your ideas and we love this swirling, birded wonder.
13. Brush Strokes Rib Tattoo
If you have a keen passion in art and design, this brush strokes rib tattoo is genius. You could have those colors replaced with any that mean something to you too. Perhaps your favourite color and also the the favorites of your children too? A great one that can be added to over the years.
14. Disney Little Mermaid Tattoo
Who wouldn't want to be part of our world when you can have a great tattoo like this one. We think it's mermaid-tastic.
15. Small Elephant Wrist Tattoo
Symbolising peace, power and strength, this wrist elephant tattoo is not only discreet, but easily customisable too.
16. Watercolor Music Tattoo
Music soothes the soul and why not show that off with this stunning reddish-purple design?
17. Watercolor Heart
The pink could represent you and the blue could represent him. We love this little watercolor heart.
18. Origami Boat on Water
Ships and nautical themed tattoos are all the rage these days but we love the modern look of this origami ship. A smooth sea did not a skilled sailor make…
19. Cute Panda Tattoo
Symbolic to the Asian culture, this panda tattoo is simply adorable and also a symbol of serenity and peace.
20. Wrist Tree Tattoo
This humble wrist tree tattoo could be a sign of something long-lasting and resilient.
21. Watercolor Flower Tattoo
Flowers are a great way to play around with watercolor effects and as you can see from this beautiful blue floral design, you can really make the colors pop!
22. Blue Feather on Back
Combining a dark colour like the black you can see here with the watercolor shades of blue and also white is a great way of making your stand out from the crowd.
23. Music Wrist Tattoo
If you have a simple, old, black and white tattoo and are thinking of giving it a revamp, why not look at adding watercolor features just like this simple musical tattoo?
24. Paper Cranes + Splash of Color
Origami and watercolor go hand in hand together and is a great way of adding new twist to the bird theme if you're not looking for something traditional.
25. Small Heart Finger Tattoo
Small, discreet and totally adorable, why to show your love for someone with a beautiful blue watercolor heart?
26. Colibri Bird Tattoo
Many people think of watercolor tattooing as being unstructured but as you can see here, it can be as much or as little structured as you like! This hummingbird is stunning and those colors are breathtakingly beautiful.
27. World Map Wrist Tattoo
If travel is your passion, why not start with an empty map and add your watercolor effects to the countries you've travelled? A great way to have a tattoo with plenty of meaning AND memories!
28. Flamingo Arm Tattoo
It's not the most popular of bird tattoos but the flamingo is said to represent something eye-catching, bold and beautiful, and we can't forget that these beautiful birds are very social animals too. Perhaps symbolising a social person?
29. Love is Hard Work
If you had the word 'love' written while you were in a state of love, but that love has since disappeared, add to your tattoo in the best possible way with the words "is hard work". It's true. Love IS hard work!
30. Cute Elephant Family
Do you have a strong family you're proud of and can believe in? Why not represent them with this cute elephant family watercolor tattoo? You cold have each person pick their favorite color for a more personal approach too.
31. Chemical Thigh Tattoo (Serotonin)
Serotonin plays a very important part in your body, regulating things like mood, hunger, memory, sexual desire and more. Everyone needs more serotonin in their life and why not remind yourself of that with this clever chemistry-themed tattoo?
32. Watercolor Swallow Foot Tattoo
Did you know that the swallow tattoo was initially to represent a sailor proud of all their adventures and experiences? Well, once upon a time it was although these days, it has become a very popular (and ever-changing) tattoo.
33. Small & Colorful Origami Tattoo
A tattoo doesn't need to be big in order to be beautiful. If this is your first tattoo, why not consider starting with something small?
34. Watercolor Flower Tattoo
This beautiful pop of color is definitely one reason why watercolor tattoo ideas are such a great idea!
35. Watercolor Geometry Tattoo
Just like origami, these geometrical design works perfectly with the watercolor designs. It's like structure with unstructured, yin to yang, day and night, black and white…
36. Splash of Color Arm Tattoo
Has your kid painted a masterpiece at school? Perhaps you're proud of that first ever painting you pinned on the fridge? Have it made into a beautiful water color design. It's abstract so it could be anything you want! (Or your kid's imagination allows!)
37. Watercolor Heart
Clever, simple and fun, just three words you can use to describe this painter-themed watercolor tattoo.
38. Cool Watercolor Tattoo
It's almost an illusion and we can't help but marvel at the cleverness of this tattoo. It's a watercolor face with butterflies done in such a way, you can't help but look twice.
39. Cute Watercolor Bird Tattoo
It's cute, simple and adorable. The love hearts add an especially delightful touch to this watercolor bird.
40. Beautiful Tree Tattoo
The thing you need to remember with watercolor tattoos is that when they fade (which they will over time), the lines will become less defined, and there's already a lack of definition. There's some upkeep necessary to keep these looking as great as they do – creams and the odd touch-up, for example.
41. Bird Back Tattoo
It could be a family of birds or it could be the transformation of just one bird. We don't know and we don't care. It's beautiful and could easily reflect both.
42. Perfect Tattoo For Music Lovers
You could use the colors of your favorite album cover right now. You could even add the notes of your favorite song. The possibilities are endless.
43. Feather & Birds Tattoo
Why pick between birds and feathers when you can have both? We love this beautiful design, a shining example of freedom and spirituality.
44. Little Girl Watercolor Tattoo
It's a slightly different take on that Banksy art-classic, who doesn't love this beautiful watercolor image of a little girl with her balloon? Perhaps a symbol of someone letting go something from their past?
45. Watercolor Cat Tattoo
Join the millions of #crazycatpeople on the internet with this amazing cat silhouette, make up of an amazing mix of darker watercolor shades.
46. Harry Potter Watercolor Tattoo
If you're a big Harry Potter fan, this amazing and well-designed watercolor tattoo is definitely a winning combination!
47. Poppy Flower Tattoo
A symbol of remembrance, this poppy watercolor tattoo is not only pretty to look at, but holds a wealth of meaning too.
48. Elephant Watercolor Tattoo
Watercolor tattoos are a relatively new concept, only being around for the last five or six years or so, but despite that, they are growing more and more in popularity and as you can see, even something as simple as an animal can instantly be 'jazzed-up' with that clever pop of color.
49. Cool Origami Paper Crane Tattoo
A sign of prosperity and hope, the origami crane tattoo is one becoming increasingly popular. In fact, if there's something you can make out of origami paper, you can make it into origami tattoo art too.
50. Small & Cute Owl Tattoo
Owls have become a fashion statement of late and if you're planning on getting one, you should know that they are a sign for wisdom, education and experience. Just like a wise old owl!
51. Watercolor Cat Tattoo
And if birds weren't your thing, you could have your cat immortalised on your skin with this clever watercolor design. In fact, you could do with this any animal you like. Now there's that portrait of the beloved family dog?
So what do you think? Do these watercolor tattoo design ideas hit the spot for you? Have you been inspired to come up with your own unique and imaginative ideas? We hope we've given you some ink-inspiration but we'd love to see what you come up with too! Give us a shout on social media and let us know what you've created.