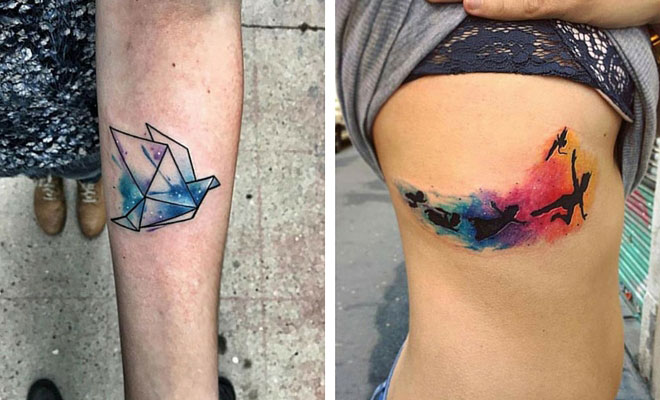 Instagram
Lifestyle
51 Watercolor Tattoo Ideas for Women
By
|
Watercolor tattoos are a relatively new concept and in theory, they've only actually been popular for the last five years or so. Despite their relatively new design, they are certainly a versatile tattoo design and as you can see from what we are about to show you, there's more than a few ways that you can customise existing tattoo ideas to come up with a beautiful blended paint-work design.
Check out the 51 watercolor tattoo ideas for women:
1. Peter Pan Rib Tattoo
Bring out your inner child with this beautiful Peter Pan rib tattoo. This is quite a painful area to have tattooed according to those who have sat these ink sessions. The final result though? Simple beautiful! Definitely on the watercolor tattoo ideas lust-list.
2. World Map Back Tattoo
If you're a keen traveller, what better way to show off your passion than with this world map watercolor tattoo?
3. Origami Tattoo
Flying bird tattoos are said to mean the lust for exploring new things, new places, new adventures. A sense of freedom and flying shows a need for constant change, someone who can't be rooted to just one spot.
4. Moon Thigh Tattoo
The stages of the moon seem to show the different stages of life. It's always beautiful but always different, changing every day based on whatever happens around it. Life is inconsistent. This moon thigh watercolor tattoo is beautiful.
5. Pink Flowers
For something subtle and feminine, these pink flowers are beautiful ink-addition. You could add to these over the years, creating a beautiful bouquet of flowers.
6. Watercolor Feather Tattoo
The concept of freedom is most association with feather tattoos, much like the flying and freedom with birds. Feather tattoos can also represent one of the elements – air. Air is full of open space and birds are free to move about pretty much as they like.
7. Life of a Tree Tattoo
A tree changes throughout its life, much like people do. This ever-changing tree is a beautiful representation of that.
8. Watercolor Nebula Tattoo
Anyone who loves their space-stuff will love this beautiful nebula tattoo. If deep, dark and bold colors are your thing, this is a sure fire winner.
9. Blue Cherry Blossom
That national flower of Japan, the cherry blossom, is given a bit of a makeover here, blue rather than the traditional pink.
10. Believe in Love Tattoo
Do you believe in love? We do with this beautiful watercolor tattoo. Perhaps a great one for couple's to have? Do we sense a matching tattoo?