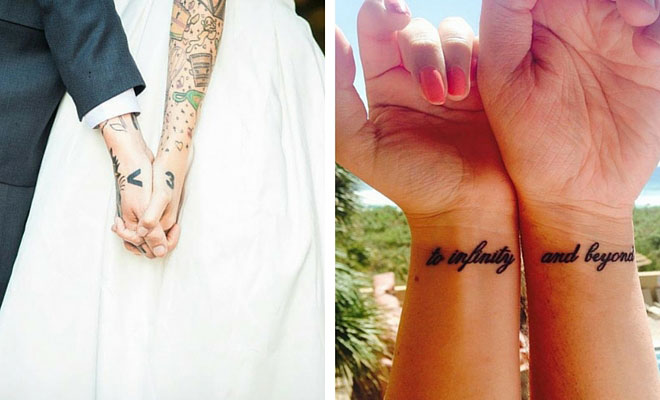 Instagram
Lifestyle
81 Cute Couple Tattoos That Will Warm Your Heart
By
|
If you are thinking about getting a tattoo, you need to think very carefully on the design or wording you want.  Of course, you may have an idea of what you would like but sometimes you need inspiration. Many couples often have their partners name written on their arms and then you have the impressive couples that choose long and hard about their tattoo.  There are so many general tattoo designs to choose from, in additional, you might choose to have your own personal design or wording.
You have also get to think about whether you want a colour or black/grey tattoo, shading, no shading.  Many people think that choosing their tattoo is easy, maybe if you are adamant on what you want but if you are unsure, it can be hard.  Tattoos can remind us of our beautiful memories we have had and sometimes remind us of the pain we went through.  Whatever your couple tattoo might say or show, it is forever.  We here at Stay Glam have put together 81 of the cutest couple tattoos that will melt your heart.  Take a look and we can guarantee you will love them all!  Enjoy guys!
1.'I Love Him' + 'I Love Her' Tattoos
Having a meaningful tattoo is the better than a standard meaningless tattoo. These cute matching tattoos are adorable.  Make sure you and your partner are true soulmates before inking your skin.  You can feel the love in the air when you look at these.  'I love him' and 'I love her' are all that's needed. Choose a lovely handwriting font.  You and your partner will look back in many years to come and will still be proud of what you did choose and the whole design.  This is a classic and timeless quote that will never die.
2. Matching Heart (<3) Tattoos
Do you want a matching tattoo but with a twist? Have a look at these matching heart tattoos.  Not your standard conventional heart tattoos.  It is always good to think outside the box.  Knowing that you want a heart is a good start but if you don't want the outline or a filled in standard heart shape, think about this.  When you see one-half of these connecting tattoos, it doesn't look like a heart at all, until they are together.  You can have this matching ink in any colour, any size but we would say, choose to have it in the same area as the photo because when you do get together, you can be complete. Other parts of your body may be a little tricky to link up.
3. Watercolor King and Queen Tattoos
You're his queen and he's your king. What better way to show this than to have matching king and queen tattoos.  Add a modern and colourful twist to your crowns by adding watercolours.  These tattoos are bright and vibrant; they will really stand out from the crowd.  Choose a few colours to enlighten and embrace the watercolours.
4. Cute Matching Initials Tattoos
Do you want his and hers initials? Sometimes, less is best.  By just having his and your initials, tells your story.  No need to add a fancy design or any words, keep it simple.  This is different to having his or hers first name written on your arm.
5. Connecting 'LOVE' Tattoo
LO – VE.  When together, spells LOVE. Love is a strong word and so are the feelings you have for one another.  Having matching tattoos like the photo above, will show how much you mean to each other and have that special connection. Choosing to have this specific design on your hand is the ideal place to have it.  Now you have to decide who's to have the LO and who will have the VE!
6. Heartbeat Wrist Tattoos
Many people opt for a small wrist tattoo. This tattoo is cute but also reminds us how short and precious life is.  These heartbeat wrist tattoos are also known as EKG or ECG (electrocardiogram) lines.  It can have different meaning but in this case, it represents someone special in your life and that person will have the matching tattoo on his or her wrist.
7. Connecting Wrist Tattoos – To Infinity and Beyond
Do you remember the movie Toy Story? Every time I see this cute tattoo, it reminds me of that movie, when Buzz Lightyear says it.  Of course, this can have a different meaning to the movie but if Toy Story means a lot to you, your meaning might be so.  To infinity and beyond is everlasting love. Having matching tattoos when having words or sayings is easier than having other designs or patterns.  You can split the sentence up and both of you can have a part of it.
8. Matching Roman Numerals Tattoos
Do you have a memorable date? Do you remember the first date you met?  Maybe you want your anniversary wedding date tattooed.  Getting matching memorable dates is unique and special to you both.  Getting Roman numerals tattoos look completely different to the standard numbers.  As you can see on the photo, these guys have added 'I love you' underneath their date.  We think this is so cute!
9. Small Hearts on Fingers
Wearing jewellery for many people is irritating and many tend to not wear their wedding ring, especially men. If you want an alternative to a wedding ring, then why not have a heart tattooed on your ring finger?  You could have matching hearts and this can act as your wedding ring and commitment.  The lady in this photo is still wearing her engagement ring but the heart represents hers wedding ring.  You could even have all three – engagement ring, wedding ring and a tattoo!
10. "It's our song."
Your first wedding dance needs to always be remembered. If you have a special song that you want to keep close to your hearts, think about having the music notes tattoos on your wrist or wherever you choose to have it.  The wrist is a good place to choose because it's small and looks great.  Here you can see that the bride has opted for her wrist and the groom has chosen the wrist but the opposite side.  They look so cute together.