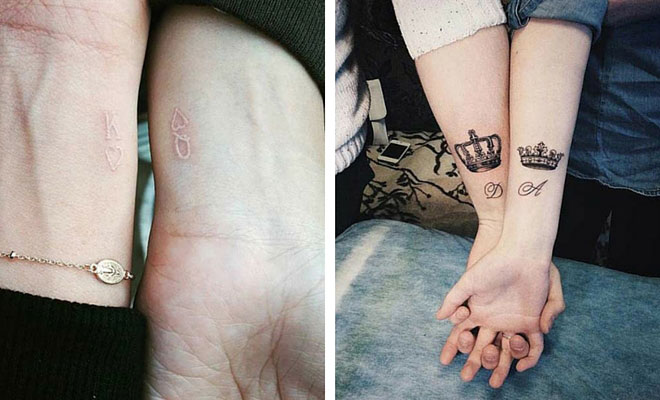 Instagram
Lifestyle
51 King and Queen Tattoos for Couples
By
|
A king is not complete without his queen. Couple tattoos are more popular than ever, especially king and queen tattoos. There's never been a better time to show the world (and your loved one of course) who you love and how much they mean to you. With the internet loaded full of king and queen tattoos it can be hard to get a well rounded idea on what you could go for. Don't worry, we've got you covered.
Here's a list of some amazing king and queen tattoos that will make you inspired. The size, the colour, even the style is up to you. Well your loved one has some say in the matter too.
1. Small, White Ink King and Queen Tattoos
White ink tattoos are new on the tattoo scene. They are great if you don't want commit to the common black ink tattoos that are way more visible on the skin. Striking and subtle.
Depending on your skin tone, they can actually look like a scar in a way. A good way of course. These king and queen tattoos look amazing, we have to say. The perfect way to show your commitment to your loved one.
2. Big, Arm Tattoos
Want something bigger? The bigger the tattoo the bigger the commitment right? The great thing about larger tattoos is that they can be more detailed. Intricate designs are easier to etch into the skin if there's a bigger surface to do them.
Crowns are a lovely way of symbolising your love for your partner. And it's much nicer than having the word 'king' or 'queen' put on your skin instead.
3. Finger Tattoos
Finger tattoos are quite a romantic way of showing your dedication. In a way it's like they are representing rings. You could have your ring finger tattooed to bump up your devotion to a whole other level. We're talking marriage levels.
Plus with such a small tattoo, you can cover it up easily if your work doesn't allow it. They're also pretty cheap too. In comparison to larger tattoos that is.
4. Red Ink Finger Tattoos
Ooh some more finger tattoos. We love these ones. There are so many colour options for tattoos. You really are spoilt for choice. The red design of these tattoos are to symbolise the king and queen of hearts in a deck of cards. Such a lovely touch.
It's a really good idea having it on the side of your finger. Easily hideable for work. And it's actually quite a unique place to have a tattoo.
5. King and Queen Skull Tattoos
These are awesome. Why have simple tattoos when you can let your creative side do the talking? The models could've just had the 'K' and 'Q' with a couple hearts, but they decided that wasn't enough.
Skulls and crowns could symbolise for them being together forever, until they die. It's really quite romantic if you think about it. Tattoos are an art form, so let your imagination run wild.
6. Simple Wrist Tattoos
Sweet and simple. These tattoos just illustrate plainly that the couple is together and that's it. No frills or fanciness. Just a straightforward commitment. Elegant.
Choosing your wrist for a tattoo, means you'll see it all the time. A constant reminder of your love. You can even cover it with a watch or bracelet and no one will ever know it's there. Tattoos can be whatever you want them to be.
7. Cute Idea
The intricate design on both of these tattoos is absolutely beautiful. Crowns represent royalty. So with a crown tattoo you'll be showing your partner they mean the most to you, above all others. Forget past relationships because this is now. You'll never want anyone else but this person.
It's a big commitment, but if you really mean it it's well worth it. We love how the crowns match too. It doesn't get better than that.
8. Chess Tattoos
Check out these ones. Chess pieces are a creative way of representing a king and queen. They also look so artistic.  There's even shading and shadows too. Great job whoever did these. You should be proud.
What's nice about chess pieces, is that some people won't realise the meaning behind the tattoo. They won't instantly assume you are in love with someone. You can either share your love or keep it to yourself.
9. One Life, One Love
What a romantic quote. To have that much love for someone that you believe they are the only one for you. Forever. Well until you die, actually. The font they've chosen looks great paired with the crowns. And the crowns are awesome too.
The shading and extra detailing is pretty amazing. If you want something permanently etched into your skin that will last forever, at least make it good.
10. Matching Watercolor Tattoos
This is a perfect example of the types of colours you could have tattooed. And not just one colour either. You have options. Literally tons of them.
The watercolour theme this couple has chosen is beautiful and so very artistic too. We love how quirky the crowns are too. They literally look biro drawn, as if the designs were taken from a doodle done in class at school one day.