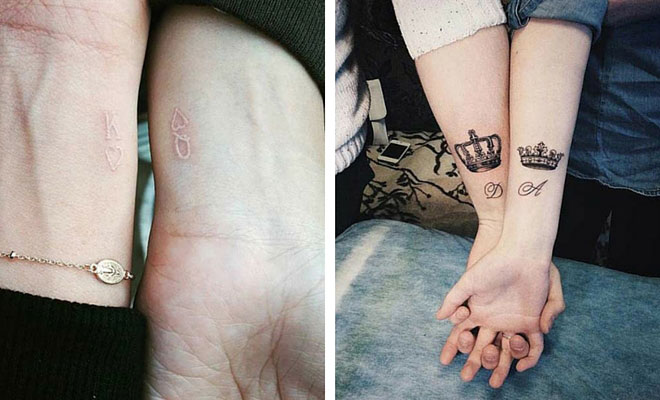 51 King and Queen Tattoos for Couples
A king is not complete without his queen. Couple tattoos are more popular than ever, especially king and queen tattoos. There's never been a better time to show the world (and your loved one of course) who you love and how much they mean to you. With the internet loaded full of king and queen tattoos it can be hard to get a well rounded idea on what you could go for. Don't worry, we've got you covered.
Here's a list of some amazing king and queen tattoos that will make you inspired. The size, the colour, even the style is up to you. Well your loved one has some say in the matter too.
1. Small, White Ink King and Queen Tattoos
White ink tattoos are new on the tattoo scene. They are great if you don't want commit to the common black ink tattoos that are way more visible on the skin. Striking and subtle.
Depending on your skin tone, they can actually look like a scar in a way. A good way of course. These king and queen tattoos look amazing, we have to say. The perfect way to show your commitment to your loved one.
2. Big, Arm Tattoos
Want something bigger? The bigger the tattoo the bigger the commitment right? The great thing about larger tattoos is that they can be more detailed. Intricate designs are easier to etch into the skin if there's a bigger surface to do them.
Crowns are a lovely way of symbolising your love for your partner. And it's much nicer than having the word 'king' or 'queen' put on your skin instead.
3. Finger Tattoos
Finger tattoos are quite a romantic way of showing your dedication. In a way it's like they are representing rings. You could have your ring finger tattooed to bump up your devotion to a whole other level. We're talking marriage levels.
Plus with such a small tattoo, you can cover it up easily if your work doesn't allow it. They're also pretty cheap too. In comparison to larger tattoos that is.
4. Red Ink Finger Tattoos
Ooh some more finger tattoos. We love these ones. There are so many colour options for tattoos. You really are spoilt for choice. The red design of these tattoos are to symbolise the king and queen of hearts in a deck of cards. Such a lovely touch.
It's a really good idea having it on the side of your finger. Easily hideable for work. And it's actually quite a unique place to have a tattoo.
5. King and Queen Skull Tattoos
These are awesome. Why have simple tattoos when you can let your creative side do the talking? The models could've just had the 'K' and 'Q' with a couple hearts, but they decided that wasn't enough.
Skulls and crowns could symbolise for them being together forever, until they die. It's really quite romantic if you think about it. Tattoos are an art form, so let your imagination run wild.
6. Simple Wrist Tattoos
Sweet and simple. These tattoos just illustrate plainly that the couple is together and that's it. No frills or fanciness. Just a straightforward commitment. Elegant.
Choosing your wrist for a tattoo, means you'll see it all the time. A constant reminder of your love. You can even cover it with a watch or bracelet and no one will ever know it's there. Tattoos can be whatever you want them to be.
7. Cute Idea
The intricate design on both of these tattoos is absolutely beautiful. Crowns represent royalty. So with a crown tattoo you'll be showing your partner they mean the most to you, above all others. Forget past relationships because this is now. You'll never want anyone else but this person.
It's a big commitment, but if you really mean it it's well worth it. We love how the crowns match too. It doesn't get better than that.
8. Chess Tattoos
Check out these ones. Chess pieces are a creative way of representing a king and queen. They also look so artistic. There's even shading and shadows too. Great job whoever did these. You should be proud.
What's nice about chess pieces, is that some people won't realise the meaning behind the tattoo. They won't instantly assume you are in love with someone. You can either share your love or keep it to yourself.
9. One Life, One Love
What a romantic quote. To have that much love for someone that you believe they are the only one for you. Forever. Well until you die, actually. The font they've chosen looks great paired with the crowns. And the crowns are awesome too.
The shading and extra detailing is pretty amazing. If you want something permanently etched into your skin that will last forever, at least make it good.
10. Matching Watercolor Tattoos
This is a perfect example of the types of colours you could have tattooed. And not just one colour either. You have options. Literally tons of them.
The watercolour theme this couple has chosen is beautiful and so very artistic too. We love how quirky the crowns are too. They literally look biro drawn, as if the designs were taken from a doodle done in class at school one day.
11. Lion and Lioness Tattoos
Speaking of art. How realistic do these animals look? They are incredible. Hats off to the tattoo artist that's all we have to say. Just look at those eyes.
Lions symbolise royalty and strength. So to have a lion and lioness tattooed is pretty much saying you are at the head of the pack. Well pride in this case. There is so much detail in both of these tattoos that we are in awe.
12. King & Queen Tattoos + Initials
The calligraphy of the letters as beautiful. Such a lovely way to show the world how much that loved one means without having their full name scrawled across your skin. We approve, don't you?
Remember, tattoos never fade, just like true love.
13. Cool Wrist Tattoos
The shading and level of detail on both of these tattoos is remarkable. You pay for quality with tattoos. It really shows how devoted you are to a person if you pick such a detailed design over a simple one.
Simple doesn't necessarily mean you don't love that person whole heartedly. It's all about perception. How your loved one perceives your dedication to them and your future with them.
14. Matching Ankle Tattoos
These are really quite sweet. You have to agree it's a weird location for a tattoo, but we're definitely into it. Aren't you? The solid black of these tattoos makes them look like brands more than actual tattoos.
Like they've branded each other their king and queen. Seems way more permanent and personal than a simple now, doesn't it? Hearts universally symbolise love so of course you should choose them.
15. Arm Tattoos
Wow. Look at that vibrant red colouring on the male model's tattoo. We really want to touch it as it looks so realistic.
These king and queen tattoos are as artistic as them come. And they scream royalty that's for sure. Just from the shape of the crowns they look like they match. A matching pair. Whilst we do appreciate a plain black tattoo, you could always introduce some colour.
16. Colourful Tattoos
If there's a flower that truly represents love it's the rose. Red roses in particular. These roses are gorgeous though. The contrasting colours of them are amazing.
The cartoon king and queen are pretty epic too. We are jealous of the artistic mind behind both of these great tattoos. The king and queen of hearts are iconic and this is such a lovely rendition of them. A nice tattoo to have forever.
17. Small & Cute
Size isn't everything. These small tattoos are wonderful. They look like the kind of doodles you'd make in class at school. We like how the woman's one is mainly white and the man's is mainly black. Such a great contrast.
Kind of like ying and yang. Opposites attract and what not. The dark king and the light queen together forever. Has a nice ring to it doesn't it? It's such a light and playful tattoo so it's great if that's the side of you and your partner you want to represent.
18. King and Queen of Hearts Tattoos
Red in a tattoo is so noticeable. It's so bright and out there. We love it. The symbolisation of the king and queen of hearts in a deck of cards is a lovely choice for a set of tattoos.
Simple, sweet and effective. You don't have to create an outrageous tattoo to demonstration your dedication. Sometimes the best things in life are simple.
19. Badass Skull Tattoos
These are awesome. The skulls are definitely badass, and quite scary looking too, we have to admit. Even the crowns look quite dark and scary.
The realistic skulls take these to a whole other level. Sort of demonstrating you'll be with your loved not only until you die, but after that as well. Forever. Romance to the extreme. It doesn't get more loving than that.
20. King & Queen Calligraphy
The calligraphy on both of these tattoos is awesome. Really quite gorgeous. Simple black tattoos are classic and so traditional.
The crowns themselves look like stamps. Kind of like the one the queen of England would have had to stamp her post back in the day. Everyone loves a throwback, right? Well, we do anyway. Together the writing and crowns look really pretty overall. The position on the skin is top notch too.
21. Life, Love, Forever
Yes we know we've had a "one life, one love" tattoo pairing previously but we had to include this one. The flower detailing on the queen's crown is lovely. It almost looks like plants growing out of the base of the crown. Which is a really nice effect.
The matching fonts used help to set in stone the commitment made between the two people. There is so much detail in both tattoos that we're awestruck.
22. Amazing Hand Tattoos
Hand tattoos are a big commitment. Not kinky will you see them everyday but everyone else will as well. The script used for writing on both of these tattoos is elegant and quirky too.
The positioning of the crowns is absolutely perfect. Almost as if it's slanted on the king's head and flat on top of the queen's head. Such a great effect. These tattoos are a big statement and we love them.
23. Colourful Wrist Tattoos
Back in the day you could only get tattoos on black ink. Nowadays you can pick any colour you want. Literally any colour. These tattoos are great example of how good colourful tattoos can look. The cartoon effect of the crowns makes them look playful. There's some really nice shading too.
The font chosen for the words 'king' and 'queen' is elegant and almost looks handwritten too. Such a personal touch.
24. Small but Meaningful Wrist Tattoos
Meaningful tattoos are the best. The script used for both these tattoos is epic. We love the white spacing. You can really tell that these two are a pair. The king and queen of hearts for sure.
The hearts below the 'K' and 'Q' are adorable and such a sweet addition. These tattoos are a good idea as you can always add to them later on. Add colouring to the white spacing to the 'Q' and 'K' or add more detail to the existing design. It's entirely up to you.
25. Unique Design
It's great how they both don't have hearts tattooed onto them. Nice to see a matching set that doesn't quite match. Well they do say that opposites attract. And isn't a spade just an upside down heart – with a handle?
These matching tattoos are simply stunning. We love everything about them!
26. Finger Tattoos
The simplicity of the crowns in these tattoos is really lovely. More symbolic representations than actual crowns. As for the script it's epic and it looks handwritten. Yes, we do know that technically it was. But what we mean is that it looks less like a print and more like a personal statement.
Colour isn't everything. Sometimes simplicity wins out over everything else. We really like how the dedication is spread over two fingers too.
27. Shaded Crowns
These cool crowns have some epic shading. Who needs colour when you can get tattoos that look this awesome, right? There's even some white in there. It looks like these were painted, not tattooed onto the couple's skin.
It must have taken ages to get the details added into both tattoos. The tattoo artist did such an amazing job though. Look at how intricate each circle on the female's tattoo is. There's shading on every ball. Brilliant!
28. Branded King & Queen
Now these tattoos definitely look like brands. The red one especially. Check out that red – it's awesome. When choosing the right king and queen tattoos you don't have to completely match.
Keep that in mind. Like this couple. The font matches and they both have hearts, but the colours are completely different. What looks good for someone may not look good for another.
29. His Queen, Her King
The calligraphy for the "His Queen, Her King" tattoos is pretty damn unique. It's quite masculine. Unlike the usual script you've seen previously on this list. You can choose whatever font you like. Remember that.
The matching crowns are amazingly done. White, green and purple jewels match on both crowns. Even the order is the same. We love how the bottom of the crowns are faded away like they were rubbed away with an eraser.
30. Cute Wrist Tattoos
It doesn't get more matching than these two tattoos. Not only are the fonts the same, but the crowns themselves are exactly the same. They are such cute tattoos though.
Actually hold that thought. The fonts aren't the same. They are pretty damn similar though. At a quick glance they look identical. The crowns are definitely the same though and that is really sweet. Almost like saying that they are both the same. Equals in every way.
31. Red King and Queen of Hearts Tattoos
The scripts for these tattoos are so elegant. Simple and sophisticated. The tattoo artist must've had such a steady hand to create ensure the lines of the 'K' were so straight. Impressive.
The king and queen of hearts are definitely the most popular cards in the deck, that's for sure. Having these tattoos completely in red is a great touch. You could always mix it up and choose a different colour for the either the hearts or letters to be.
32. Kindness + Strength
The drawn on effect of both of the crowns is awesome. It adds a personal touch to the entire collection of ink.
These matching tattoos are simply divine. Agree?
33. Chess Pieces
Here are some more chess pieces to get you inspired. These look like sketches from an art book. They are brilliant. The shading technique of both pieces is really quite good. As couple tattoos go, these are awesome.
The chess pieces are huge, taking up a lot of the real estate on the couple's arms. Does it seem like to big of a commitment? Don't worry you can always have these smaller. Much smaller if you'd prefer.
34. Side Palm Tattoos
Ooh, side palm tattoos. Nice. The positioning of the crowns in both these tattoos is really cool. They are both slanted slightly, so they look as though they are resting on the words on imaginary heads.
Being someone's king or queen is a wonderful feeling. So advertising that on your body is a great honour to them. You should feel proud, knowing you are valued by someone so highly.
35. Tiny Hand Tattoos
Small and detailed. These intricate designs of crowns are so delicate and beautiful. With crowns you can have whatever you like. There are so many types to choose from.
Look at these two below. They aren't the same, but they definitely match. And the woman's one definitely looks more feminine than the man's masculine looking one. If he is your king, and you are his queen, these matching tattoos are definitely for you!
36. Black and Red Finger Tattoos
These tattoos look just like they've been swiped from a deck of cards. They are awesome. The font is smooth and elegant. It basically looks like they've grabbed a sharpie and gone to town on decorating their fingers.
We're sure it must've felt really weird having these tattoos done. Considering they're in a weird place. The choice of colours are classic and traditionally inspired. If you love simplicity, this nice design is for you.
37. Little Thumb Tattoos
We've given you finger tattoos, so here are some thumb ones. These definitely deserve a thumbs up. See what we did there?
These tattoos have a lovely intricate pattern, and they are entirely in black which is a really nice touch. The extra detail each one has is flawless. We're actually quite jealous. Aren't you? If black isn't your colour you could always choose a different one. Or two if you're feeling brave.
38. Large Wrist Crowns
These crowns are large, that's for sure. The bigger the better, right? Well that's if you like that sort of thing. You can always go smaller. Just not after you've had the big tattoo done. That's too much hassle.
The U2 lyrics below are a lovely touch. Wonder if this couple chose these meaningful words because of the song 'One'. Or it could've been for a completely different reason.
39. Matching Chess Tattoos
Check mate. These matching pieces from a chess set are a brilliant idea. The intricate shading is on point. And just look at how detailed it looks overall. Some really impressive work.
Some tattoos really don't need colour. They look amazing just the way they are and these definitely fit into that category. Words aren't needed when you have something as symbolic as these chess pieces. They speak for themselves.
40. Skulls with Crowns
Look at how realistic these skulls look, well minus the heart shaped eyes that is. They do look incredible though. You have to agree. The crowns are both flawless, so detailed and intricate. There's shading in all the right places.
They symbolize you'll be with that person even after you've died. So romantic, right? That's commitment to a whole other level. Such a lovely level of dedication.
41. Wrist Crowns
These wrist crowns are so pretty and intricate. Look at how much attention to detail the tattoo artist has paid to each area of the tattoos. The jewels on both crowns are so beautifully drawn.
There's quite an artistic feel to both of these tattoos. They've even include shadow detailing and light specks too. No colour at all is needed with either of these masterpieces. We're in awe.
42. Another Side Palm Design
Side palm tattoo designs are quite popular nowadays. These tattoos are both incredible. The scripts appear almost 3D. Shading and light specks have been used to create an amazing font.
The crowns in both tattoos are awesome. More specifically, the way in which they've been positioned. They both float effortlessly above the capital 'K' and 'Q' on the tattoos. Such a great scheme. As we've said before, size can always be changed.
43. Black and Red Thumb Tattoos
If you want a small tattoo, but still want it to have a few components, this is the one for you. These tattoos are simply wonderful. You can chose any colour for the entire piece like what's been done below.
Or pick different colours for each part. The crown, the letter, the spade or heart. We love the simplicity of this design. It's small but holds a lot of meaning.
44. Doodle Wrist Crowns
Love to doodle? Why not design your own tattoo and your loved one's too. It doesn't have to be a big piece. Why not go small like the ones below. Small and meaningful.
Keep it plain black, or introduce a bit of colour. The man's crown looks more like a pattern than a crown. It's awesome. A double meaning if you think about it. The best kind of tattoo.
45. Simple King and Queen of Hearts
Tattoos don't have to be complex and intricate. They can be simple too. It doesn't make them any less meaningful. A simple 'Q' and 'K' with a couple hearts – nothing's wrong with that. As long as you and your loved one know the meaning behind the tattoos that's all that matters.
Black, red, even white. There are so many colours to chose from when picking out the right one for your tattoo.
46. Crowns + Quotes
Quote tattoos are great. Finding that perfect quote that you believe sums up your life. There's nothing better. You'll never have something more meaningful tattooed on your body. Well that's our opinion anyway.
"One life, one love" is a really romantic quote. It's not mushy so you women out there won't have to worry about your partner not wanting to get it tattooed on themselves. It perfectly sums up your dedication to each other.
47. You're My King, I'm Your Queen
Being called someone's king or queen must be such a wonderful feeling. Getting it tattooed, now that's dedication. Wedding rings can be removed, but tattoos are forever. Well they can be removed, but it's a major hassle.
Not to mention the pain you have to endure is way worse than actually getting the tattoo done in the first place. Having the actual words 'king' or 'queen' and seeing them everyday has to be a rush.
48. Outlined Hearts
Can you tell we like finger tattoos. Well we do. Their representation of kings and queens are perfect. It has to be said. The outlined hearts gives it an extra level. We really do like this technique. Don't you?
Matching tattoos on the exact same location on your body is a great touch. When you look at your tattoo you'll know your partner has the same tattoo in the exact same place. We bet that's a really great feeling.
49. Matching Crowns
These crowns are so similar. They definitely match. The bauble-like ends on both crowns are exactly the same. We like how they've made the rest slightly different. Just to make it easier to differentiate between the king's crown and the queen's.
With the epic shading and light specks added to both tattoos, colour isn't need. There's always the option to add colour later on as well. Smart thinking for the future, really.
50. Cartoon Crowns
What a great pair of cartoon crowns. Why look real when you can look surreal instead. These two crowns match mainly with their bases. The rest is different but they still retain a similarity throughout, though.
Black and white for the win. Well with the image being in black and white we can't tell whether the tattoos have coloured in them. They'd look great either way though.
51. Calligraphy King and Queen
The script used for the 'king' and 'queen' text in these tattoos is truly amazing and pretty unique too. We especially like the dot above the 'i' on the man's tattoo. What a great design idea.
The crowns in these tattoos have such an awesome design too. Each section of the crowns don't touch. It's very artsy. The plain black colouring really makes the overall piece stand out on both models.