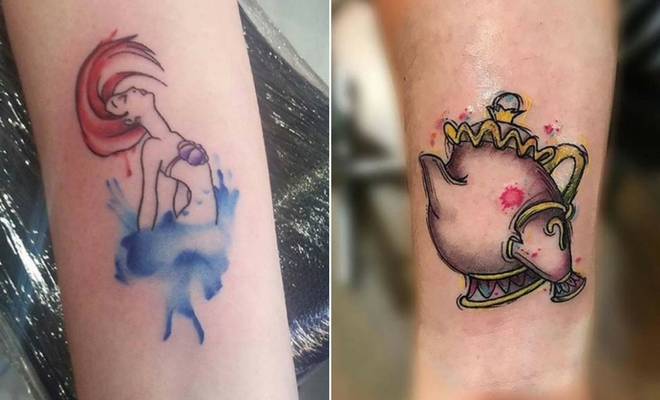 Lifestyle
23 Cute and Creative Small Disney Tattoo Ideas
By
|
11. Watercolor Dumbo Design
Watercolor tattoos are beautiful. This technique makes the tattoo look like a work of art. You could get your favourite Disney character tattooed this way. Our next pick is a super cute watercolor design of Dumbo. A tattoo like this will suit everyone.
12. Cute The Lion King Tattoo
The Lion King is a Disney classic, making it a popular choice in tattoos. This awesome tattoo features the Simba cave painting as the outline with some of the movies favourite characters. A tattoo like this is a fun and creative way to show your love of the Lion King.
13. Small Mickey Mouse Outline
If you liked the Mickey Mouse outline from earlier in the post, then you might like this one to. It is a cute outline with a little heart on the ear. A tattoo like this will suit everyone and it would be great as a first tattoo. You could recreate this as a Minnie outline to.
14. Cheshire Cat Tattoo
Alice in Wonderland is a wacky and wonderful movie. If Alice in Wonderland is one of your favourite movies, consider getting a Cheshire cat design. This cheeky cat would make a cute tattoo on anyone. You could have this tattooed anywhere and even go for a smaller or bigger design.
15. The Little Mermaid Watercolor Tattoo
The Little Mermaid is one of the best loved Disney movies. So, if you are a fan of the movie why not get an Ariel tattoo like this one. This tattoo has an extra special touch because it uses the watercolor technique. This gives that tattoo an arty look and it suits the design of sea.
16. Cute The Three Good Fairies Tattoo
Add some magic to your next tattoo design with The Three Good Fairies. These fairies are from the Disney classic Sleeping Beauty. This super cute tattoo is designed to look like Flora, Fauna and Merryweather are flying. A tattoo like this would look great on the foot to.
17. Finding Nemo Tattoo
Finding Nemo is one of the more modern Disney movies. The little fish's journey in the ocean and in the Dentist's fish tank is well loved by all ages. If you are a fan of Finding Nemo then consider a Nemo tattoo. It is a vibrant piece that will suit everyone. You could even add in some of other characters.
18. Enchanted Rose Tattoo
Here is another beautiful enchanted rose tattoo. This one features the single rose with petals falling. It shows that the rose tattoo looks gorgeous without the jar. Something like this is pretty and feminine. It is a tattoo that will never go out of style.
19. Mickey and Minnie Tattoo
Liked the outline tattoo ideas? Then this next pick could be for you. This one features a Mickey and Minnie outline intertwined. It is a lovely tattoo design. It could show your love of Disney and could also be a cute couple Disney tattoo for you and your loved one.
20. Just Keep Swimming Tattoo
Just keep swimming has become of the best loved Disney quotes. It is a reminder to us all to just keep going, it is a cute and motivational quote. Our next pick features the quote on the arm with Dory next to it. We love this idea! It is a tattoo that will suit anyone.
21. Ariel Black Ink Design
If you want something subtler, why not go for a simple black ink tattoo. Here is a design featuring Ariel from The Little Mermaid. It is a small and cute piece that could be tattooed anywhere. You could get any Disney character designed in this way.
22. Vintage Disney Tattoo
Disney has been loved by people for generations. This next tattoo design goes all the way back the 1920's. This vintage design of Mickey as Steamboat Willie is a great tattoo choice for anyone who loves Disney. You could have this recreated bigger or smaller and have it put anywhere on the body.
23. Simba Cave Drawing
Last on our list is this beautiful design from The Lion King. The design is the cave painting of Simba that is colored with a stunning watercolor technique. This tattoo is a must have for any fan of The Lion King. You could have this Disney tattoo placed anywhere on the body. The colors could also be changed to create a unique design.
We hope you have been inspired by our small Disney tattoo top picks!