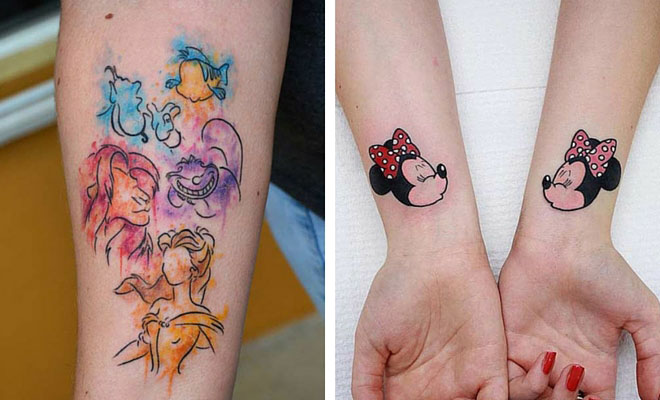 Instagram
Lifestyle
25 Cute Disney Tattoos That Are Beyond Perfect
By
|
Growing up watching Disney movies and Disney TV programmes gave us memories of our favourite characters.  Many people love the Disney characters and love what they stand for.  This is understandable as many are lovable and so adorable.  Whether it is the actual characters or their quotes, Disney tattoos are very popular around the world.  They are fun, bright, and colourful, lots of people can relate to them.  Who doesn't appreciate and love a Disney tattoo that we remember from our childhood.
We also have all black, colours and watercolour Disney tattoos that look incredible.  There are a few matching couple, friends and family tattoos that are just adorable too, just in case you and your tattoo partner, need any tattoo inspiration.  There's a Disney tattoo for everyone in this article. From Beauty and the Beast, The Little Mermaid, The Lion King, Minnie and Mickey Mouse to Peter Pan and Tinkerbell.  We have them all here.
We have found 25 of the cutest Disney tattoos that are beyond perfect.  They will touch everyone's heart and will have deep meanings behind the character or quote, for all to love and cherish.
1. Tinkerbell & Peter Pan Couple Tattoos
Tinkerbell and Peter Pan are recognised by all. They are cute, bright and fun.  The colours on these tattoos speak for themselves.  You can see the magic in the air.
2. Watercolor Beauty and the Beast Silhouettes
Beauty and the Beast is a favourite of ours! Belle and the Beast are adorable and this is their silhouettes.  With not having their faces tattooed, everyone can picture a different face which makes it unique.  It's a beautiful sketch with gorgeous detailing.
3. Vintage Mickey and Minnie Mouse Tattoos for Couples
Retro and vintage characters are becoming increasing popular over the past few years. Vintage style is at a high and with these Minnie and Mickey Mouse tattoos, you will be trending.  How cute do these look when together?!
4. Colorful Snow White Tattoo
Snow White's kiss from her Prince is an iconic picture. When you ask someone about Snow White, people often imagine her lying there waiting for her Prince Charming to kiss her to awake her and this shows just that.  It's bright, cute and we love how the bow creates the story within.
5. All Black The Lion King Disney Tattoo
The Lion King is a beautiful story. You don't need any colour to know what these tattoos are about.  All black Lion King tattoos look fabulous.  You can see the characters and many people will be able to actually name them, can you?
6. Watercolor Pocahontas Tattoo Idea
Remember the Colours of the Wind? We do!  Pocahontas is the perfect love story!  Her gorgeous flowing hair in the wind has been recreated in this tattoo with lovely watercolours.  This techniques makes the tattoo delicate and adds a touch of colour.
7. Winnie the Pooh Quote Tattoo
Nobody can forget Winnie the Pooh. So many quotes are often recited from Winnie the Pooh and this is one of them.  "You are braver than what you think, stronger than you seem, and smarter than you think" This can tell many stories to do with family, friends and life journeys.
8. Cool Ariel (Little Mermaid) Tattoo
Ariel is the Little Mermaid wanting to be human and to join the people on land. It is a love story between a human and a mermaid.  Just in case you didn't know, but a lot of you will know! This tattoo shows Ariel and also her lovely belongings from the world above. She has many things such as a mirror, a hairbrush, necklaces and many more things. We think this is cool and we love how the tattoo shows her world through the mirror.
9. Watercolor Disney Castle Tattoo
Do you remember watching a Disney movie and seeing this? It is at the start of all the Disney productions and it's the Disney Castle!  This shows all the magical things that happen within the Disney Castle and we know that's a lot of magic!  The watercolours show how amazing Disney is and we love how all the colours blend in.
10. Matching Minnie Wrist Tattoos for Sisters or BFF's
These are the perfect matching tattoos for friends, family and loved ones. If you are looking to have matching tattoos with either your sister, your mum, a friend or partner, think about this.  Having matching Disney tattoos like this is incredible.  When together, both Minnie tattoos are blowing kisses to one another.  It also has a retro vibe which we adore!
11. Watercolor Alice Tattoo
Are you a fan of Alice in Wonderland? The magical and wonderful world of Alice is truly colourful and unique.  By looking at this tattoo, you can see how spectacular that is.  By mixing a few colours, you can see this is Alice and you automatically recognise it.
12. Small, Behind the Ear Peter Pan Tattoo
Peter Pan has captured many hearts over the years. He is a young boy that never wants to grow up.  Are you this person at heart?  I bet many of you say yes.  Having a tattoo behind the ear, which can easily be covered up, is cute and versatile.  You know it's there but you can hide it from other people, like your boss!
13. Disney Quote Tattoo
"If you can dream it, you can do it". This is a quote from Disney and it will relate too many of us out there.  Everyone has dreams and this will motivate us to follow them.
14. All Black Little Mermaid Tattoo
Can you tell what this is? We instantly knew!  It's Ariel and her friends of course. Who needs colour when you can have an all black tattoo.
15. Simple Wrist Tattoo
Wrists are a popular choice to get a tattoo. These Minnie and Mickey Mouse outlines are the perfect shape and size for this area.  We love the added colour with Minnie's bow!
16. Jaw-Dropping Watercolor Tattoo
Can you name all of these characters?  Try without looking below the image. You have a few colourful Disney characters in this tattoo.  The watercolours help you identify all the movies and yes we need to inform you of these wonderful characters!  You have the Genie from Aladdin, Cheshire Cat from Alice in Wonderland, Simba from The Lion King and Belle from Beauty and the Beast.  Did you guess them all?
17. Behind the Ear Tinkerbell Tattoo
Tinkerbell and her magic dust! We love how girly and feminine this tattoo is, even without colour!  It looks great and you don't even need the colour for the dust behind Tinkerbell.  How cute is this!
18. Cute Bambi Tattoo
Don't you just love Bambi? This is a gorgeous little wrist tattoo of Disney's Bambi.  The iconic image that will melt your heart.
19. Beauty and the Beast Wrist Tattoos for Couples
Are you looking for a couple matching Disney tattoo? We have the perfect tattoos for you. Of course, one of you has to the Beast and the lovely Belle so let the discussion commence!  Will your partner be the Beast so you can be Belle?
20. Colorful Alice in Wonderland Tattoo
The memorable Alice in Wonderland is loved by all. Her gorgeous blue and white dress, which can be seen on this tattoo, looks stunning.
21. Simple Mickey Mouse Wrist Tattoo
Don't forget the vintage Disney films too like Mickey Mouse. When visiting Walk Disney land, the legends of Minnie of Mickey Mouse will be there to greet you, I'm sure so why not have a Mickey Mouse tattoo!  Sometimes the classic characters are the best.
22. Small and Subtle Snow White Tattoo
Small and subtle is the key with this tattoo. No need for any big and fancy tattoo when you can spread the love and message by having a small and delicate masterpiece.  You can see the apple and immediately your thoughts turn to Snow White!
23. Seven Dwarfs (Bashful) Tattoo
Which of the Seven Dwarfs describes you best? This is Bashful and we love the subtle colour and adorable design.
24. Small Watercolor Peter Pan Tattoo
This is another Peter Pan tattoo that you may be attracted too. Watercolour is only added for the moon and for the magical dust around Peter Pan.  He, himself is all black and this creates a gorgeous tattoo.
25. Watercolor, Disney Castle Wrist Tattoo
Do you think back to the Disney music when this appears before the movie starts? It's magical and this watercolour Disney Castle tattoo looks stunning and cute.  It's ideal for the wrist and can be any size.  This photo above is the perfect size for the wrist.  The colours make the tattoo stand out and you are in owe of the beautiful castle.
Which Disney tattoo will you choose? Whatever character or quote you love, make it memorable and meaningful to you.