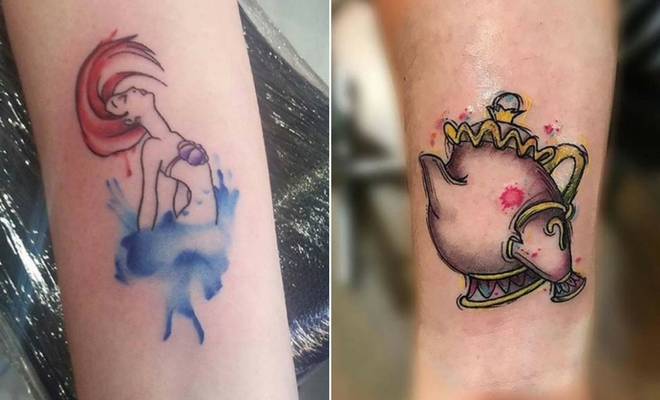 Lifestyle
23 Cute and Creative Small Disney Tattoo Ideas
By
|
Dreaming about a Disney tattoo? Then you're in the right place! We have found 23 of the best small Disney tattoo ideas. From 1920's Disney right through to the modern favorites like Finding Nemo. There is a cute design from all the best-loved Disney movies. A tattoo is the perfect way to show your love of the Disney classics. Take a look to find your favourite design.
1. Mickey Mouse Outline
First up we have this simple black outline of Mickey Mouse's head. A tattoo like this is cute and shows your love for all things Disney. Small outlines are subtle which makes these great for first time tattoos. You could have this tattooed anywhere, the wrist or ankle would be cool choices.
2. Mrs. Potts and Chip
Beauty and the Beast is a Disney classic that is loved by all ages. It has been back in the spotlight with the recent live-action movie release. If you love this tale as old as time why not consider a Mrs. Potts and Chip tattoo. A design like the one featured is a cute and creative version of the movies adorable characters.
3. Peter Pan Tattoo
Peter Pan is a classic story. It is a movie full of magic with fairies, pirates and flying. If this movie is your favourite why not consider a cute tattoo design like this. It features the scene of Peter flying with the Darling children. The tattoo featured has been placed behind the ear, this is an awesome spot for the design. You could have a Disney tattoo like this on the arm, foot and leg.
4. Cute Baloo the Bear Tattoo
Baloo is one of the most loved Disney characters. He is a fun, musical bear that is featured in the Jungle Book. If you love the Jungle Book, consider a tattoo like this one. It features a small design of Baloo. A tattoo like this will make you and everyone who sees it smile.
5. Dumbo Leg Tattoo
Prefer movies with flying elephants? Then this next pick might be for you. Our next tattoo features an adorable Dumbo tattoo. It is a vibrant piece that captures the cuteness of Dumbo. It has been placed on the leg but you could put a smaller design anywhere.
6. Aristocats Marie
Our next pick is very cute! It features a cartoon style face of Marie from the Artistocats. This is a must have for the people who love Disney and who love cats. We couldn't think of a better combination. A gorgeous tattoo like this could be put almost anywhere on the body. The leg, foot, arm and wrist would be cool choices.
7. Enchanted Rose Tattoos
Here is another Beauty and the Beast tattoo idea. This one features the enchanted rose in the jar. The rose is the most iconic image of the movie and is a great tattoo design. These tattoos are a little bigger than some of the ones featured but it would look awesome tattooed a little smaller to. We love this beautiful tattoo design.
8. Cruella De Vil Design
Not all the favourite Disney characters are good. Disney also gives us some brilliant villains. One of the most iconic villains is Cruella De Vil. So, if you love Disney and want a tattoo that is different go for a Disney villain like Cruella. There are plenty to choose from!
9. Baby Pegasus Tattoo
Hercules is one of Disney's favourite heroes. While he is a great hero he does need his sidekick Pegasus by his side. This fun and loyal horse is an awesome character in the movie. So, show your love for the move Hercules with a baby Pegasus tattoo. This is a cute design that will suit everyone. As it is small you could have it placed anywhere.
10. Elegant Cinderella's Shoe
Cinderella is one of the favourite Disney Princesses. Some people say the fun quote "Cinderella is proof that a new pair of shoes can change your life". So, if you love the story of Cinderella then consider having an elegant glass slipper tattoo like this one. It is a great choice for the people who love Disney and shoes.