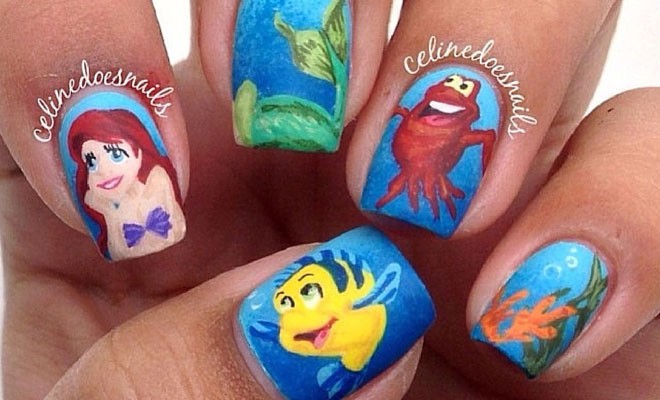 Instagram / CelineDoesNails
Beauty
21 Super Cute Disney Nail Art Designs
By
|
If you're looking for cute Disney nail designs for your next trip to a Disney Park or you just want something heartwarming on your nails, you're at the right place. Disney movies have ability to make us feel happy and full of joy just as if we're a child again… and that's why we love them so much!
We've searched the Instagram in order to find the best Disney nail art ideas for your next manicure (and pedicure). Nail designs like cute Mickey Mouse, beautiful Cinderella, and icy Frozen will surely brighten up your day just by looking at your nails!
1. Disney Princesses
Add magic to your nails with most popular and gorgeous Disney princesses! This lovely nail design includes Snow White, Cinderella, Ariel, Belle and Rapunzel – all hand painted.
2. Mickey Mouse
What a cute and simple nail design! We absolutely love it. The design would look great on longer nails, too. Little black Mickeys can be easily done using a dotting pen.
3. Alice in Wonderland
For this lovely Alice in Wonderland nail art design, you will need a steady arm and some 3D nail jewelry like golden chains, beads, rhinestones and cards. Choose this nail design if you aren't like other girls, just like Alice.
4. Minnie Mouse
This cute white and red Minnie nail design will look great on anybody. The red and white polka dot bow is a Minnie's trademark accessory. The nail design can be also done in pink and white color.
5. Frozen
Well, we have to admit that for this nail design you have to have some drawing skills. It's incredible how some nail artists have an amazing skill to paint jaw-dropping designs on their little nails. Insane!
6. Red and White Nail Design
Here's a really simple version of Mickey Mouse nails that's cute for every day wear. Also, they aren't time consuming since you can easily create little Mickeys and polka dots with a dotting tool. Nail polishes used to create this look are: Essie 'Snow me White', 'Sinful Colors', 'Double Breasted Jacket' and OPI 'Let's Do Anything We Want'.
7. Little Mermaid
Many nail designs that are included in this list have a matte finish. The matte finish can be easily achieved with polishes like Essie 'Matte About You' or OPI 'Matte Top Coat'.
8. Minnie Accent Nail
Have fun at the happiest place on Earth by rocking cute Minnie inspired nail art. Used nail polishes: OPI 'My Boyfriend Scales Walls' and Illamasqua 'Throb'.
9. Beauty and the Beast
This lovely nail design of Belle and the Beast makes you want to try your hand at it, right? It must have been so difficult to do the nail design that's so detailed and colorful. Either way, we absolutely love it.
10. Simple Mickey & Minnie Design
Cute, simple and easy to make! The perfect design when you want Mickey and Minnie on your nails, and you want them fast.