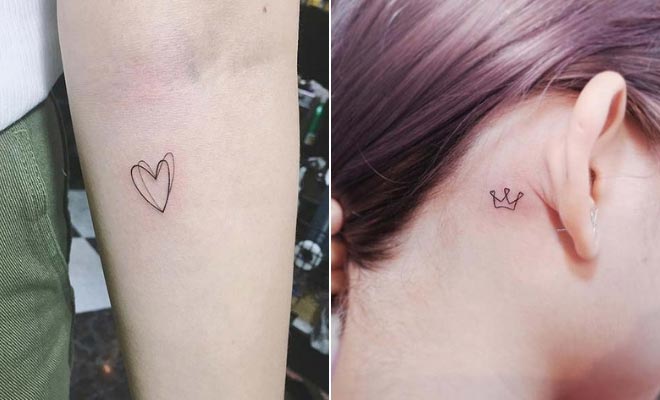 Instagram
Lifestyle
43 Simple Tattoos for Women Who Are Afraid to Commit
By
|
11. Small Anchor Tattoo
Our next idea is an anchor tattoo. The anchor can be a symbol of many things some of which include: strength, stability, loyalty and more. So, not only do these look awesome, but they can have a special meaning too. A simple anchor design like this would be a great choice for anyone considering an anchor tattoo. It is cute, subtle and timeless.
12. Tiny Star Tattoo
Love looking at the night sky or like stars? Then our next tattoo is for you. Here we have a simple and small star design that has been tattooed behind the ear. It has a cute black outline and will look stylish on everyone. You can have a star like this tattooed anywhere, and for a bolder star, you could make the design a little bigger.
13. Elegant Faith Tattoo
Next, we have another word tattoo. This one reads faith. It is an elegant design but simple, too. The tattoo could be a symbol of having faith in yourself or others, it can also represent your beliefs. Recreate a tattoo like this one or go for a different font.
14. Pretty Purple Moon
Maybe you prefer the moon to the stars? If so, you need to see this design idea. This tattoo features a pretty purple moon. It is a simple and beautiful design with an ombre purple moon. We love this idea because it is a subtler way to have a colorful tattoo. You can recreate this moon or try a moon in a different color of your choice.
15. Stylish Red Bracelet Tattoo
Our next idea is unique and creative. Here we have a red design that has been tattooed all the way around the wrist to create a bracelet look. It is a simple tattoo but it really makes a statement. There are so many ways a tattoo like this can be created. You can choose any color, any line thickness and any patterns to add. It is a super cool tattoo idea that will look awesome on everyone.
16. Simple Wave and Sun Design
Earlier we featured a wave design. Here is another version of the wave but this one has a beautiful sun too. Most of the tattoo is one line as the wave seamlessly turns into the sun. It is a gorgeous tattoo that is perfect for the ladies that love the beach and the summer. Simple tattoos with a beachy theme can also represent vacations and traveling.
17. Single Rose Tattoo
Flower tattoos are very popular, especially roses. This next idea is a stunning example of a rose tattoo. The design features one single rose with a leafy stem. Even though flowers are intricate, this black outline looks quite simple. It is a gorgeous tattoo and we love this design!
18. Constellation Tattoo Design
Next, we have another design for those who love the stars. This tattoo features a stunning star constellation. It is a super cool and trendy idea. You can have any star constellation tattooed. It is a stylish and personal tattoo that will look awesome.
19. Tiny Dove Tattoo
The dove is a symbol of love and peace. Not only is it a beautiful bird with a special meaning, but a dove looks great as a tattoo too. Here is a gorgeous example. There are three small doves that have been tattooed on the arm and each dove is flying in a different way. It is a chic and cute design. To make it even more simple, you can choose one dove instead of three but either way, the tattoo will look great.
20. Small Red Heart Tattoo
Our next idea is another heart. This one has no outline but instead has been colored with a vibrant red tone. It is a cute, colorful and simple design. You can have a heart like this tattooed anywhere, the ankle or wrist would be cool choices. Also, you can always opt for different colors.