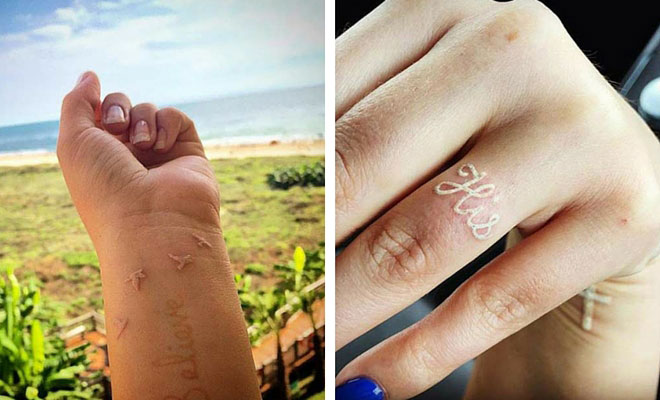 51 White Ink Tattoos That Will Inspire You to Get Inked
If you're a fan of inking your skin, you'll probably already know of white ink tattoos, also known as UV glowing tattoos. Maybe you're way ahead of us and already have your own white ink tattoo, therefore are already on the trending ink wagon. Yes, white ink is now trending big time and we can see why. The pictures we have come across are striking and stunning in a tasteful way.
Majority of people have never heard of white ink tattoos and recently they got a lot of bad press for looking like a rash but many people are a fan. This type of tattoo are somewhat self-explanatory, the name gives it away. The outcome of the tattoo is incredible. If were to think of a white ink tattoo, your thoughts are immediately thinking bold white font or patterns, but these versatile. Depending on your skin tone, white ink tattoos look different on everyone.
The tattoo ink used for making these unique tattoos is UV white ink. If you like the thought of having a tattoo but prefer not to show it off, go for a white ink tattoo because the ink is barely noticeable. The lighter your skin tone is, the less it shows. Right now, it's very popular in the inking world for both men and women. You can choose to have a feminine and cute design or a meaningful word which men are having too. By opting to have a white ink tattoo, you aren't exposing it to the world by having this kind of tattoo. With a standard black, gray or coloured tattoo, it's prominent and on show. It's still a tattoo but more subtle. Don't think that it's not going to hurt as much, you're still inking your skin.
If you already have an arm full of colour tattoos and think it's too late to add a white tattoo, think again. You can always mix it up a little by adding a white ink tattoo to your old tattoos. Here, we have come up with 51 of the best white ink tattoos for you to think about.
1. White Ink Swallow Tattoo
This photo really defines a truly beautiful and feminine white ink tattoo. There are so many reasons why we chose to have tattoos of birds. Having swallow birds can represent something close to you flying the nest or a late relative. Maybe you're a keen bird, nature lover or have overcome something or someone in your life. Whatever the reason, it will look pretty.
2. Patience.
They say patience is a virtue. Many people can wait for hours on end and if you're the type of person that can wait calmly and want this noted, why not have it written on your wrist in white ink. This can also indicate that you're waiting for something. Maybe a new career, job, a new stage in your life, a new relationship or you have been patient and got what you wanted in the end. Good things come to those who wait, right?
3. Small but Meaningful Finger Tattoo
"His" in white ink is an alternate solution for a wearing a wedding ring. If you're a tattoo lover, what better why to show your husband how much he means to you, right? If you aren't keen on wearing jewellery or want to commit to your other half in your own unique way, you may think of doing this. This is also a popular font. It looks great and girly. If you do decide to wear your wedding ring over the top, you could always switch it up wearing it for a few days a week and on the other days, just show off your "his" band. This way, it'll be like having two wedding rings.
4. Warrior + Arrow Wrist Tattoo
If you're a warrior and have been through tough times in your life, the word warrior would be a good tattoo to get. This warrior combined with an arrow shows your strength and by adding a different colour ink for contrast, will really make it stand out. Getting through bad stages in our life, can make us appreciate the people around us and show how strong we really are. Show your strength by getting a warrior tattoo.
5. Behind the Ear Tattoo
Having a tattoo behind the ear is definitely something you can hide when you don't want others to see. If you work in a 9-5 office job, many companies disapprove on showing your tattoos, and this is one of the areas people think of that isn't visible. That is, until you tie your hair back. The ampersand can relate to many things. It dates back from the first century A.D and nowadays we use it for the word and. It's simple and elegant, especially in the correct font.
6. Small White Ink Arrow
An arrow or arrows can symbolise different means and this depends how the arrow is drawn. This one arrow tattoo signifies defence and protection from harm. That's why you see so many people with this tattoo. It's not just an arrow tattoo, it means a lot more than just art.
7. Small Heart Tattoo
Wear your heart on your hand not your sleeve because we're all suckers for hearts. This is a very simple and effective tattoo. A heart in white ink looks delicate and meaningful than a full bold standard tattoo.
8. Coordinates + World Map
Are you a fan of travelling or have been to places and want to keep a memo forever? Coordinates and the world map in white ink looks special and quite amazing. Again, it's not bold and covers nearly your whole arm. Imagine this in the standard coloured ink! Incorporating coordinates is a clever way to remember a specific place or area that was memorable to you. Whether you met your other half there or had the most amazing holiday, be sure to know the geographical numbers before you get to the tattoo parlour.
9. "Expecto Patronum" – Harry Potter Tattoo
This one is for the Harry Potter fans. Harry Potter quote "expect patronum" which in case you didn't know stands for "I await a patron". Patronus is Latin for protector or defender meaning this quote together means "I await for a protector". Maybe you just like the quote or it signifies something more than just a spell to you and you're waiting for you protector. It looks great as a white ink tattoo.
10. Capricornus Constellation Tattoo
Capricorn is one of the 12 zodiac signs. Its name in Latin means horned goat. Does your birthday fall between December 22nd and January 20th? Do you find yourself reading your horoscope every week to see what your star sign has in line for you? Astrology is popular more than ever before, with many people following their zodiac signs to live. Many people choose to have a Capricornus constellation to relate to their star sign. This white ink has teamed with the regular black ink to stand out.
11. Cute Initial Tattoos for Couples
They say don't get a tattoo with your other halves name but what about their initial? Having someone's initial in white ink doesn't stand out too much and is so cute. This is simple and the font looks great. Are you willing to make that leap?
12. White Ink Infinity Tattoo
Mixing infinity and an anchor symbol makes an interesting and unique design. You have the strength and stability of the anchor meaning and the meanings for the infinity part, which are endless, no limits and goes on forever. This is a conversation started. You can tell your story about your white ink tattoo.
13. Roman Numeral Wrist Tattoo
Having a white ink tattoo alone is obviously something that means a great deal to you. You don't necessary want to have it in bold but want to keep in close to you forever. By choosing to have a white ink tattoo date in Roman numeral is adding to the emotion. Only you knows what this means.
14. You are enough.
Learning to love and trust yourself is a huge step in life. Many people are going through difficult times in their lives and need to get back their self-worth. If you've overcome a difficult patch and want to always have a mantra with you, go for "you are enough" in white ink. This will boost your confidence and make you feel so much better on your off days. This font shows how delicate the meaning is.
15. White Triangle Tattoo
A white triangle tattoo in white ink is very spiritual. Triangles have three angles and this tends to be linked to Christianity. A triangle that points directly upwards symbolises masculinity. If you choose to have a triangle, research which way you want your triangle facing because they all have a different meaning. If you love the design of the actual triangle and aren't worried about the meanings, then go for it. Not everyone has meanings before their tattoos. People often go for what they like rather than the meanings behind them. This is good but it's always good to know the meanings in case you find out too late and hate the idea of it.
16. Red Ink + White Ink Tattoo
Nobody said you have to stick with the white ink to have a white ink tattoo. You can team it with any ink colour you wish. Take this Believe tattoo. The B is in red and is a cross between a B and a heart shape, the rest of the letters are in white. This is down to you and your personal taste. If you want it to stand out, follow this idea.
17. Feather Tattoo
Coloured feather tattoos are beautiful but white ink feathers are also stunning. A feather alone needs nothing more. This can symbolise wisdom, versatility and faith and if you love the art of the feather, you might just got a white ink tattoo on your arm.
18. Believe Tattoo
Believe, as a tattoo is very popular. To believe in yourself or to believe in something, is what we can all relate to. This is a cute and gorgeous "believe" wording white ink tattoo that is finished in a lovely font with a girly underline.
19. Love Life Wrist Tattoo
Love Life for some people may fall underneath the same category as believe. Wordings that are meaningful to everyone are great to have. It's best to relate to people rather than to alienate you. If you meet someone for the first time, you can always show him or her your stunning love life tattoo and I'm sure you could talk for hours about it. We are loving the font for this white ink Love Life tattoo.
20. Infinity + Arrow Tattoo
Many people like to tattoo their body with meaningful readings. Many choose to design their own tattoos and this can be simple if you know what you want. This is an infinity design with an arrow in white ink. Having a tattoo in an unobtrusive area, especially in white ink, shows you want to know it's there for yourself and nobody else.
21. Heartbeat Wrist Tattoo
Wrists are a common part of the body to get tattooed. This heartbeat white ink tattoo could be mistaken for a bracelet, which may be the thought behind your wrist design. Also what a great part of the body to get a heartbeat line… we all have a pulse here so it makes sense! This tattoo would be a great way to break the ice with someone or to make conversation.
22. Connecting Wrist Tattoo
This white ink skyline tattoo is incredible. It's a connecting wrists tattoo. This to us, is a genius idea. When your wrists are together side by side, the tattoo continues onto the next wrist. This is art! You can do this with any design you wish but the skyline works so perfectly.
23. I Must Not Tell Lies – Harry Potter Tattoo
Another white ink tattoo for all the Harry Potter lovers… I must not tell lies. It's simple and straight to the point. As we know, white ink tattoos are not as visible and bold as the colourful or black and grey tattoos but having said that, this is a hand tattoo and will definitely get people talking.
24. Small Anchor Tattoo
Anchor tattoos are very popular amongst men and women. From Christians, preachers, rockers and to old sailors, they all seem to be wanting or have an anchor tattoo. It symbolises strength and stability and it's also a fashionable symbol. It's a good shape and size for your wrist.
25. Be Happy
We all want to be happy. This quote will be a daily reminder telling you to be happy. Every time you look down at your wrist. At some point in all our lives, everyone will experience bad times and when we come out the other side, we appreciate happiness. This white ink tattoo is all in lower caps and in a lovely joined-up font. By not having a capped word, it softens the feeling and message. It looks so girly and cute.
26. White Ink Semicolon Tattoo
Maybe you like grammar symbols or maybe it's deeper than that. Project Semicolon is a non-profit organisation trying to raise awareness for mental illness and many people are backing this project by getting a semicolon tattoo to show their support. You may think that showing your support by getting your skin ink forever, is a tad extreme but if you believe in something that strongly, it's your passion. Your beliefs show your character and if you like tattoos, it's your body. Spreading the message this way, will help other people become knowledgeable, about an illness they have no clue on.
27. Imagine.
Imagine your life in a few years. Imagine what you'll be doing. Imagine where you'll be. Imagine who you'll be with. Nobody knows what's going to happen so we all imagine. There's so much to imagine in life. This charming white ink imagine wrist tattoo looks elegant and chic. Unless you love John Lennon's song Imagine then this will mean something completely different!
28. Family.
If you're proud of your family and want a tattoo, family is the best word for you. Family means so much to many of us and by dedicating an area of your wrist to your white ink family tattoo, just shows how much you actually care. You can have family written in any font and wherever you feel is suitable for you. Wrists are a good spot to start. Of course, you can also decide on the size but with it being in white ink, remember it will not be as noticeable as a coloured or black ink.
29. White Ink Key Tattoo
You can treat key tattoos as a very meaningful message or even a secret. It may take a key to unlock your heart or it's a mystery due to not knowing what the key unlocks. Make it your own meaning. You could have a white ink key like this or maybe a key and padlock. There are so many key designs to choose from so be sure to make your count!
30. Matching Couple Tattoos
There's nothing like getting matching tattoos with your loved one. A special date that means something to you both, like an anniversary, your first date, your wedding date or simple the day you got the tattoo. Just don't get any personal numbers tattooed on your wrist like a PIN number to your credit card or your phone number. We understand that white ink doesn't stand out but you can still see it! Don't forget this.
31. Small Cross Tattoo
To get a cross white ink tattoo, doesn't instantly make you a religious person. Even though the cross is associated with Christianity, nowadays, it has different meanings for different people. It can be anything to do with love, faith, death and spirituality. What's the message behind your cross?
32. White Ink Music Tattoo
Do you love music? A white ink music note will show off your love and passion for music. You may be always listening to music, learning to play an instrument or just love the music note symbol. Whatever the reason, it looks stunning as a white ink tattoo!
33. Love Wrist Tattoo
Many girls opt for a small, delicate tattoos on their wrists and tend to go for meaningful words. This love white ink tattoo is super cute and shows your loving side. The font sets the word off and we absolutely adore this.
34. Infinity Wrist Tattoo
The symbol for infinity looks great in white ink. The word infinity can relate to love, new beginnings, birth, relationships, limitless, family, faith and many more. The infinity sign is a never-ending figure of eight. It symbolises an eternal feeling, never ending possibilities and opportunities. This is so simple yet the message behind it is endless!
35. Together Forever.
This is too cute for words. Together Forever white ink tattoos. You could even have 'together' on one of your wrists and 'forever' on your partners wrist. This would look amazing!
36. Everyday is Like Sunday – Morrissey Lyrics
If you live for the weekend, everyday is like Sunday would be a great tattoo to have. On the contrary, if you're a Morrissey fan and 'Everyday is like Sunday' song is your favourite, then this is ideal.
37. Lace Tattoo
Lace is classed as delicate and girly and this tattoo is just that! Lace is always in fashion and tends to be white so you have an amazing white ink tattoo! Lace shows off the intricate details on the white ink tattoo that you wouldn't see as clear on a black or colourful tattoo.
38. Inverse Matching Tattoo
Inverse tattoos are becoming more popular. This is a great example of an inverse tattoo. One arm has a white ink tattoo and the other has gone for the much bolder black outline. One has the triangle point facing upwards, and the other facing in the opposite direction.
39. Thankful.
Having gratitude in your life will make you and everyone around you, happy. Word 'thankful' in white ink on your wrist tells a story on its own. There's no need to have any fancy art design around it. Simple.
40. Sun & Moon
Not many people know the true meaning of the sun and moon tattoos and what they represent. Sure, many tattoo artist use them in their designs and sometimes even as a base. The sun and moon are complete opposites so they represent a get-together of such happenings. It's like Ying and Yang and perfect if you and your partner are the opposite ends of the spectrum.
41. Matching Diamond Tattoos
Have matching diamond tattoos with your partner or best friend… This will make you both shine bright.
42. Faith Wrist Tattoo
We all believe in something, whether it is family, friends or religion. Faith is what keeps us going. A humble 'faith' in white ink will keep you strong in hard times.
43. White Ink Flowers
This is an amazing tattoo. White ink flowers are so feminine and beautiful. It's almost unreal. If you're thinking about getting this design in white ink, make sure you choose a good tattoo artist. Preferably, choose one artist that has done this type of work before. It looks simple but ensure you see their work before you commit to this.
44. Fearless.
Fearless is a great word. This shows that you're willing to take on any challenge that life has to bring and that you have a strong heart.
45. Couple Zodiac Tattoos
With these couple zodiac tattoos, you won't have to explain to other people what they mean. It's simple. They are matching couple tattoos that are from the zodiac star signs which also features their birth day. Ideal if you're both into astrology.
46. White Ink Stars
Star tattoos look breath taking in white ink. Before they became popular in today society, many sailors would guide their ship based on the North Star. Therefore, they would get a tattoo of a star to remember their journeys. Nowadays, depending on the star design, there are endless meanings behind the star. For instance, a light shining in the darkness, a significate change in one's life, a symbol of hope and spirit and it can be a sign of truth. This typical star pentagram star design, which is a 5 pointer, is a symbol of balance and protection.
47. Finger Tattoo Idea for Couples
He or she is your soulmate and you want to make it special. Having a finger tattoo for both you and your partner will look and feel amazing. These matching tattoos are not completely the same due to one having white ink and the other opting for black ink. It's entirely up to you but we are loving this contrast!
48. White Feather Arm Tattoo
Feather tattoos are unique and attractive. White ink feather designs can be big or small depending on what you prefer. This one is quite big and looks modest and arty.
49. Tiny Love Finger Tattoo
Have you recently got married and want to commit more than just wearing a ring? A white ink tattoo will stand out and show the world how much your other half means to you. This is done in white ink and it quite a thick font but you could have a thinner version so it's not so visible. Again, it's all down to personally preference. Just have an idea before you get in the tattoo parlour chair! This makes it quicker and easier for you and your tattoo artist to decide. It also means you get what you want and aren't influenced by other people while trying to rush to make your decision.
50. White Ink Family Tattoo
This is so cute and we love it. Family in white ink with a gorgeous arty design, captures the whole message in one word.
51. Small Heart Tattoo
A small heart tattoo on the wrist can be hidden easily with a top. You don't always have to have your white inking on show. You know it's there and it's not going anywhere. It's small enough to show your creative and caring side as well as being understated.
And there you have them – 51 amazing white ink tattoos that will inspire you to get inked.