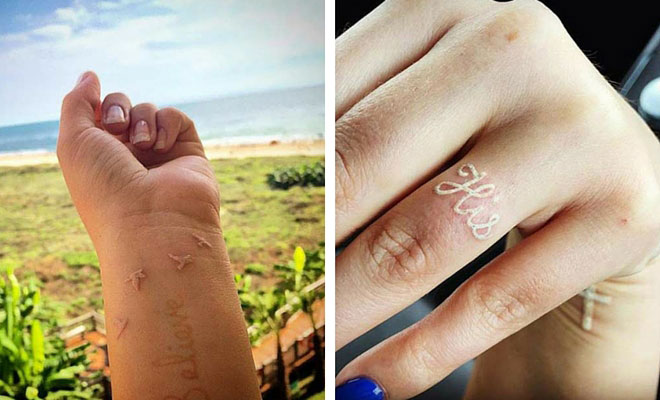 Instagram
Lifestyle
51 White Ink Tattoos That Will Inspire You to Get Inked
By
|
If you're a fan of inking your skin, you'll probably already know of white ink tattoos, also known as UV glowing tattoos. Maybe you're way ahead of us and already have your own white ink tattoo, therefore are already on the trending ink wagon. Yes, white ink is now trending big time and we can see why. The pictures we have come across are striking and stunning in a tasteful way.
Majority of people have never heard of white ink tattoos and recently they got a lot of bad press for looking like a rash but many people are a fan. This type of tattoo are somewhat self-explanatory, the name gives it away. The outcome of the tattoo is incredible. If were to think of a white ink tattoo, your thoughts are immediately thinking bold white font or patterns, but these versatile. Depending on your skin tone, white ink tattoos look different on everyone.
The tattoo ink used for making these unique tattoos is UV white ink. If you like the thought of having a tattoo but prefer not to show it off, go for a white ink tattoo because the ink is barely noticeable. The lighter your skin tone is, the less it shows. Right now, it's very popular in the inking world for both men and women. You can choose to have a feminine and cute design or a meaningful word which men are having too. By opting to have a white ink tattoo, you aren't exposing it to the world by having this kind of tattoo. With a standard black, gray or coloured tattoo, it's prominent and on show. It's still a tattoo but more subtle. Don't think that it's not going to hurt as much, you're still inking your skin.
If you already have an arm full of colour tattoos and think it's too late to add a white tattoo, think again. You can always mix it up a little by adding a white ink tattoo to your old tattoos. Here, we have come up with 51 of the best white ink tattoos for you to think about.
1. White Ink Swallow Tattoo
This photo really defines a truly beautiful and feminine white ink tattoo. There are so many reasons why we chose to have tattoos of birds. Having swallow birds can represent something close to you flying the nest or a late relative. Maybe you're a keen bird, nature lover or have overcome something or someone in your life. Whatever the reason, it will look pretty.
2. Patience.
They say patience is a virtue. Many people can wait for hours on end and if you're the type of person that can wait calmly and want this noted, why not have it written on your wrist in white ink. This can also indicate that you're waiting for something. Maybe a new career, job, a new stage in your life, a new relationship or you have been patient and got what you wanted in the end. Good things come to those who wait, right?
3. Small but Meaningful Finger Tattoo
"His" in white ink is an alternate solution for a wearing a wedding ring. If you're a tattoo lover, what better why to show your husband how much he means to you, right? If you aren't keen on wearing jewellery or want to commit to your other half in your own unique way, you may think of doing this. This is also a popular font. It looks great and girly. If you do decide to wear your wedding ring over the top, you could always switch it up wearing it for a few days a week and on the other days, just show off your "his" band. This way, it'll be like having two wedding rings.
4. Warrior + Arrow Wrist Tattoo
If you're a warrior and have been through tough times in your life, the word warrior would be a good tattoo to get. This warrior combined with an arrow shows your strength and by adding a different colour ink for contrast, will really make it stand out. Getting through bad stages in our life, can make us appreciate the people around us and show how strong we really are. Show your strength by getting a warrior tattoo.
5. Behind the Ear Tattoo
Having a tattoo behind the ear is definitely something you can hide when you don't want others to see. If you work in a 9-5 office job, many companies disapprove on showing your tattoos, and this is one of the areas people think of that isn't visible. That is, until you tie your hair back. The ampersand can relate to many things. It dates back from the first century A.D and nowadays we use it for the word and. It's simple and elegant, especially in the correct font.
6. Small White Ink Arrow
An arrow or arrows can symbolise different means and this depends how the arrow is drawn. This one arrow tattoo signifies defence and protection from harm. That's why you see so many people with this tattoo. It's not just an arrow tattoo, it means a lot more than just art.
7. Small Heart Tattoo
Wear your heart on your hand not your sleeve because we're all suckers for hearts. This is a very simple and effective tattoo. A heart in white ink looks delicate and meaningful than a full bold standard tattoo.
8. Coordinates + World Map
Are you a fan of travelling or have been to places and want to keep a memo forever? Coordinates and the world map in white ink looks special and quite amazing. Again, it's not bold and covers nearly your whole arm. Imagine this in the standard coloured ink! Incorporating coordinates is a clever way to remember a specific place or area that was memorable to you. Whether you met your other half there or had the most amazing holiday, be sure to know the geographical numbers before you get to the tattoo parlour.
9. "Expecto Patronum" – Harry Potter Tattoo
This one is for the Harry Potter fans. Harry Potter quote "expect patronum" which in case you didn't know stands for "I await a patron". Patronus is Latin for protector or defender meaning this quote together means "I await for a protector". Maybe you just like the quote or it signifies something more than just a spell to you and you're waiting for you protector. It looks great as a white ink tattoo.
10. Capricornus Constellation Tattoo
Capricorn is one of the 12 zodiac signs. Its name in Latin means horned goat. Does your birthday fall between December 22nd and January 20th? Do you find yourself reading your horoscope every week to see what your star sign has in line for you? Astrology is popular more than ever before, with many people following their zodiac signs to live. Many people choose to have a Capricornus constellation to relate to their star sign. This white ink has teamed with the regular black ink to stand out.