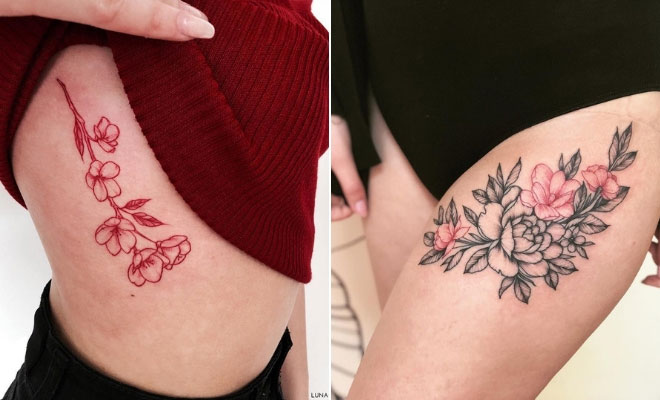 Instagram
Lifestyle
21 Unique Red Ink Tattoos That Are Sure to Stand Out
By
|
Looking for a unique tattoo? Then search no more! Today we would like to show you 21 awesome red ink tattoo designs! Any tattoo can be created but instead of being the classic black color, the tattoo will be red instead. You can opt for different red shades from bold and vibrant red to darker tones. Take a look at our top picks and you will find flowers, cool animals, trendy patterns and more. By the end of this post you will be wondering why you never thought of a stylish red tattoo before!
1. Big, Botanical Red Ink Tattoo
The first red ink tattoo we have to show you features a beautiful botanical design. This tattoo has a circular shape and is made up of plants and flowers. There is a also a stunning wolf and the thin line at the top creates a moon. It is a gorgeous tattoo that is inspired by nature. You can recreate this design or try your own botanical tattoo with any animal of your choice.
2. Pretty Floral Thigh Tattoo
If you are looking for a bold and pretty tattoo then this is for you. Here we have beautiful flowers that are tattooed on the thigh. It is such a pretty design and it will suit everyone. A tattoo like this is great for someone who wants a subtler piece of red ink body art. You can have a design like this tattooed anywhere.
3. Beautiful Red Butterfly Tattoo Idea
Our next tattoo idea features a stunning butterfly. The design is tattooed on the arm and it is a light red shade. We love this because it is such a unique version of a butterfly tattoo as usually these are black ink or use many vibrant colors. You can try a similar design to this or you can have any butterfly species created in red ink.
4. Elegant Quote Tattoo
Quotes are popular designs for tattoos. This next tattoo features a beautiful red ink quote that reads "Be strong and courageous". It is a meaningful quote that will uplift your mood whenever you see it. Red adds extra meaning too as it is a color of strength, so a red quote is the perfect way to make you feel empowered. Choose this quote or use your favorite.
5. Red Rose Design
Next, we have a beautiful flower tattoo to show you. This design features a single red rose that is tattooed on the thigh. Opting for a red ink colored rose gives the tattoo a unique and creative look. It is a stunning tattoo that will suit everyone. Recreate this or try an all red ink for the rose without the black details. Either way, it will look amazing.
6. Unique Floral Snake Tattoo
The next tattoo we have to show you is so unique and stylish. Here we have a red snake with a floral design instead of snake print. The red ink really suits the snake and the floral pattern gives the tattoo a creative and pretty look. Recreate this snake or you can use snake print instead of flowers.
7. Stunning Floral Tattoo Design
Looking for a floral design? If so, you need to check out this idea. Here we have a gorgeous red ink tattoo that features delicate flowers. We love this because other shades have been added to the design and the pink tones used compliment the red beautifully. It is a stunning tattoo that will suit anyone. Try a similar tattoo this or you can choose any flowers for your design.
8. Trendy Red Mandala Tattoo
If you want a tattoo that stands out from the crowd, then this is for you. This design features an amazing geometric mandala that is tattooed in red ink. The red color is so vibrant and it makes the tattoo look bold and bright. It is an amazing tattoo and it is perfect for anyone who wants a statement making piece of body art. You can recreate this or design your own red mandala.
9. Gorgeous Red Lotus Idea
Lotus tattoos are so popular and it is no surprise because these designs always look amazing. However, to make your lotus tattoo a little different from the rest consider having the design tattooed in red ink. Here is a stunning example. Here we have a large lotus that is tattooed on the thigh in light red ink. As you can see, the red just makes the lotus stand out. You can try a lotus like this or try a smaller version and have it tattooed elsewhere on the body.
10. Red Ink Wrist Tattoo
Our next idea is so trendy and edgy! This design features two red lines that are tattooed around the wrist to create two bracelet tattoos. It is such a creative idea and not only will you have a cool tattoo, but you will always look stylish and accessorized too! Try two lines like this or only have one.