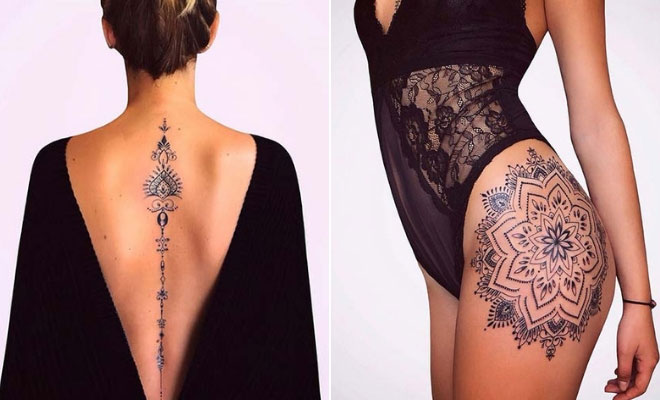 Instagram
Lifestyle
43 Sexy Tattoos for Women You'll Want to Copy
By
|
Been thinking about getting a tattoo for a while but are yet to find the perfect design? If this sounds like you, then you are in the right place. Today we have 43 sexy tattoos for women as well as placement ideas. There is a tattoo for everyone here including beautiful thigh tattoos, edgy body art, feminine floral designs and much more. The only problem you will have after seeing these sexy tattoos is deciding which one you want to try! So, take a look and get some inspiration.
1. Big & Sexy Dragon Tattoo
The first tattoo idea that we have to show you is sexy and fierce! This piece of body art features a dragon that has been tattooed on the ribs and hip. It is a stunning design and it is perfect for anyone who wants a large tattoo that makes a statement. Recreate this or you can add color for an even bolder look.
2. Single Rose Tattoo Idea
Next, we have a smaller and subtler idea. Here we have a single rose that is on the top of the thigh. As you can see, it is tiny and pretty design. A tattoo like this will suit everyone and you can recreate the black ink design or try adding color to the rose. Either way, it will look gorgeous. You can also have a rose tattooed anywhere on the body too.
3. Stunning Ornamental Sternum Tattoo
Sternum tattoos have become one of the most popular pieces of body art for women and with designs like this we can see why. This tattoo features an ornamental design with beautiful patterns, elegant charms and a stunning lotus too. It is a gorgeous tattoo and it really makes a statement. You can recreate this or you can try your own version of the design.
4. Floral Sleeve
This next tattoo is one of our favorites. Here have a floral sleeve. Lots of beautiful flowers have been tattooed on the skin from the shoulder to the wrist. These flowers are simply black ink and look like peonies. It is a very edgy and trendy design. A tattoo like this is perfect for someone who wants to be bold. Have a similar design to this or you can try using a different type of flower.
5. Sexy Mandala Thigh Tattoo
Next, we have a sexy and beautiful thigh tattoo to show you. The design features a stunning floral mandala. We love this because the patterns used are just gorgeous. There are so many different mandala patterns available so you can recreate this or try something completely different. Either way, a mandala looks amazing when tattooed on the thigh.
6. Spine Tattoo with a Quote
Looking for a unique and stunning tattoo? If so, this next design could be for you. Here we have a spine tattoo with the quote "She believed she could, so she did". The quote has been tattooed in an elegant font and the overall design is just gorgeous. You can have any quote placed down the spine, you can opt for any font.
7. Rose Back Tattoo Idea
The next tattoo idea is pretty and stylish. This shoulder tattoo features a black ink rose with a geometric pattern in the background. The rose looks so beautiful and shoulder tattoos are sexy and can be shown off or covered up when you choose. Recreate this tattoo or you can add some color. You can recreate the rose with or without the background pattern.
8. Floral Collar Bone Tattoo
We love this next tattoo! Here we have a collarbone tattoo that features beautiful blue flowers. The flowers are elegant and delicate but they are given an edgy twist because of where they are placed. Collar bone tattoos look amazing and unique. Try a similar tattoo to this or have any design placed on the collar bone.
9. Stylish Snake Design
Next, we have a stunning chest tattoo to show you. This tattoo features a snake, flowers and a moon. Everything about this tattoo is sexy and stylish from where the body art is placed to the snake design. Something like this is perfect for anyone who wants a unique and bold tattoo. You can recreate this or try a different snake or flowers. Maybe add some subtle color too.
10. Mandala and Roses Thigh Tattoo
Loved the mandala thigh tattoo that we shown you earlier? If so, you need to check out this next idea. Here we have another mandala that has been tattooed on the thigh. This one features a different pattern and three roses have been added to the design too. As you can see, the flowers and patterns look amazing. It is a stunning idea and a tattoo like this can be placed elsewhere on the body, such as the back or ribs.