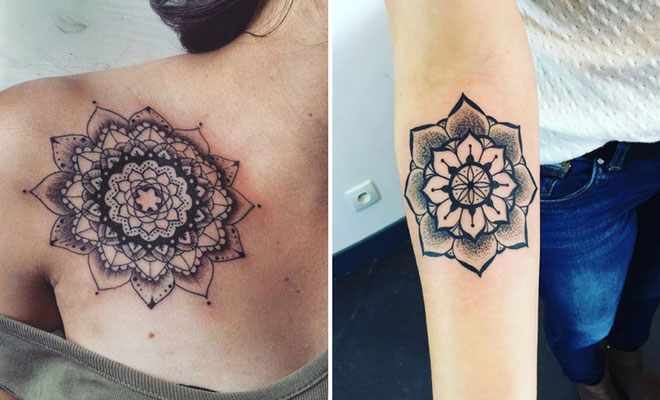 Instagram
Lifestyle
21 Trendy Mandala Tattoo Ideas for Women
By
|
Mandala tattoos have become the must have tattoo. These intricate tattoos feature circles and have a floral look, however the possibilities are endless in the designs an artist can create. The mandala is also a spiritual tattoo that is said to symbolize balance, rebirth, creation and more. Due to the meaning and individuality these tattoos will never go out of style. Making it a great tattoo choice as these last forever. It will always be personal to you and will also look beautiful. Take a look at 21 tattoos to get inspired.
1. Floral Wrist Tattoo
Wrist tattoos like this one make a stylish statement. It is more than just a tattoo it is almost like a beautiful piece of jewelry.  Another great thing about wrist tattoos is that it you can show it off when you want but also cover it up.
2. Mandala Foot Tattoo
Tattoos on the feet have become hugely popular – you can see why this mandala tattoo is just stunning. It will look great during the summer with pretty sandals. A foot tattoo is said to be painful but it looks worth it. No pain, no gain right?
3. Bright Watercolor
Watercolor tattoos are fun and very artistic. It makes your skin look like a canvas. Vibrant colors like the ones in this tattoo suit the mandala design perfectly. This way of coloring is just beautiful and is perfect for spring and summer.
4. Collar Bone Ink
Collar bone tattoos are very trendy. You can have it in full view with a cute summer top or just have a flash of the tattoo on show. It adds interest to your look. The feminine and floral design is gorgeous!
5. Floral Back Tattoo
The next tattoo shows how you can add words or initials into your design. You could have anything from your loved ones to your favourite lyrics. This is a funky design that is truly unique. Having a tattoo on your back is also a great choice if you can't show your ink all the time.
6. Half Mandala on Both Feet
We love this intricate foot tattoo. You get two looks in one! Two beautiful half mandalas and when your feet are together one big intricate one.  There are so many ways you could re-create this with your tattoo artist.
7. Upper Arm Tat
This upper arm tattoo is bold! It is a cool piece that will look trendy with any top. There are so many designs that would look awesome on your arm. The possibilities are endless, don't even get us started on color ideas.
8. Head Tattoo
Our next tattoo is for the trendsetters! This is a funky design that looks cool and cutting edge. The design is fabulous and intricate. It is truly a work of art.
9. Back Mandala
This back tattoo is elegant and has a glam vibe about it. It has a floral lotus style making it a very feminine design. The design would look beautiful on other places on the body. Would look amazing with a splash of watercolor too.
10. Floral Forearm
Forearm tattoos have become a tattoo favorite. These are cool and edgy. We love this design because it looks like an artistic flower. It is a bold and beautiful piece that will suit any girl.
11. Lower Leg Tattoo
This tat is like two designs in one. It is a gorgeous mandala and also has a look of a dream catcher. Both of these are trendy tattoos making it one super stylish piece. Not only does it look great on the lower leg but would also make a fab rib tattoo.
12. Thigh Tattoo
Fashion has taken a rebellious turn and so have tattoos. Thighs have become the must have place to get inked. Mandala tattoos look awesome especially on the thigh. It gives the beautiful pattern a bad ass edge.
13. Collar Bone Floral Mandala Tattoo
Here is another gorgeous collar bone tattoo. Not only does this have the floral element but it also has intricate geometric patterns. This design would look amazing anywhere on the body.
14. Mandala Rib Tattoo
Rib tattoos are known to be painful but when the end result is this good it's worth it! Even though it is one big tattoo there are so many small and intricate patterns. It is a beautiful design that is giving us serious tattoo envy!
15. Half Mandala Sleeve
Half sleeves are trendy and edgy. You look effortlessly cool without having to say or do anything. This pattern is very floral which it gives it a feminine touch. There are so many designs that could be created, would look fab with a flash of color to.
16. Pretty Mandala Tattoo
A tattoo like this would be great if you're thinking about getting one for the first time. It is a beautiful design that is small enough so you won't need a big session in the chair but it will also get noticed. This is a delicate piece of art that will stylish forever.
17. Back of the Arm Tattoo
Tattoos on the backs of the arms are unique and trendy. Not only that but it will make a plain t-shirt look very stylish. The lotus design on this piece is gorgeous. There are so many different patterns that could fill the petals.
18. Floral Mandala Rib Tattoo
Here is another must have rib tattoo. The detail on this floral mandala is beautiful. Choosing a tat on the ribs is a great idea as you can cover it up for work but when it's time to wear a bikini you'll look like a stylish beach babe.
19. Ankle Tattoo
If you're looking for a small tattoo then this might be the thing you are looking for. This mandala is very cute and will look gorgeous with your summer outfits. This is another subtle tattoo that can be shown off or covered up when you want.
20. Delicate Back Tattoo
The last back tattoo on our list is very elegant. It is has swirly lines and floral patterns. If you want something feminine and chic this is a design for you. Would also look great on other body parts.
21. Forearm Sleeve
Our last tattoo is a real statement maker. This forearm sleeve has so many gorgeous patterns. The possibilities with this style of ink is endless.  It is a bold work of art that will get everyone's attention.
We hope you have found some inspiration from all this stunning body art. We have serious tattoo envy!