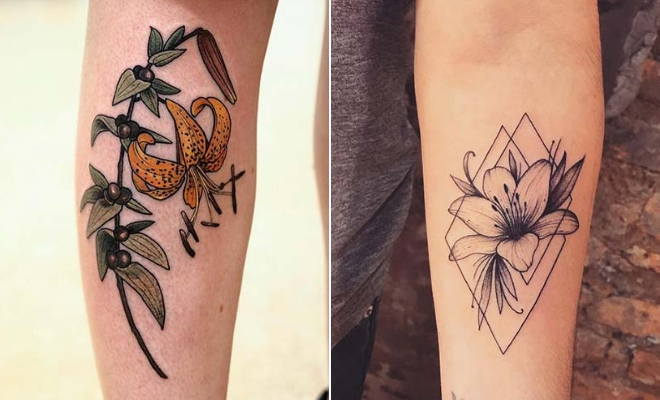 Instagram
Lifestyle
23 Pretty Lily Tattoo Ideas for Women
By
|
Tattoo designs are often inspired by nature and flowers. One of the most popular flowers used are lilies. It is no surprise as lilies are beautiful flowers that come in a variety of different shapes and colors. Not only do the flowers look gorgeous, but they can also be symbols of prosperity, elegance, devotion and more. We love lily tattoos, so would like to share 23 gorgeous tattoo designs. You will find everything, from vibrant lilies to small and subtle tattoos. There is a lily tattoo for everyone.
1. Lily Tattoo with Diamonds
First up, we have this stylish lily tattoo idea with diamonds. The lily has been beautifully tattooed in black ink with two diamond outlines. We love this tattoo because it is trendy and the detailing on the lily is stunning. Recreate this tattoo or maybe choose your own shapes. You can have only one outline or even add some color.
2. Delicate and Colorful Lily Tattoo
Next, we have a colorful lily design to show you. The lilies have been delicately tattooed with soft lines and multiple shades of color. This is a gorgeous tattoo that will suit anyone. You can have a similar tattoo to this one or take inspiration from it and try different colors.
3. Lily and Moon Tattoo Design
Looking for a pretty tattoo idea? Then this design could be perfect! This tattoo features multiple lilies and a crescent moon with subtle charms dangling from it. All these elements create a magical tattoo that will enchant anyone who sees it.
4. Bold and Beautiful Lilies
You can create a bold look with lilies. There are so many stunning colors and beautiful designs that you can choose. Here is an example of a vibrant lily tattoo. It is a rib tattoo that features multiple purple tone lilies. It is a gorgeous idea that will wow. Have a tattoo like this or choose your own bright colors.
5. Badass, Lily Sleeve Tattoo Idea
Create a statement and have a lily sleeve tattoo! The arm has been covered in beautiful lilies. A tattoo like this is perfect for anyone who loves tattoos and wants their ink on show most of the time. For this one, the lilies look like a half sleeve on the forearm but you can have lilies tattooed all the way up the arm. Choose black ink like this for a simple but stylish look, or be bold with vibrant colors.
6. Geometric Lily Tattoo
Geometric tattoos have become very popular, which is no surprise as these designs look trendy and suit everyone. Here is an example of a geometric lily tattoo. A black ink lily has been tattooed with a triangle and on the inside of the triangle there is a lot of detail, but on the outside there is just the lily outline. This is such a cool and unique design! Recreate this look or you can even add color to the inside of the triangle and keep black ink on the outside.
7. Unique Lily and Map Tattoo Design
Searching for a unique tattoo? Then this lily design could be just what you are looking for! This tattoo features a map of the world with lilies around the outside. Ink like this is perfect for someone who loves traveling. You can recreate this tattoo with any map.
8. Watercolor Lily Tattoo
Watercolor tattoos look so stylish and beautiful. These tattoos actually look like they have been painted onto the skin. Here we have a lily design that uses this technique. As you can see, the lily is unique and creative. A design like this will suit anyone and you can have a watercolor lily in any color of your choice.
9. Small Lily Ankle Tattoo
Our next idea is so cute and feminine. Here we have a lily tattoo on the ankle. An ankle tattoo like this is perfect for someone who wants to show off their ink and cover it up easily. As the design is small and subtle, it would also be great as a first tattoo, too.
10. Two Lilies
There are so many different types of lilies so why choose just one? Here we have a beautiful tattoo that uses two different lilies – calla lily that signifies magnificence and beauty and a true lily that signifies humility and devotion. As you can see, the two lilies compliment each other beautifully and the overall tattoo is so elegant and pretty. You can also pair lilies with other flowers, too.