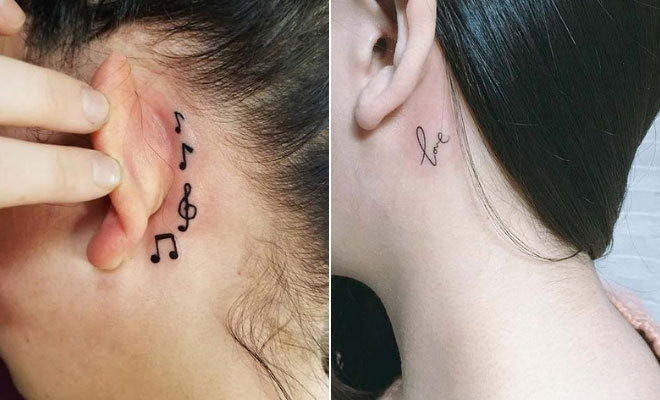 Instagram
Lifestyle
41 Cool Behind the Ear Tattoos for Women
By
|
Thinking about getting a new tattoo but just can't decide which area of the body to get inked? Then consider a behind the ear tattoo. These tattoos are stylish, can be subtle and you can have almost any design placed in this area. Not only that, but ears look amazing with piercings, so adding a tattoo will give you an extra edge and it could add to your accessorized look too. We love this type of tattoo and know that you will too. To give you some inspiration, we have found 41 stunning behind the ear tattoos. There is something for everyone from pretty roses to beautiful birds. So, take a look to find your must-have tattoo.
1. Black Ink Rose Tattoo
The first tattoo idea we have to show you features a beautiful rose. This single black ink rose is tattooed behind the ear and the detail on the rose is just gorgeous. A tattoo like this will look amazing on everyone. You can recreate this or you can try a smaller version of the rose.
2. Musical Notes
Love music? Then this tattoo is perfect for you. Here we have different musical notes that are tattooed around the back of the ear. These are very close to the ear so the tattoo is very subtle and will only be visible when you show it to people. This is a cool and unique idea and we love it! You can recreate something similar or choose some notes from your favorite song.
3. Cute Love Behind the Ear Tattoo
Tattoos with word and quote designs have become very popular. This is no surprise because little gems like this are being created. The next design features the word love. It has a beautiful font, looks elegant and is quite small and subtle too. A tattoo like this will suit everyone and you can recreate this or use a different word.
4. Gorgeous Floral Design
Looking for a more colorful tattoo design? Then check this out. Here we have a gorgeous flower tattoo. This flower is red with green leaves. The colors are so vibrant and the actual flower itself is gorgeous. This is a pretty and bold design that will make a statement whenever it is on show.
5. Botanical Behind the Ear Tattoo
Next, we have a beautiful botanical tattoo. This a larger piece of body art that features a black ink leafy design. The tattoo starts behind the ear, follows the hairline and ends towards the back of the neck. It is a stylish and unique design. You can recreate something similar or add some color to the tattoo. To make it even more bold, you could add some flowers too.
6. Pi Symbol
If you love math, then take a look at this! Here we have a small Pi symbol that is tattooed in black ink behind the ear. It is a simple, small and cute design. You can recreate this or add color to the symbol. It is a quirky design and it is perfect for those who enjoy math, physics and more.
7. Unique Koi Fish Tattoo
The next tattoo we have to show you is quite unique. This design features six Koi fishes that are tattooed behind the ear. Not only does this look quirky and stylish, but fish can symbolize wisdom, luck and more. You can recreate something similar to this or you can try having only one or two fish. There is also the option of trying a fish in a different color too.
8. Red Rose Tattoo Idea
Red roses are beautiful designs and roses look amazing behind the ear. This next design is a stunning example. The tattoo features the head of a red rose and the detail on the design is just gorgeous. This is pretty and and feminine tattoo and you can recreate this or choose a smaller version for a subtler look.
9. Pretty and Delicate Bird Tattoo
This next tattoo design is one of our favorites. Here we a have a stunning blue bird that is tattooed behind the ear. The bird is so delicate and beautiful. We love the detail and the colors used. A gorgeous design like this is more suited to those who want a bolder piece of body art because it will make a statement. Try a bird like this or you can use different colors. You can also choose a different type of bird too.
10. Stylish Ear Tattoo Design
If you prefer subtler and more minimal tattoos, then you should take a look at this. The tattoo is quite small and follows the shape of the ear. It is one black line with added leaves and flowers. We love how simple and stylish this is. A similar tattoo will suit everyone. You can, of course, add some color if you do like bolder designs.