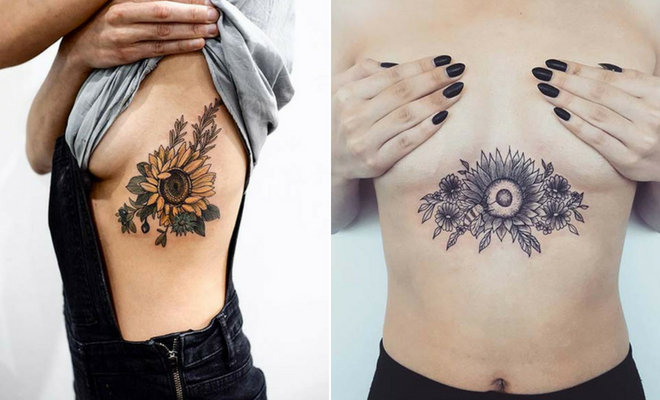 Instagram
Lifestyle
61 Pretty Sunflower Tattoo Ideas to Copy Now
By
|
Sunflowers have been inspiring many tattoos. This is not just because they are beautiful and bright, but also because the flowers are a symbol of happiness, luck, hope, and loyalty. With a sunflower tattoo, you can have a stunning floral design that also has a positive message. We love the body art created with these flowers and think you will too, so have found 61 of the prettiest sunflower tattoo designs. Take a look, there is a tattoo to suit everyone.
1. Sunflower Tattoo on Ribs
The first tattoo we have to share with you is this sunflower rib design. This tattoo features a vibrant yellow sunflower with different plants surrounding it. It is a beautiful and bold idea. Recreate the whole design or just choose a single sunflower or the flower with different plants.
2. Sunflower Shoulder Tattoo
Next, we have a small sunflower tattoo idea. This one features a dainty sunflower that has been tattooed on the shoulder. We love this design because it looks like a color pencil drawing, it is very artistic. A tattoo like this will suit anyone and can be placed anywhere. It would be perfect as a first tattoo.
3. Beautiful Shoulder Tattoo Idea
Circular shapes like flowers look amazing when tattooed on the shoulder joint as you can see with this sunflower design. The sunflower just sits in position perfectly. You can recreate a black outline design like featured or go for a bolder yellow flower. Either way, you will have a stunning tattoo.
4. Creative Wrap Around Sunflower Tattoo
Looking for a unique tattoo? Then this next idea could be just what you are looking for. The design features a sunflower tattooed on the back of the arm with a stem that wraps around the arm and ends in leaves. We love this beautiful and creative idea. You can have a wrap around tattoo like this placed on arms, legs, wrists or ankles.
5. Sunflower Mandala Tattoo
Mandala tattoos have become very popular. These designs feature patterns in a circular shape. This tattoo features an intricately patterned mandala with a sunflower at its center. The combination of the patterns and flower is beautiful. Recreate a mandala like this or add some color.
6. Vincent van Gogh Sunflowers
Are you an art lover? Then this unusual and creative tattoo is for you. Instead of the classic sunflowers, here we have a version of the famous Sunflowers painting by Vincent van Gogh. The painting has been recreated as beautiful tattoo. We love this idea!
7. Small Sunflower Tattoo
Next, we have a small sunflower idea to show you. Smaller pieces like this are great if you want a subtler tattoo or maybe as a first tattoo. This one features a sunflower with a pretty leafy design. You can have something like this placed anywhere on the body. Also consider different small sunflowers without the leafy feature and maybe think about adding some color too.
8. Sunflower Sternum Tattoo
Sternum tattoos are very stylish and have become a must-have piece of body art. Here we have a stunning example of a sunflower sternum tattoo. The design features a sunflower in the center with pretty flowers around the outside. A tattoo like this would look amazing on anyone. Recreate something similar or maybe add different flowers or more sunflowers.
9. Big & Vibrant Tattoo Idea
When you think about sunflowers one of the first things that comes to mind is the gorgeous yellow petals. This next tattoo captures the vibrant petals beautifully. The design features a sunflower with surrounding dark leaves. As the leaves are dark, it makes the yellow pop and stand out. You can even go for a brighter, bolder yellow too.
10. Artistic Sunflower Tattoo
Our next tattoo idea features an artistic black outline sunflower. This design looks like a work of art! More like an amazing drawing, than a tattoo with it's delicate lines. It is a stunning piece that captures the beauty of sunflowers. Recreate something similar or maybe add some color. The watercolor technique would be perfect.