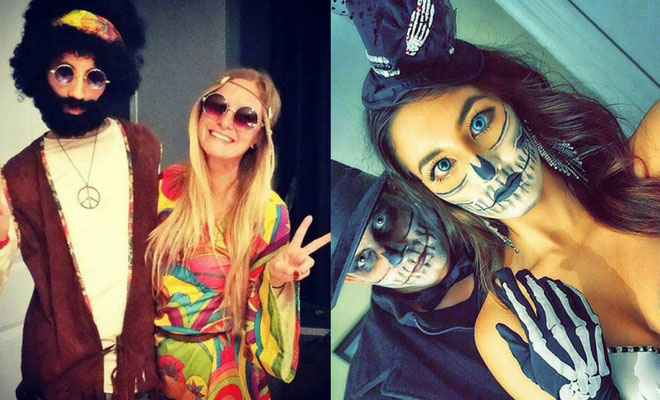 Instagram
Lifestyle
41 DIY Couples Costumes for Halloween
By
|
31. Couples Costumes Inspired by the Handmaid's Tale
The next costume idea is inspired by the Handmaid's Tale. One is dressed up in the iconic red outfit and she has a baby bump too, while the guy is wearing a black suit. It is a cool and popular look that many will instantly recognize. You can buy Handmaid's Tale costumes online and it is a great maternity costume too.
32. Cute Ice Cream Costumes
This next idea is so cute and unique. One half of the couple is dressed up as an ice cream and the other is wearing an ice cream man's costume. It is a quirky idea and you can recreate the costume in any ice cream flavor, so make sure to pick your favorite. The ice cream costume is great for those who like to make their costume or you can buy costumes like these online.
33. Spooky Sugar Skulls
Sugar skulls are one of the most popular Halloween costumes and next we have a spooky version for couples. These two have color coordinating sugar skull makeup. Both are wearing vibrant versions of the sugar skull and the flowers on his face match her floral headband. You can wear any clothing with the sugar skull makeup and there are lots of makeup tutorials online so there is a sugar skull look for everyone.
34. Incredibles Couples Costumes
Next, we have costumes inspired by the Incredibles! One is dressed up as Edna and the other is wearing a Jack-Jack costume. This is a fun idea that is perfect for those who love the movie and superheroes. You can recreate these costumes or you can dress up as the other characters in the movie.
35. Sexy Couples Costume Idea
The next idea features a sexy couples costume. Here we have a bride and groom inspired look. The guy is wearing a suit and his other half is wearing a white veil with lingerie and the costumes are complete with blood. If this look isn't for you, then you create similar version with a white lace top and skirt or a dress.
36. Carmen Sandiego and Where's Wally
Looking for unique costumes? If so, this idea is for you. This couple are both dressed as different characters. One is dressed up as Wally from Where's Wally and the other is wearing a Carmen Sandiego costume. It is a fun idea and these costumes would be great for couples who travel as both characters are often seen in different locations.
37. Bonnie and Clyde Inspired Costumes
This next couples costume was inspired by Bonnie and Clyde. They are both wearing vintage style clothes and they have fake gory bullet wounds. It is a creepy and unique idea. It is perfect for those who want to dress up as something different. You can find tutorials for bullet wounds online and you will be able to find similar clothes online.
38. Funny Old Married Couple
Are you and your other half like an old married couple? If so, this idea could be perfect! These two have dressed up for Halloween in their pajamas complete with rollers, cups of tea and glasses. So, they look like an old married couple! It is a funny idea and these will be the comfiest costumes too. Also, this look is easy to create and they will be great last minute costumes.
39. Unique Movie Inspired Costumes
The next costumes are perfect for those who love the movies. One is dressed up as a box of popcorn and the other is wearing a Wolverine costume. You can take inspiration from this and dress up as popcorn and your other half can dress up as their favorite movie or the other way around. It is a fun idea and the possible costumes that you can create are endless.
40. Costumes Inspired by The Purge
Next we have scary costumes that are based on the movie The Purge. Both are wearing stylish clothes with super creepy masks. They both have fake blood on their clothes to and one is carrying a baseball bat. Costumes like these are quite simple to create and you can Purge masks online. You will give everyone a fright with these costumes!
41. Mermaid and Sailor Couples Costumes
Earlier in the post we featured mermaid and sailor costumes. If you liked that idea, then you need to check out this one too. This is another version of the look. As you can see, you can create many different mermaid and sailor costumes. We love this one because it has an Ariel vibe.
So there you have them – some of the best DIY couples costumes for Halloween. Which one do you feel inspired by? More importantly, which one do you think you could get your significant other to agree to? We'd love to see what you come up with!