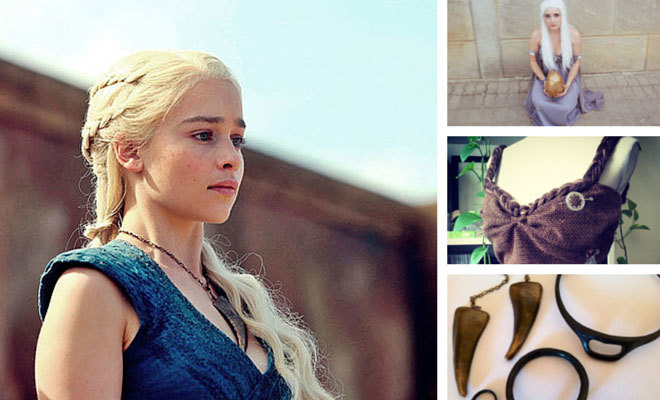 HBO
Lifestyle
How to: Daenerys Targaryen Halloween Costume
By
|
Everything about Mother of Dragons is insanely awesome, from her costumes to her amazing hairstyles. She's one of the most interesting characters in the show – strong, independent and beautiful. Her time with Dothraki people helped her build her strength to be a leader.
Dressing up as your favourite character at Halloween can be an amazing fun. In this article, we will show you how you can recreate Daenerys' loook – from head to toe.
Hair
For a woman so busy conquering free cities, freeing slaves and playing the game of thrones, she definitely has some pretty impressive hairstyles.
Your hair probably isn't silver, so you'll need a wig. So far, Khaleesi rocked many amazing hairstyles. For a truly authentic look, try to copy one of the hairstyles below.
#1: Curly, Loose Hair
When we first saw Daenerys in the TV series, her hair was loose and long. It represented her innocence and youth.
#2: Wedding Hairstyle
At her wedding, Daenerys wears her hair in an interesting half updo hairstyle. It looks pretty simple to re-create.
#3: Dothraki Hairstyles
Daenerys' adopted a more plaited style when she became on of the Dothraki's. She has arguably had the most significant personal journey, and it is reflected in her hair and wardrobe. She probably keeps her hair out of her eyes so she can have a better view of the people she'll conquer.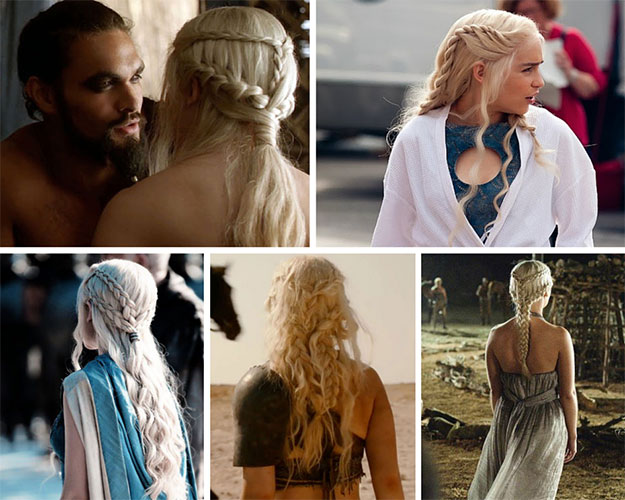 #4: Qarth Hairstyle
She went back to a looser look in Qarth.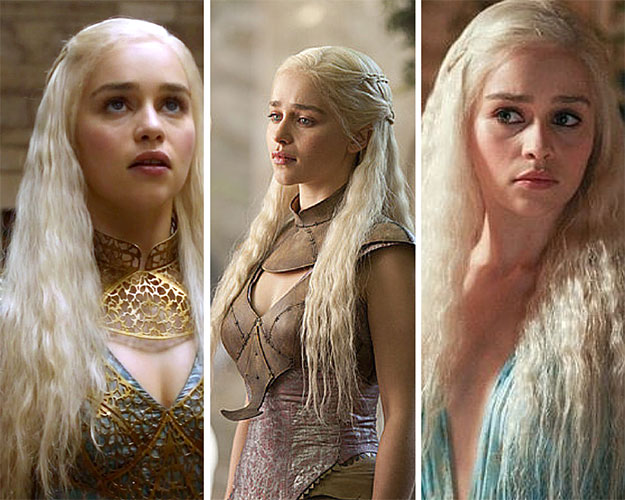 Makeup
She is a warrior so she's always rocking a natural makeup with power brow look. Use primer, light foundation and concealer to achieve her flawless complexion. To make your brows bigger, use light brown brow powder or gel. Her eyes always look natural so don't overdo your eye makeup. Use brown eyeshadow and a very thin line of eyeliner.
In the books, Daenerys has purple eyes so you can play with some color contact lenses. To finish your Daenerys makeup look, curl your eyelashes and apply mascara. Use nude or light pink lipstick for your lips.
Clothing
Daenerys Stormborn has probably worn the widest variety of costumes in the series. Her costumes change with her transformation, from a naive princess, to a Dothraki Khalessi and now more and more towards a queen.
#1: Young Daenerys Look
Daenerys' first clothing looks were beautiful simple dresses. She was wearing long, romantic dresses in soft colors.
#2: Wedding Look
She was married to Khal Drogo in a diaphanous, flowy wedding gown. Her wedding dress is made of a beautiful light fabric in silver color. Metal details on the dress make it even more special and powerful. Here's a tutorial on how to make your own Daenerys wedding dress – YouTube.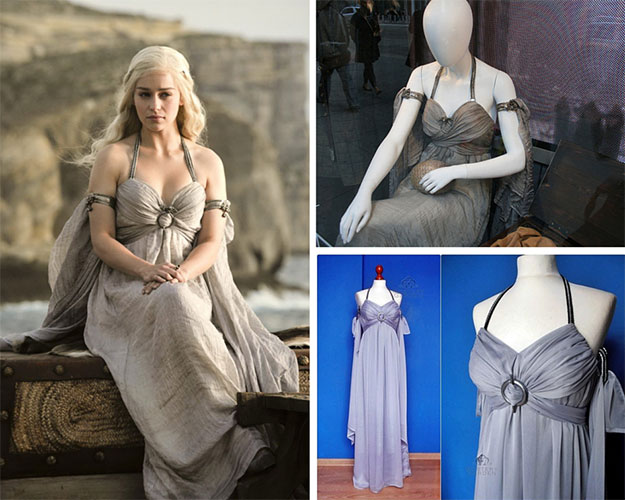 #3: Dothraki Look
As she starts to fall in love with her husband, she adopts the dress of the Dothraki people. Her pretty silk dresses are replaced with Dothraki tribal style of clothing.
Dothraki clothing feature a lot of hand weaving and skin. Complete the look with leather riding gloves. Remember that your outfit should look well-worn.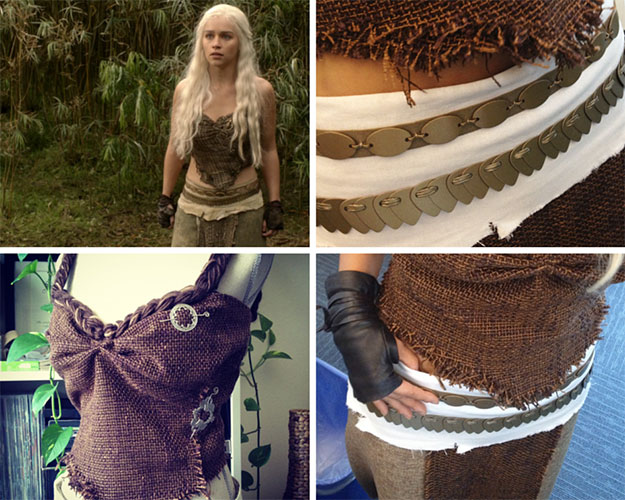 #4: Qarth Look
While in Qarth, she's wearing this stunning blue dress. The dress suits the merchant city, with its silk fabric and gold details.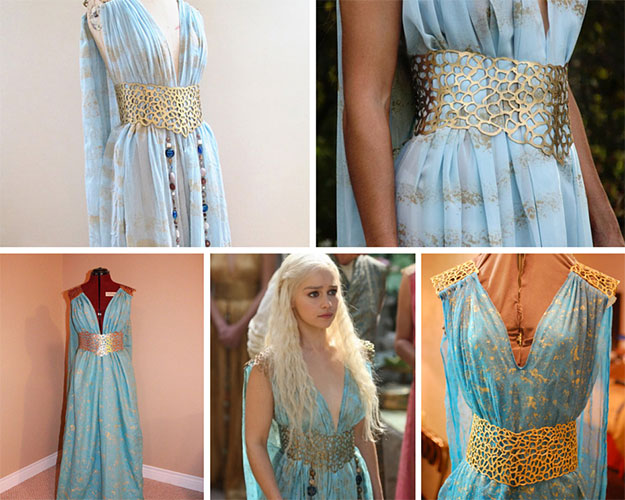 As she gets more sure of herself and stronger, she combines her Dothraki leather pants with gold corset and men's Qarth coat.
#5: Little Blue Dress Look
Daenerys starts developing more and more into a queen. This little blue dress is elegant and beautiful but comfortable for traveling. It has the round open back.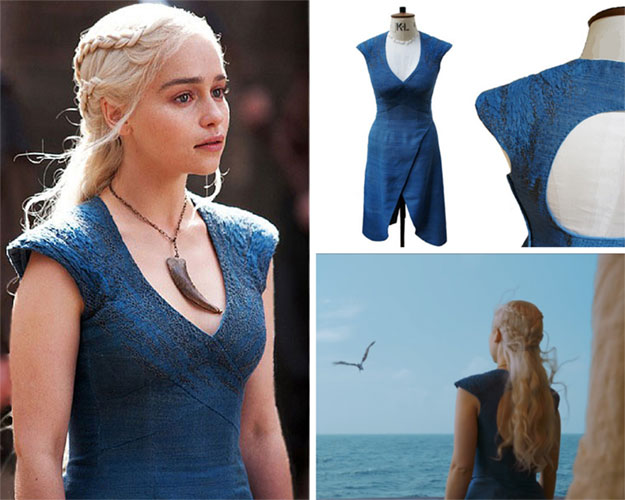 Accessories
Daenerys is also Mother of Dragons, so you can use jewelry inspired with claws and dragons to decorate your costume. This type of jewelry is also wearable after Halloween. Spice up your casual outfits with some of these statement pieces: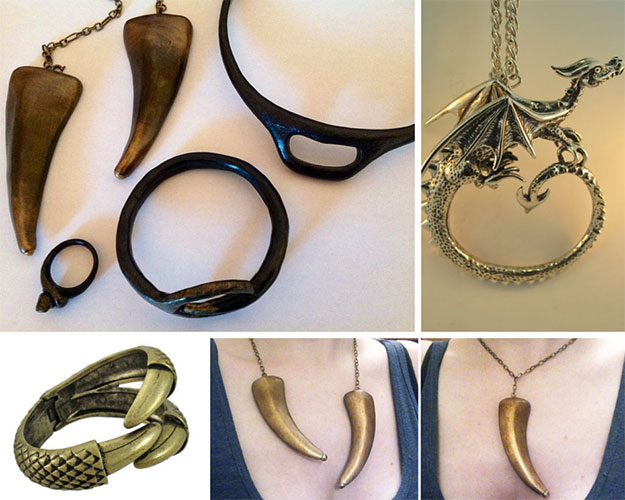 You can also create your own Daenerys claw necklace, check this tutorial for more information – Necklace Tutorial.
Dragons
As a Mother of Dragons, it is of rather importance to have at least one dragon attached to your outfit. Attach Drogon, Rhaegal and Viserion to your shoulders or keep them in your hands.
If you don't have dragon figurines, don't worry, you can always make your own dragon eggs. How? Check this tutorial – Dragon Eggs.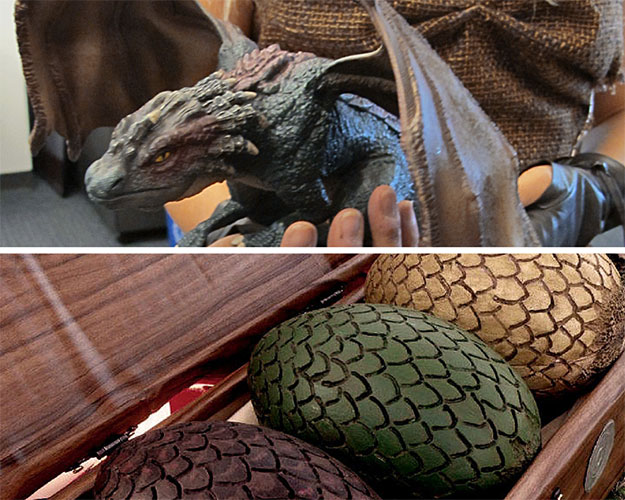 Final Look
1. Khaleesi Wedding Look Costume
2.
3. Mother of Dragons
4. Dothraki Costume
5.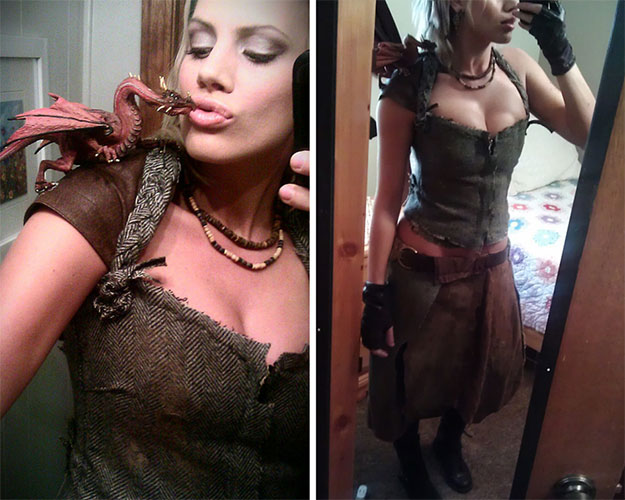 6. Daenerys in a Blue Dress Costume
7. Khaleesi & Khal Drogo Couples Costume
8. Daenerys With Violet Eyes
9. Khaleesi Eating a Horse Hearth
10. Qarth Look Costume