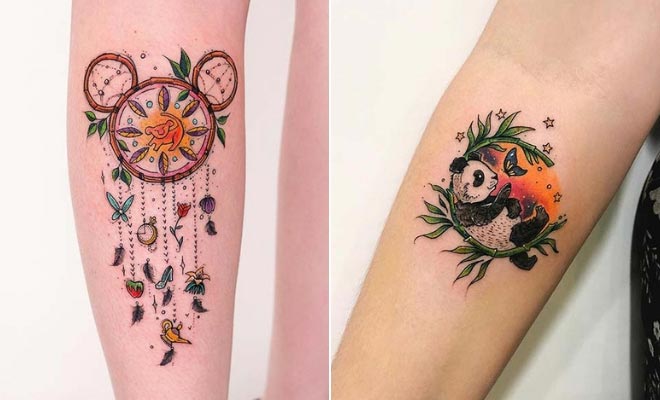 Instagram
Lifestyle
43 Cute Tattoos for Girls That Will Melt Your Heart
By
|
21. Cute Tea Cup Tattoo Idea
Are you a tea lover? Then this tattoo is for you. Here we have a super cute tea cup tattoo. The cup has a beautiful pattern and it has a vintage vibe. You can recreate a cup like this one or create a cup with your own funky design. It is a fun and unique idea that will suit anyone.
22. Adorable Elephant Tattoo
Next, we have an adorable elephant tattoo. Elephants are one of the cutest animals so it is no surprise how much they inspire people and their tattoos. This is a pretty design idea. It is a beautiful elephant with stars and a moon. We love this as it looks magical. An elephant tattoo can symbolize compassion, strength, good luck and prosperity.
23. Vibrant Bird Tattoo
The last cute tattoo we have to share with you is this vibrant bird design. It is a back tattoo with bold flowers and a pretty purple bird. You can recreate this tattoo or choose your favorite bird and flowers in a color of your choice. It is a beautiful design that will wow anyone who sees it.
24. Mama and Baby Bear Tattoo
The next tattoo idea we have to show you features two adorable bears. One is a larger bear and one is a small baby bear. It is a super cute tattoo that could represent a mother and her child. Try and recreate a tattoo like this or you can add some color. You could even add more bears to represent other loved ones.
25. Cute Floral Ear Tattoo Design
Looking for a stylish and unusual tattoo? If so, this could be perfect for you. Here we have a beautiful floral design that has been tattooed on the ear. It is such a cute and vibrant tattoo idea! Something like this will suit everyone and it is great if you want a tattoo that can be covered up or shown off when you choose. Recreate this or use your favorite flowers for your tattoo design.
26. Watercolor Tiger Tattoo Idea
Tiger tattoos have become very popular. Not only do they look amazing, but they have a special meaning too. Tigers can represent strength, independence, passion and more. Here is a stunning example of a tiger tattoo that you could have. This tattoo features a tiger's head that has been colored with the watercolor technique and there are flowers in the background too. It is a beautiful tattoo that will suit everyone.
27. Dandelion Wish Tattoo
Our next tattoo idea is just beautiful. Here we have a design that features a Dandelion with flying Dandelion seeds. We love this tattoo because it reminds us of making wishes with Dandelion flowers. It could be a reminder about your wishes and dreams and to make sure that you stay motivated to make them happen. It is a cool tattoo that can have a more personal meaning too.
28. Unique Cat and Moon
Next, we have a cute and quirky tattoo idea. This design features a cat that is sat on a crescent moon. The moon is decorated with flowers too. It is an unusual tattoo and it can have a special meaning as the moon and the cat are spiritual symbols. It is a mystical and cool tattoo design. Recreate this or add some color. You can opt for different flowers or add a pop of color.
29. Super Cute Penguins
Love penguins? If so, this tattoo idea is perfect for you. This tattoo features super cute penguins. As there are two penguins, a design like this could represent you and your other half or you and a loved one. You can recreate the two penguins or just choose one penguin. Either way, a tattoo like this will suit everyone.
30. Floral Butterfly
The next tattoo idea we have to show you features another butterfly design. For this tattoo one half of the butterfly is covered in flowers. We love this idea because it is so unique and beautiful. Something like this is perfect for anyone who loves butterflies, nature and the outdoors. You can recreate this or add some color, you can use your favorite flowers too.