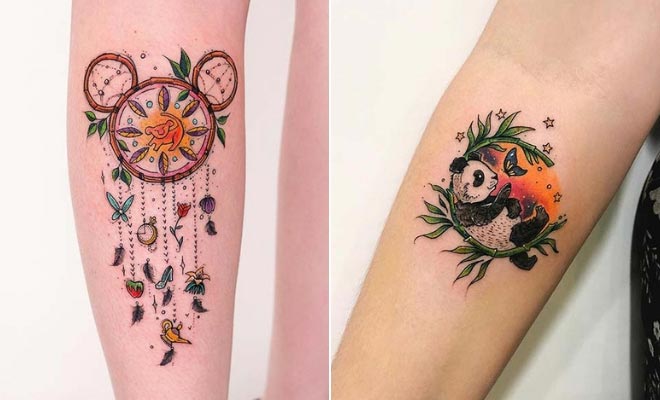 Instagram
Lifestyle
43 Cute Tattoos for Girls That Will Melt Your Heart
By
|
11. Cute Popcorn Tattoo Idea
Our next idea is so cute and quirky. This tiny tattoo features a sweet bag of popcorn. It is so adorable with it's eyes, bow and love heart box. If you love popcorn or movies, this tattoo is perfect. You can take inspiration from this and create your own delightful food character with any item of food you like.
12. Stylish Flamingo Tattoo
Be a flamingo in a flock of pigeons with this tattoo. Here we have a pretty flamingo tattoo that has been colored with the watercolor technique. It is a gorgeous piece of body art and it will suit everyone. It is a great idea for the ladies who want a small and stylish tattoo.
13. Russian Nesting Doll Tattoo
Next, we have a cute tattoo that has been inspired by Russian nesting dolls. The tattoo features a doll with the classic shape. It has been filled with stunning, intricate patterns and the doll has a pretty face. A tattoo like this is perfect for someone who wants a unique tattoo. Recreate something like this or add some vibrant color.
14. Beautiful Butterflies Tattoo
Butterflies have provided lots of inspiration for tattoos and here is a beautiful example. This idea features two gorgeous butterflies with purple wings. You can recreate a tattoo like this one or you can choose your favorite species or a butterfly with wings in a color of your choice. Either way, you will end up with a pretty and cute tattoo.
15. Pastel Rainbow Narwhal and Beluga
If you love unique tattoos, this next pick is for you! Here we have a tattoo that features a narwhal and a beluga whale. Each of the sea creatures is colored in pastel, rainbow shades. We love this cute idea, it is perfect for the ladies who like the sea and who have a quirky sense of style. Recreate this or add other creatures too.
16. Floral Lioness Tattoo
Lions are thought to be more fierce than cute but here we have an exception. This lioness tattoo features a beautiful floral design and uses soft pink and blue colors. The lioness has a lovely face, too. This is great idea for someone who wants a pretty tattoo that makes a statement. The lioness tattoo can represent protection, motherhood, bravery, and strength.
17. Cute Pet Tattoo Idea
Your pet is like family. They are always there and are like your best friend. Our next tattoo honors this friendship. This tattoo features a cartoon drawing of a woman and her pet dog. It is such a cute idea. You can have a tattoo created that looks like you and your pet. It doesn't have to be a dog either, you can choose any pet whether it be a cat, rabbit or something else!
18. Small and Colorful Shell Tattoo
Shells have become a favorite design in tattooing. A shell can be a symbol of the beach and the ocean or other cool things such as mermaids. Here is a pretty example of a shell. This one is small, subtle and features beautiful colors. A tattoo like this would be perfect as a first tattoo or as a small tattoo that can be covered up easily.
19. Cute Dragonfly Tattoo
Next, we have cute dragonfly tattoo to show you. Dragonflies are beautiful creatures and they can be a symbol of good luck and positivity. This tattoo design uses black ink, has a realistic look and has pretty designs around the outside. Recreate this look or add some vibrant color.
20. Cute Seahorse Tattoo Idea
Our next idea is a stunning seahorse. Seahorse tattoos are unusual, but the creatures are so cute they should be used more often. A seahorse is not only adorable but they are also a symbol of calm, patience and happiness. You can take inspiration and have a similar tattoo to this or add some color. Watercolor would look amazing.