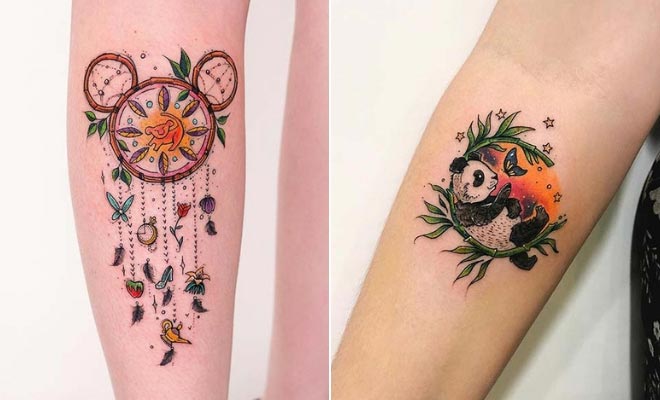 Instagram
Lifestyle
43 Cute Tattoos for Girls That Will Melt Your Heart
By
|
One of the great things about tattoos is that there is a design or style to suit everyone. Whether you are looking for something small, statement making or subtle, there is a design for you. Today we would like to show you some cute tattoos for girls. We have searched Instagram and brought to you 43 amazing designs that will melt your heart. You will find tattoos of animals, flowers, mermaids and more. These are perfect for the girls who are looking for a tattoo that is cute and tells some kind of story.
1. Cute Panda Tattoo
We are starting off with a super cute panda tattoo. The design features an adorable panda lying on a piece of bamboo with a butterfly and stars. This is a gorgeous and colorful tattoo that is perfect for anyone who loves pandas. Recreate this tattoo or just have a panda without the bamboo and background design. Panda tattoos are a symbol of peace and serenity.
2. Cute Mermaid Tattoo Idea
Next, we have a magical mermaid idea. Mermaids have been inspiring everything from fashion to beauty, so it is no surprise that mermaid tattoos have become popular among women and men. Here we have a cute and stylish mermaid design. You can choose a similar tattoo to this one or add a splash of color, maybe even add a background scene such as the ocean. A mermaid tattoo design can symbolize freedom, nature, and birth or rebirth.
3. Cute, Floral Heart Tattoo
Looking for a floral tattoo? Then this could be for you! This tattoo features beautiful flowers that have been designed in a heart shape. It is a pretty and delicate tattoo that can be placed anywhere on the body. The foot or arm would be great choices. Have flowers like these or choose your favorite flowers to create your own floral heart.
4. Matching 'Love Always' Tattoos
Another popular and cute tattoo idea are quotes. Everyone has a word or quote that means something special to them. Here we have a beautiful example. These three people have matching tattoos that read "love always". Tattoos like these are so cute and meaningful. Choose a matching tattoo like this or have your own design with a word that just means something to you. Get this tattoo with your sister, mother or a best friend.
5. Childhood Memories
Our next idea is one of the sweetest and most adorable tattoos we have ever seen! This cute tattoo has been inspired by childhood memories. The artist has created a design that features the person as a child with their teddy bear. It is such a unique idea. You can have a tattoo like this with any of your favorite childhood toys.
6. Cute Couple Tattoo Idea
Considering getting a tattoo with your partner? Then you need to check out this idea. This couple have chosen a lovebird design. One has a singing bird and the other has a bird with hearts. A tattoo like this is such a cute way to show your love for each other.
7. Floral Star Sign Tattoo
If you are looking for a small tattoo, then this next idea could be perfect. This tattoo features a pretty flower and a star sign design. It is a stylish and beautiful tattoo that can be made completely unique to you. You can choose your own star sign with it's own design and add a flower of your choice. Something like this would be great as a first tattoo.
8. Adorable Owls
Next, we have the cutest owls ever! The design features three cartoon owls sat on a branch. This is a sweet idea for anyone who loves owls or birds. A tattoo design like this can also be used to represent your family or children. So, have one owl per important person. Maybe you, your partner and child or whoever is closest to you.
9. Pretty Mandala Back Tattoo Idea
Mandalas are another popular design in tattooing. A mandala usually features a circle and geometric patterns. Here is a beautiful example. This one has a circular shape with gorgeous colors and designs. There is also cute art around outside. A tattoo like this is stunning and will look amazing on anyone.
10. Disney Inspired Tattoo
Love Disney? Then this tattoo is for you!! Here we have a cute and unique Disney inspired dream catcher. The hoop has been designed to look like Mickey Mouse and is decorated with themes from the movies. In the center there is a lion from the Lion King and below are charms including Mulan's comb, Cinderella's glass slipper, a poison apple and more. This is such a stylish and creative idea. We absolutely love it!