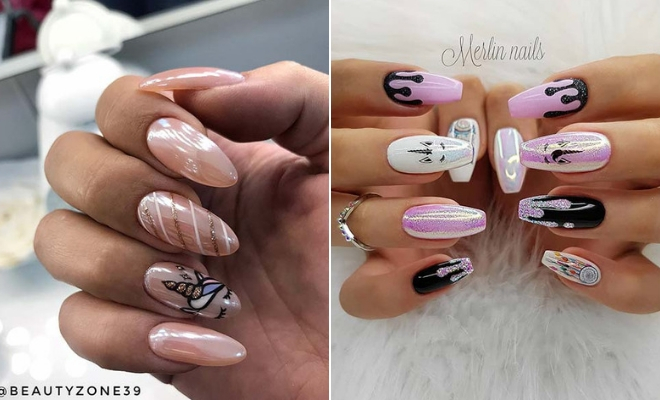 Instagram
Beauty
43 Magical Unicorn Nails That Are Taking Over Instagram
By
|
11. Long Stiletto Unicorn Nails
Next, we have vibrant glitter nails to show you! These nails are jelly nails and each nail is a different color. The colors include pink , blue, yellow and green tones. There are also glittering shards under each color too. Nails like these are perfect for the ladies who like bold nails that make a statement.
12. Blue Unicorn Nails
Love the unicorn horn nail designs? Then this manicure is for you! Most of the nails are a bold blue with hearts and stars and there are also two unicorn horn accent nails. The horn is an ombre shade from blue to silver. This is a beautiful and vibrant nail art idea. Recreate the whole look or use a different shade, maybe pink or purple.
13. Fun Unicorn Nail Art
Our next idea is super cute! The nails are white and shimmery with one accent nail. On the accent nail, there is a unicorn dancing. This is such a funny idea and it gives the nails a unique look. You can create nails just like these or maybe try and design a unicorn in a different fun pose.
14. Iridescent Unicorn Nails
Looking for chic unicorn inspired nails? Then this idea is for you! Here we have long nails that have been painted in a light iridescent, chrome color. These are so magical and enchanting. Recreate something similar to these or maybe add in a unicorn horn accent nail in the same color for an elegant, but bold look.
15. Glam 3D Unicorn Nails
Next, we have a very glam idea. Some of the nails have been painted in nude, while the others are a vibrant glittery pink. To finish off the look, a 3D gold tone unicorn has been placed onto one of the nails. A gold unicorn like this is stunning and stylish. To create the look yourself, you can use a small unicorn bead or charm and stick it onto your nails.
16. Sparkly Pastel Unicorn Nails
Love the pastel colors? Then you need to check out these nails. Most of the nails are a light shade with pastel pink and blue accent nails. The two accent nails also have two different types of glitter placed over the top. This is such a cute and sparkly idea. It will suit all nail lengths and shapes.
17. Glittery Unicorn Nails
Our next idea features a gorgeous white unicorn nail design. The nails have been painted with vibrant purple and blue to create a magical galaxy look and there is an accent nail with a white unicorn. This is a fun and vibrant design that will suit anyone that likes their nails to be bold.
18. Iridescent and Glitter Unicorn Inspired Nails
Next, we have another unicorn inspired idea. For this, all the nails have a different nail design. Some are glitter while others are chrome and iridescent. There are also some vibrant glossy nails too. This is an amazing manicure and you can recreate the whole look or just your favorite designs.
19. Statement Unicorn Nails
Make a statement with this nail design! The nails are vibrant pink with glitter, gems and a beautiful unicorn horn. Nails like these will wow. Create a similar look to this or you can tone it down a little by only choosing a few of the design elements. Maybe try the unicorn horn and pink ombre for a stylish look.
20. Glitter Rainbow Nails
Rainbows are part of the unicorn look. So, you can create a cool rainbow design just like this one. The nails are short with different colors on each nail resulting in a rainbow effect. There is also silver glitter over the top. Recreate the rainbow look or you can even add in a unicorn horn accent nail.