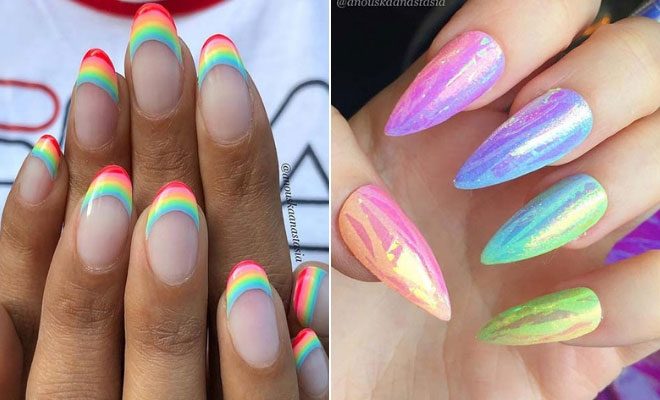 Instagram
Beauty
43 Pretty Ways to Wear Rainbow Nails This Summer
By
|
One of the hottest nail trends to try is rainbow nails. For this look, the nails can feature any design but the art will be created with bright rainbow colors. It is a fun and bold style that is perfect for the upcoming summer. We love this colorful trend so have put together 43 of the best rainbow nail ideas from Instagram. Take a look and you will find cool ombre art, sparkly nails, vivid rainbow designs and more. There is a vibrant nail idea to suit everyone!
1. Glitter Rainbow Nails
The first nail idea we have to show you is stylish and sparkly. These nails are long and stiletto shaped. Each nail has been painted in two different colors to create a rainbow gradient effect. The look has been finished off with glitter too. Nails like these will be amazing for the summer! Recreate this two tone look or you can use just one different color on each nail.
2. Glam Rainbow Nails with Crystals
Add a bright pop of color to your look with nails like these. Each nail is painted in a glossy, vibrant color. The design is finished off with glam gems too. A manicure like this is perfect for the ladies who want rainbow nails that make a statement. It is best suited to longer nails so you can really show off the colors and sparkling crystals. Try a similar look to this or try your own rhinestone and rainbow design.
3. Vibrant Candy Color Nails
Next, we have a bold and beautiful nail idea to show you. The nails are painted in five different vibrant shades that include pink, orange, yellow, green and blue. We love this look because the colors remind us of candy. You can easily recreate this manicure with five bright colors just make sure they are vivid shades.
4. Pastel Gradient Nails with Silver Glitter
If the vibrant and vivid shades are not for you, then you can go for softer and subtler colors like pastels. Here is a stunning pastel nail idea to show you how awesome these colors can be. The nails are painted in different pastel shades that create a light, rainbow look. Each nail also has a silver glitter cuticle design too. Try a similar two tone look to this or just paint each nail in one pastel shade.
5. Stylish Rainbow Tips
Looking for a unique and trendy nail design? Then you need to check out our next idea! Each nail is a nude color while the tips have a super cute rainbow design! By having the colors on just the tips, it creates a subtler look. You can hand-paint the rainbow stripes with different nail colors and a thin brush. If you are not confident with this, then maybe use nail tape to create the different stripe sections.
6. Matte Multi Color Nails
Our next nail idea is bright, colorful and easy to wear. Each nail is painted in a different vibrant color and the shades range from green to pink. The colors are matte and it is a cute and funky look. You can recreate a similar manicure to this or use a different selection of colors. Also, you can try glossy instead of matte too.
7. Rainbow Shattered Glass Nail Design
The next nail idea we have to show you combines some of the must-have looks! Here we have stiletto nails and each nail is painted in a light shade which creates a rainbow design. The nails are finished off with shattered glass foil shards. It is such a trendy and fun look. You can recreate the manicure with similar rainbow colors and nail foils which can be used to create the glass shards.
8. Pretty and Light Rainbow Nails
If you love unique nail art and bright nail colors, then this idea is for you. The nails are light around the cuticle and then there is a funky rainbow design. It is a beautiful and soft version of rainbow nails and it almost looks magical. You can recreate a similar look with a sponge, just dab the colors on the nails to create this light and stylish nail art.
9. Pastel Nail Idea
Next, we have another pastel look. For this design, each nail is painted in a different pastel color. The colors include pink, purple, yellow and blue. It is a chic and elegant way to wear the rainbow nail trend. A manicure like this is easy to recreate you will just need similar colors. It will be perfect for the spring and Easter.
10.  Vivid Rainbow Stiletto Nails
Make a statement with this next nail idea. The nails are long and stiletto shaped. Each of the nails is painted in two vivid shades which creates a bold rainbow gradient. You can find tutorials online that can give you step by step instructions for creating gradients. We love these nails – this look is one of our favorites! The bright colors will be perfect for the summer.